Everything you need to know about your Geisinger Pharmacy app
Learn how to make the most of your account and app
Imagine having access to your medications and prescription refills at your fingertips. With
Geisinger Pharmacy
, you can.
Whether you sign in online or download the pharmacy app, here's how you can make the most of it.

Set medication reminders
Need a daily reminder to take your medications? Just want a reminder to refill your prescriptions when your supply is low? Geisinger Pharmacy is your partner in making sure you never miss a medication.
When you set up medication reminders, you can choose whether you get them delivered with options for email or text reminders.
Refill your medications with the click of a button
Sign into your Geisinger Pharmacy app and navigate to "Refill from a list" to see a list of your current prescriptions. When it's time to refill, just click on the medication you'd like to refill, click the "Refill prescription" button and submit.

On the submit page, you'll also have an opportunity to choose from a list of eligible pickup or delivery methods for your prescription, including:
In-store pickup
Curbside pickup
Home delivery
Specialty pharmacy
Mail-order (for Geisinger Health Plan members)

Transfer your medication and find a local store
If you'd like to transfer your medication from one pharmacy to another, you can do it right in the app.

To get started, click "Transfer Rx." You'll then either upload a photo of your current medication or enter your prescription's details, including the prescription name and Rx number. You'll also have to include the location information from your current pharmacy, then choose a Geisinger Pharmacy near you for your new local pharmacy.

Not sure where your local Geisinger Pharmacy is? Click "Find a Store" in the app and enable it to use your location so it can automatically pull up nearby stores. You can also search your town and state to find your local pharmacy.
Mail-order medication for Geisinger Health Plan members
If you're a Geisinger Health Plan member, you'll have access to mail-order pharmacy. This means maintenance medications — and select others — can be filled with our mail-order pharmacy and sent right to your door, automatically.

Why switch to mail-order pharmacy? We make it safe and convenient:
Less trips to the pharmacy
Real-time tracking when your medication ships
Option for signature confirmation for added security
Sign up for automatic refills
Free shipping


Download the Geisinger Pharmacy app today
You're on a journey to better health. That's why we're making it easier to stay on top of your prescription medications with Geisinger Pharmacy.

Sign in or create a Geisinger Pharmacy account to:
Transfer a prescription to Geisinger Pharmacy
Refill your prescriptions to Geisinger Health Plan (GHP) mail-order pharmacy
Free prescription delivery and curbside pickup (including mail-order pharmacy for GHP members only)
Check the status of your refills & manage text reminders
Contact your pharmacy team
Find a Geisinger Pharmacy near you
Ready to get started? Download the app today and always have Geisinger Pharmacy at your fingertips.
Next steps: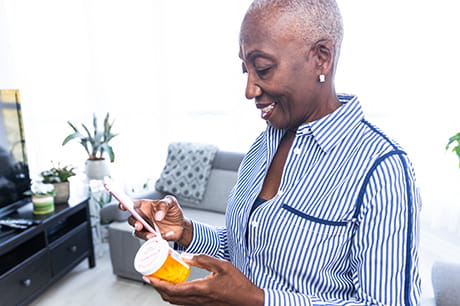 Content from General Links with modal content