What do Medicare Star Ratings mean?
Learn how you can use the system to compare plans.
When you're searching for the right Medicare Advantage plan for your needs, Medicare Star Ratings can help. This system evaluates plans for you, so you can make confident decisions as you plan for your health coverage needs.
What does the Medicare Star Rating system do?
The Medicare Star Rating System looks at — and scores — how well Medicare Advantage and Medicare Part D prescription drug plans perform for its members. The system looks at several categories, including:
Quality of care
Customer service
Member complaints
Member experience
Chronic conditions management
Drug safety and drug pricing accuracy (for Part D plans only)
The system rates using a one- to five-star system, with five stars being best. Each plan gets an overall rating, but plans are also rated in the above categories. You can look up specific plans and review their category ratings on medicare.gov.
What is a Medicare Part D plan?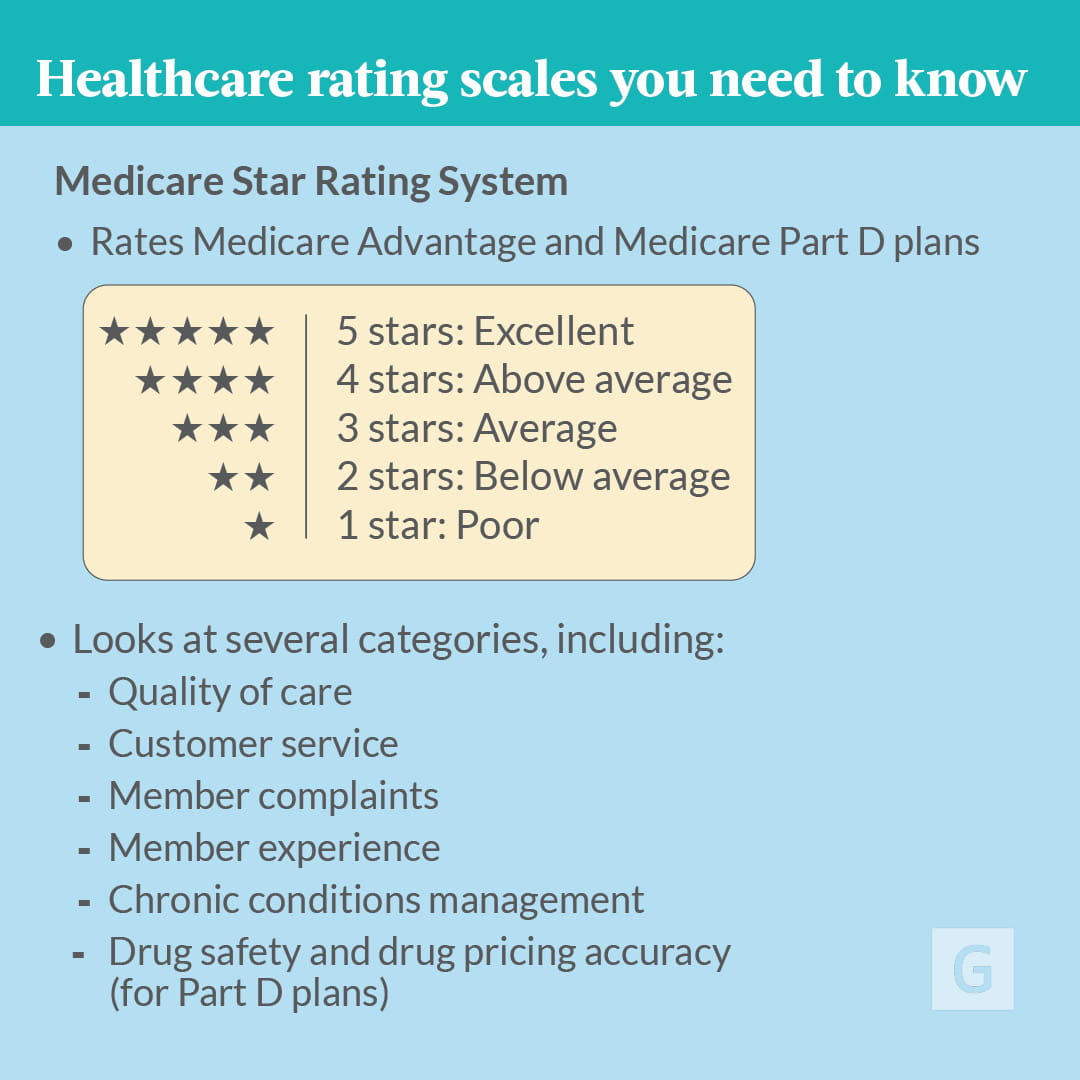 Medicare Part D is a plan that covers your prescriptions. Without it, you could pay full price (hundreds or even thousands of dollars) for your medication.
You can get standalone prescription drug plan (PDP) coverage, or get coverage as a Medicare Advantage plan with prescription drug coverage (MAPD). However, it must be purchased through a government-sponsored private insurance company that contracts with Medicare, like Geisinger Gold.
How to enroll in a Medicare Advantage Plan
If you want to enroll in a highly rated Medicare Advantage plan, there are specific times of year when you can:
Annual Enrollment Period
Open Enrollment Period
Special Enrollment Period
During the Medicare Annual Enrollment Period (AEP), which takes place each fall, you can enroll in health coverage, including a Medicare Advantage and Part D plan.
Medicare Advantage open enrollment period (also called Medicare Advantage OEP) is a time where you can change your Medicare Advantage plan. It takes place each year from Jan. 1 through March 31. If you choose to change your plan during this time, your new plan will begin the first of the month after you request new coverage.
Outside of OEP and the Medicare AEP, you can qualify for a Special Enrollment Period if you experience a qualifying life event. Learn more about Special Enrollment Periods.
Looking for a highly rated plan? Meet Geisinger Gold
If you're looking for a Medicare Advantage plan to cover your health needs, we'd like to introduce you to Geisinger Gold. A Medicare Advantage plan like Geisinger Gold can offer you more health benefits while saving you money. In fact, the costs associated with Geisinger Gold can be as low as:
$0 monthly premiums
$0 deductibles
$0 on generic Rx copays with annual limits on copays for medical services
And that's in addition to everything regular Medicare offers — Parts A and B.
Many of our plans also cover routine dental and vision services and come with hearing aid and eyewear benefits. So you can get all the coverage you need in a plan that works for you.
Interested in learning more? Call us at 855-918-0718 (TTY: 711) to find out if Geisinger Gold Medicare Advantage is right for you.
Next steps:
Find a plan Medicare plan that works for you
Learn more about Geisinger Health Plan
Turning 65 this year?
Here's what you need to know about Medicare.
Geisinger Gold Medicare Advantage HMO, PPO and HMO D-SNP plans are offered by Geisinger Health Plan/Geisinger Indemnity Insurance Company, health plans with a Medicare contract. Continued enrollment in Geisinger Gold depends on annual contract renewal.

Geisinger Gold complies with applicable Federal civil rights laws and does not discriminate on the basis of race, color, national origin, age, disability, sex, gender identity, or sexual orientation. ATENCIÓN: si habla español, tiene a su disposición servicios gratuitos de asistencia lingüística. Llame al 800-447-4000 (TTY: 711).

注意:如果您使用繁體中文,您可以免費獲得語言援助服務。請致電 _800-447-4000 (TTY: 711).

Y0032_22269_1_M Accepted 10/1/22
Page last updated: 10/1/22