What to put in a first aid kit
Stock the perfect first aid kit and you'll be ready for anything.
From an accidental cut while prepping dinner to a scraped knee at the park, having the right tools on hand in a first aid kit can give you a quick fix.
"Everyone should have a first aid kit at home and in their car," says Dr. Eddie Rodriguez-Lopez, family medicine physician at Geisinger Medical Clinic Lock Haven. "They can be pre-purchased with a few staples or made custom in different sizes to best fit any family."
No matter where you're keeping your first aid kit — or kits — here are some staple items:
Choosing the right first aid bag
When you're deciding what to keep your first aid supplies in, consider using a waterproof first aid bag to protect them.
"If you don't want to buy a waterproof bag, store all your first aid kit items in ziplock plastic bags to keep water from ruining the things in your kit," says Dr. Rodriguez-Lopez.
Labeling each bag with a waterproof marker lets you find things easily (and quickly). Be sure to store your first aid kit somewhere what's easy to get to, but out of reach of children and pets.
Medications for your first aid kit
Think about medications to keep in your first aid kit that can help in an emergency, including heart attacks.
"Keeping aspirin handy can help anyone suffering from chest pain or a possible heart attack," says Dr. Rodriguez-Lopez. "But if someone is experiencing new or unexplained chest pain or suspects they are having a heart attack, call 911."
Don't give aspirin to someone who is allergic or taking a blood-thinning medication or to children.
Other medications to keep in your kit might include:
Aloe vera gel
Calamine lotion
Laxatives
Antacids
Antibiotic ointment
Hydrocortisone cream
Pain relievers (like Tylenol® or Advil®)
Personal medications prescribed by your doctor, like an EpiPen


Different types and sizes of bandages
Different injuries call for different bandages. "Injuries are often unexpected, so having a variety of bandages on hand is important so that you have what you need when you need it," says Dr. Rodriguez-Lopez.
Bandages to include in your first aid kit are:
Absorbent compress dressings
Various sizes of adhesive bandages
Adhesive cloth tape
Gauze roll bandage
Sterile gauze pads
Triangular bandages
Along with your bandages, items like tweezers, alcohol prep pads and nonlatex gloves can help when preparing and dressing injuries.
Maintaining your first aid kit
A couple of times a year, check your first aid kit for any expired medications and replace them as needed. This will help you have the most effective medications available to you when you need them most.
"You might also want to make or update a list of emergency contacts, especially if you're making a first aid kit to take hiking or camping," says Dr. Rodriguez-Lopez.
Making the decision to keep a first aid kit handy will prepare you to deal with minor (and less minor) emergencies at a moment's notice. And that's great peace of mind.
Next steps:
Meet Dr. Eddie Rodriguez-Lopez, MD
Here's how to avoid food and drug interactions

Need supplies for your first aid kit? Save $5 at Geisinger Pharmacy —
get your coupon here
.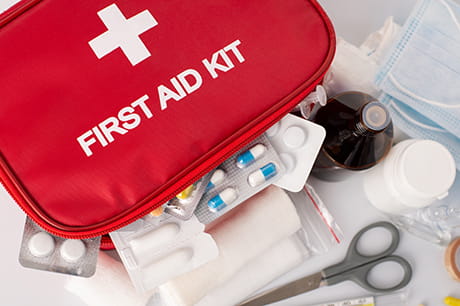 Content from General Links with modal content