Blackberry-blueberry galette
Galette is a fancy name for an un-fancy pie. Make ours even easier by starting with a store-bought crust.
Ingredients:
2 cups each blackberries and blueberries
½ cup sugar
2 tablespoons cornstarch
½ teaspoon vanilla
1 teaspoon lemon zest
1 refrigerated pie dough
1 beaten egg
Directions:
Heat oven to 400° F. Toss together the first five ingredients — everything but the dough and egg. Cover a baking sheet with parchment paper and roll out the dough. Spoon the berries onto the dough, leaving a 2-inch border. Fold the edges around the filling, forming a flattened, rustic pie. Brush the crust with the beaten egg and sprinkle with a dusting of sugar. Bake until golden brown and bubbly, about 35 minutes.
---
The wellness you need, in a style you'll love — delivered.
Sign up to have PA Health sent to your mailbox or inbox 4 times a year, for free.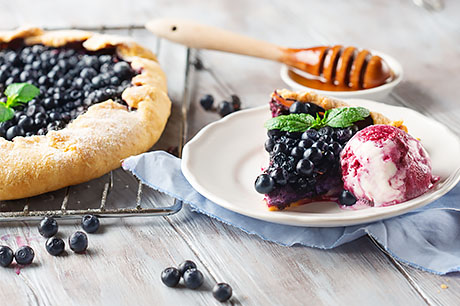 Content from General Links with modal content