What are the benefits of fish oil? 
There's nothing fishy about this supplement that may boost brain health, protect your heart and more.
When you're deliberating about a healthy dinner, you know that fish is usually a good choice. But sometimes, you might not be in the mood for it. Or maybe you don't like the taste at all. And even if you love fish, not every type has high levels of heart-healthy omega-3 fatty acids. That's where dietary supplements come into play.
Dietary supplements are a great way to make sure you're getting your daily value of key nutrients, and fish oil supplements are no exception.
What is fish oil?
Fish oil is a dietary supplement you can find at drug or grocery stores.
"It can support muscle activity, overall heart health and so much more," explains Matt Gerhart, manager at Geisinger Pharmacy in Lock Haven.
Whether you prefer capsule, liquid or pill form, fish oil supplements contain two forms of omega-3 fatty acids:
Docosahexaenoic acid (DHA)
Eicosapentaenoic acid (EPA)
"These omega-3s are typically found in fatty fish, including salmon and trout, and also other seafood, like crab," says Gerhart.
Fish oil health benefits
Their full names may twist the tongue, but these two omega-3 fatty acids are great for the rest of your body. DHA can boost brain health while EPA has anti-inflammatory benefits. Together, they can improve or even prevent certain chronic conditions. These conditions include:
High blood pressure
Taking fish oil is believed to help lower blood pressure — possibly more so for those who have moderate to severe high blood pressure.
And while fish oil can't prevent heart attacks or strokes, it can reduce the risk factors associated with both, including:
Increasing HDL ("good") cholesterol
Lowering triglycerides (fat in your blood)
Slightly lowering blood pressure
Slowing the buildup of plaque, which hardens and blocks arteries
Reducing the risk of developing an irregular heartbeat (arrhythmia)


Boost brain and mental health
Omega-3s play a huge role in brain development and function and are even helpful in improving mild memory loss. They can also help improve symptoms of depression.
"If you're living with depression or have mild memory loss, talk with your doctor about treatments that may be best for you," says Gerhart.
Rheumatoid arthritis
Feeling achy? If you have rheumatoid arthritis (RA), try fish oil to help treat its symptoms, including joint tenderness, morning stiffness and swelling.
"People with RA are at an increased risk of having a heart attack, and taking a fish oil supplement may also help lower their risk," says Gerhart.
Side effects of fish oil
Fish oil supplements are generally considered safe, but the saying "too much of a good thing" applies here, too.
"Too much fish oil may increase the risk of bleeding," says Gerhart. "And it might affect your immune response as well." It's also unclear if fish oil is safe for those with seafood allergies.
Other side effects may include:
"As with any medication, you should speak with your doctor before taking it," says Gerhart "They'll know your medical history and possible interactions with medications, and they can help you choose supplements."
Next steps:
Does aspirin really help your heart health?
Here's how supplements can help your overall health.
Save $5 at Geisinger Pharmacy — get your coupon here.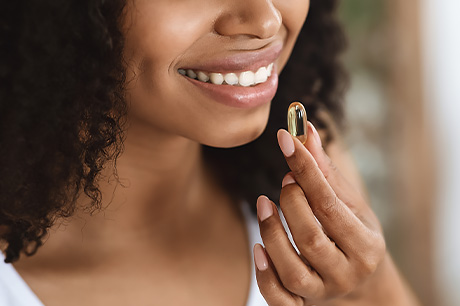 Content from General Links with modal content