4 reasons to get your flu shot
The flu can stop with you. And it's as easy as rolling up your sleeve.
We've all learned a lot about how to stop the spread of germs and viruses. In fact, physical distancing and handwashing also helped reduce flu cases over the past few years.
But the best weapon in our flu-fighting arsenal is still the flu shot.
It's easy to get, protects those around you — and it's usually at no cost to you.
"There are a variety of ways to protect yourself from the flu, but getting your flu shot still remains the best protection," says Alison Brodginski, DO, an infectious diseases specialist at Geisinger. "Getting a flu shot is fast, easy and effective."
So, who needs one, and where can you get yours?
Chances are, the flu shot is for you.
The flu vaccine is recommended for anyone 6 months or older, especially:
Pregnant women
People with asthma, heart and lung problems
People with diabetes
Anyone over 65
To be protected throughout the entire flu season, it's best to get your flu shot before the end of October, when flu season typically begins.
But if you miss that window, don't worry. It's not too late. Getting the flu shot any time during flu season is better than skipping it. (But the sooner the better.)
Why get the flu shot?
Getting a flu shot takes a few minutes out of your day. But it can save you a week off work — or in some cases, save your life.
And if you think you're too young and healthy to bother, remember: Your flu shot protects vulnerable people around you, too.
Think about the benefits:
You'll avoid putting your friends, family and co-workers at risk of the flu.
You'll eliminate the risk of flu-related complications, such as pneumonia or a sinus infection. The flu may worsen chronic medical conditions such as diabetes or congestive heart failure.
You won't have to miss work, school or time with loved ones due to being sick.
You'll be protected throughout the entire flu season.
Worried about flu shot side effects? Don't be. You won't have the flu. Any brief, minor symptoms are just your body's immune system kicking into high gear. Which is a good thing.
Take charge of your health
Getting the flu shot is basically part of a healthy lifestyle, like eating right, exercising and getting enough rest (all good strategies to combat the flu, too).
"That's why Geisinger wants to make getting a flu vaccine as easy as possible for you," says Dr. Brodginski. "We believe preventing disease is always better than treating it after the fact. So, we offer options to suit every schedule and lifestyle."
For example, if you happen to be at a Geisinger care site — for any reason — just ask for a flu shot. Taking your teen in for a well-child visit? Make the most of your time there and get the vaccine.
Or if you're out running errands, walk into any Geisinger primary care provider's office or pharmacy during regular office hours and ask for a flu shot.
We also offer drive-through flu shot events. Just drive up, roll up your sleeve, and we do the rest.
Next steps:
Have MyGeisinger? Schedule your flu shot.
Can I get the flu and COVID-19 at the same time?
4 unexpected places you find cold and flu germs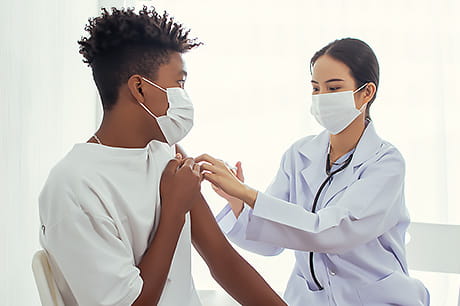 Content from General Links with modal content