What is pandemic foot and how can you avoid it?
Learn how to protect yourself from foot and ankle injuries.
Our feet carry us through life. They take us to our kids' soccer games and hold us up when we see our favorite band at a standing-room-only concert. So we need to do everything we can to keep our feet healthy and strong.
But if the pandemic has caused some lifestyle changes for you, your feet may be paying the price. So-called "pandemic foot" is on the rise. Here's what you can do about it.
What is pandemic foot?
Pandemic foot refers to a rise in foot injuries and ankle injuries since the beginning of the pandemic.
"This could be because people were inactive for a while with pandemic shutdowns or from being sick," says Geisinger orthopaedic surgeon Benjamin Wagner, MD. "Then people are getting right back into their previous activity levels, which can lead to new overuse injuries or aggravate old injuries."
Overuse injuries can include tendinitis and plantar fasciitis. A contributing factor can also be a lack of proper footwear, which can cause a new injury or aggravate an existing one.
How to avoid pandemic foot
If you want to get moving but avoid foot and ankle injuries, there are a few simple things you can do.
"Always wear supportive footwear," says Dr. Wagner. "Head to a local store and get a proper fitting so you have the right kind of shoes for your feet."
Wearing proper footwear will provide support and will help to prevent injuries. If you're a hiker, make sure you invest in hiking shoes that provide plenty of support. And if you're a runner or like to go out walking, invest in a good pair of sneakers.
"You should also strengthen your body and your feet with proper exercise," says Dr. Wagner. Strengthening your feet will strengthen your overall body, especially if doing so helps avoid injuries.
One effective exercise you can do to strengthen your feet: Put one foot on a towel and scrunch your toes to pull the towel toward you. Just make sure you also stretch out. "Using a rubber or tennis ball to roll out your feet is a great way to do this," says Dr. Wagner.
Also, remember to start slow. As excited as you may be to get back into hiking, running or other outdoor activities, starting slow is your best way to prevent injuries.
Treating foot and ankle injuries
If foot and ankle injuries aren't properly treated, they can lead to knee, hip and back pain.
"When it comes to treating any foot or ankle injuries, start by calling your doctor," says Dr. Wagner. "They can give you a proper diagnosis or refer you to a podiatrist or orthopaedic surgeon, if needed, so you can work on a proper treatment plan."
Treatment can include any combination of rest, medication and even physical therapy to help strengthen your foot and ankle.
You can also visit orthopaedic urgent care, with options for virtual consultations to help you know what to do to get the treatment you need. Getting treatment quickly will help you recover sooner so you can get back to doing the things you love.
Next steps:
Meet Benjamin Wagner, MD
Learn more about orthopaedic urgent care
When to visit orthopaedic urgent care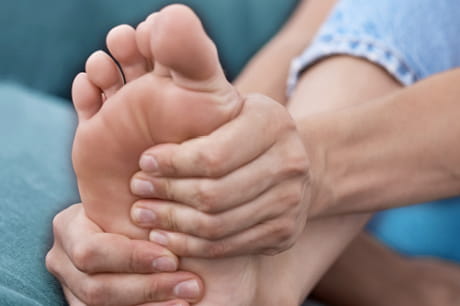 Content from General Links with modal content