Trauma care turns around three patients' lives
By Paula Franken
A Geisinger trauma center resembles nothing more than a well-oiled machine. A patient arrives, and every cog starts turning to heal the damage.
The bike was totaled. He nearly was, too.
When Berwick native Rick McFadden was riding his motorcycle with a friend in June 2015, their bikes collided. His friend was thrown off, but Mr. McFadden's legs became tangled in the bikes as one veered left and one veered right.
Both men were taken by Geisinger Life Flight® to Geisinger Medical Center — a Level I trauma center — in Danville, where trauma teams were standing by. Mr. McFadden, who was 42 at the time, woke up a week later in the hospital surrounded by family and friends. He didn't remember anything since the accident, but he'd already undergone multiple surgeries, with many more still to come.
Trauma surgeon Kenneth Widom, MD, remembers the case well. "Rick was about as sick as a human being can be when he arrived at the hospital," he says. "Through an amazing team effort, we were able to correct his profound shock state and stabilize his life-threatening injuries. More so than anything else, however, Rick's spirit and ability to fight like hell pulled him back from the brink."
In his 99 days in the hospital, Mr. McFadden saw specialists from disciplines including orthopaedics, neurology, gastroenterology, vascular and plastic surgery. He's grateful to them all — but gives special thanks to his urologist, Ryan Mori, MD, who was involved in his care from the beginning and continued to treat him for years.
"At first, we were focused on his survival. It was all about stabilization and damage control," Dr. Mori explains. "Once Rick was out of the woods, we began the long process of reconstructing him and improving his quality of life through multiple surgeries. He first required a complex urethral reconstruction to return his ability to urinate and to become catheter free, and later we were able to restore his urinary continence and sexual function using prosthetic surgery."
"Dr. Mori became my light in the darkness," Mr. McFadden says. "He made me feel like myself, like a man again. I can't thank him enough. He gave me my life back."
Another person Rick says he can never give enough credit to is his wife, Caroline. "She's my rock. She was there for me through it all and I could never have made it without her. She gave me the strength to carry on even when I didn't think I could."
But carry on he did. Months of physical therapy got Mr. McFadden walking again after he lost his right leg below the knee. Extensive behavioral therapy has helped him deal with the aftermath of the trauma.
Back home in Berwick now with his wife and their three dogs, Mr. McFadden is restoring a 1974 Chevy Nova and working at the local Home Depot. "Life is good and I'm lucky to be alive," he says. "I actually think I'm a better person than I was before the accident."
Watch Rick McFadden's story in his own words.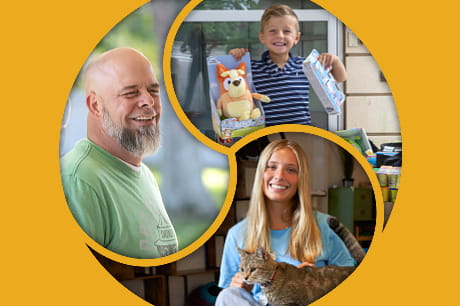 Back in the game and stronger than ever
In August 2020, Ryan Brouse of Lewisburg was critically injured in a car accident.
Geisinger Life Flight took the 14-year-old to Geisinger Medical Center in Danville with a liver laceration, brain trauma and a fractured pelvis.
"Ryan was within minutes of dying," says her mother, Angie Brouse. "Had she gone by ambulance she probably wouldn't have made it."
By the time her parents arrived at Geisinger, Ryan was being prepped for surgery. "The trauma team moved swiftly," says Ms. Brouse. "They let us kiss her and tell her we loved her."
Mark Massak, DO, and fellow Saif Ahmed, MD, repaired Ryan's liver using interventional radiology, a minimally invasive approach that uses medical imaging to guide advanced procedures — avoiding the stress that traditional surgery can put on a patient's body.
After surgery, Ryan was admitted to the Pediatric Intensive Care Unit (PICU) at Geisinger Janet Weis Children's Hospital where Ronald Wong, DO, took charge of her care.
"Dr. Wong was there with us every single day. He answered every question, listened to our input and truly cared," Ms. Brouse says. "The entire PICU team was fabulous. The nurses did a magnificent job managing Ryan's pain, keeping her comfortable and educating us on everything that was going on."
Once Ryan left the PICU, orthopaedic surgeon Mark Seeley, MD, and neuropsychologist Heather Hoover, PhD, worked to heal her pelvis and brain injuries. "Ryan's care on the pediatric floor was fantastic," Ms. Brouse says. "Melissa from Foodservice always had a smile on her face and kept us smiling, too."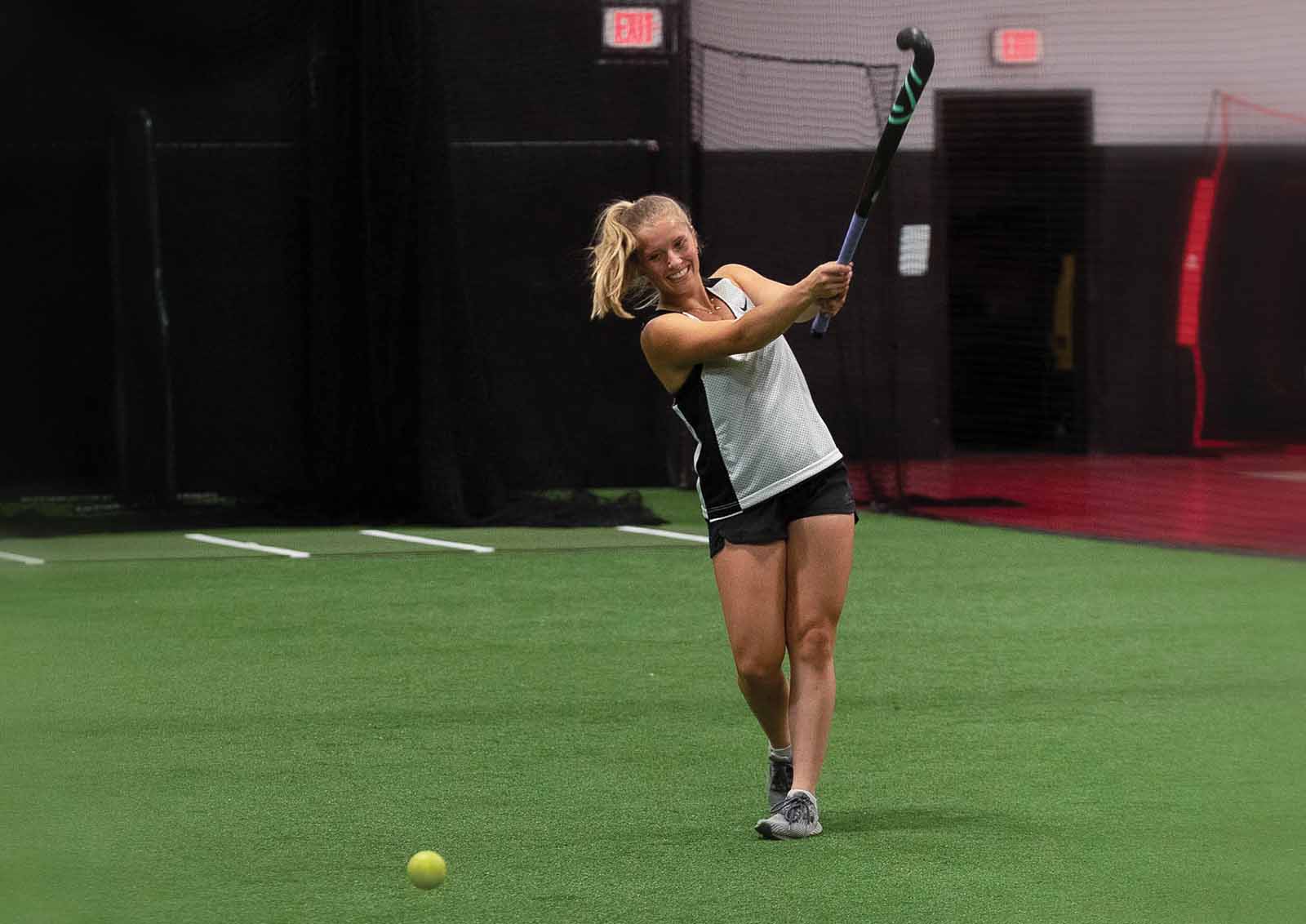 Upon Ryan's discharge, months of recovery and physical therapy lay ahead. "I lost a lot of my speed with running, so I had to really work and do a lot of sprints to try to get back there," she says.
And get back there she did. Ryan was the starting centerfielder for her softball team that season and starting midfielder for Lewisburg's field hockey team the next.
"We are so grateful every day — and it's amazing to see her not only thriving, but stronger than ever," says Ms. Brouse. "A true miracle!"
It takes a village to save a child
During a camping trip in central PA on June 26, 2021, an ATV landed on top of 4-year-old Zachary Moyer. He needed medical care — fast.
Geisinger Life Flight flew Zachary about 80 miles to Geisinger Janet Weis Children's Hospital, where teams came together to repair his head injury, a severed artery in his liver and multiple broken bones, including his eye socket, jaw, arm and both legs.
This past August, after a full recovery, Zachary traveled back to Danville from his hometown of Haverford to thank the team who saved his life — by donating more than 400 toys to hospitalized children.
"The doctors here are heroes," says Zachary's mom, Lyndsay Moyer.
"They saved his life."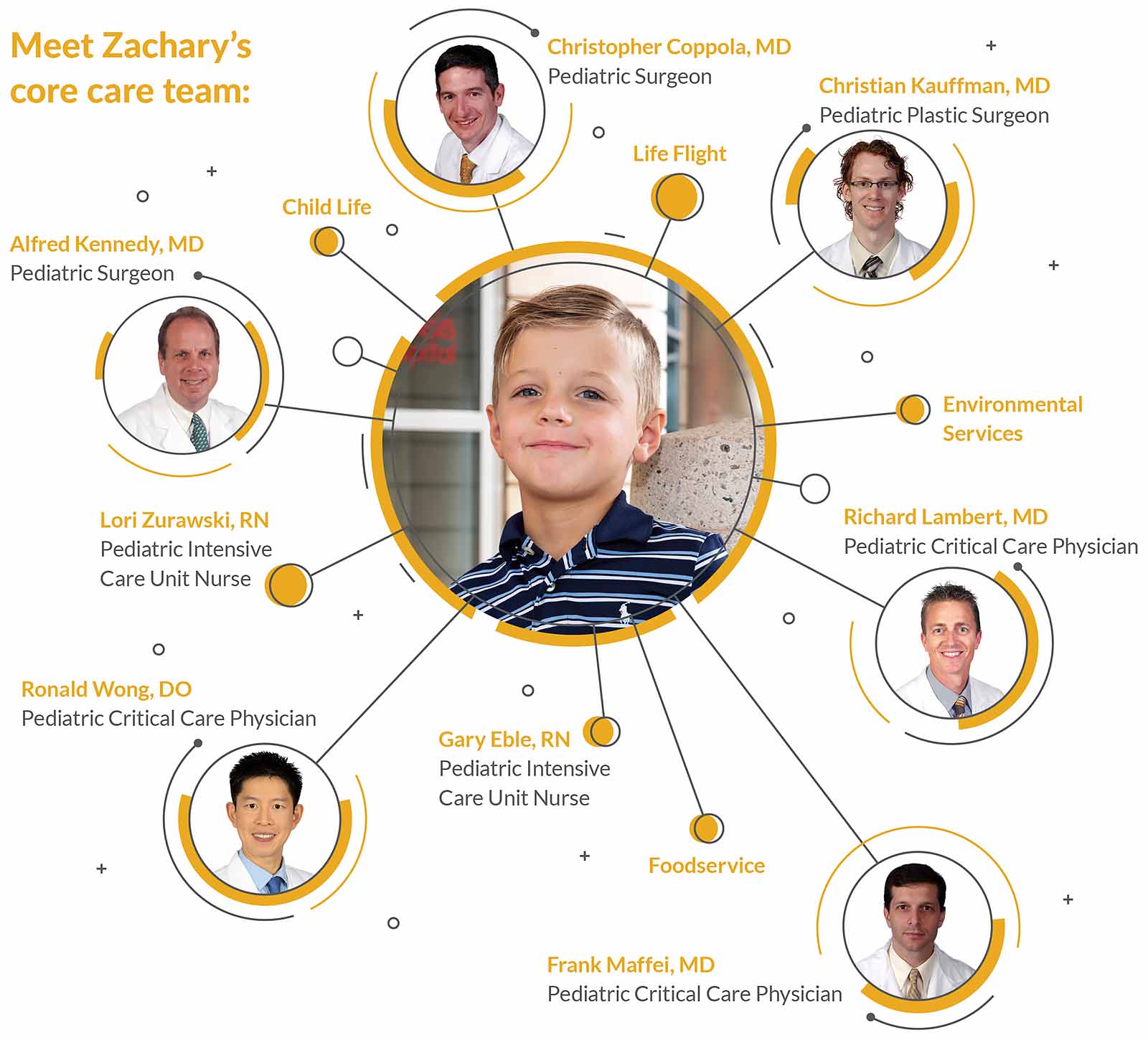 ---
The wellness you need, in a style you'll love — delivered.
Sign up to have PA Health sent to your mailbox or inbox 4 times a year, for free.
Content from General Links with modal content