Culinary medicine teaches healthy (and yummy) cooking
By Beth Kaszuba
Want to sharpen your knife skills? Learn fun food facts? Make new friends while learning to cook delicious, healthy recipes — for free?
Sign up for Geisinger's Culinary Medicine classes in Selinsgrove and you're in for all these treats — plus a chance to improve your well-being or even conditions such as diabetes, according to Geisinger registered dietitian nutritionist and course instructor Amy Marie Pinkham.
"Most people who take the classes are looking to get off medications," she says. "But anyone can come. You don't even have to be a Geisinger patient."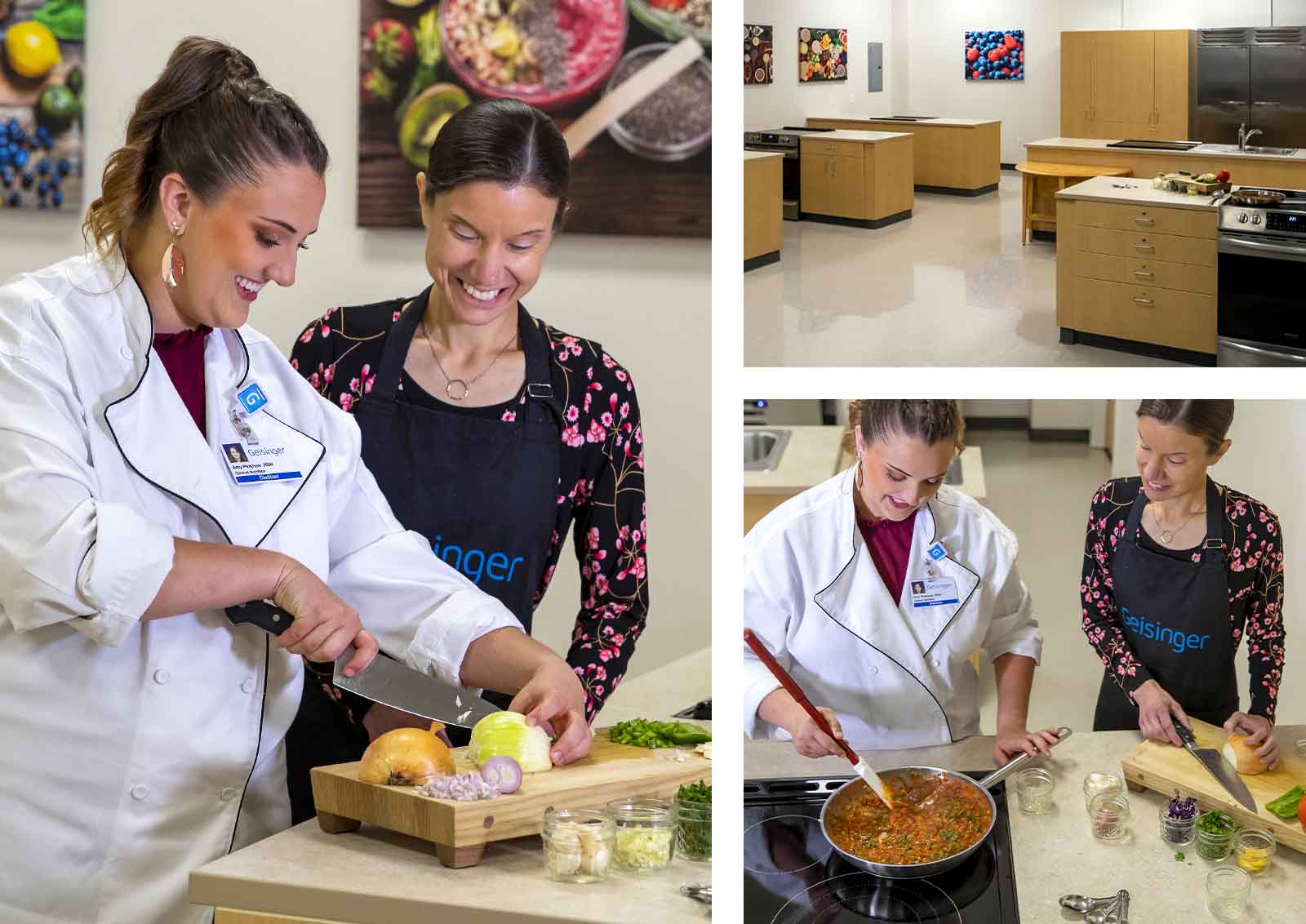 The classes attract everyone from retirees looking for new social activities to couples wanting a different kind of date night. They're hands-on, and offered in four-week blocks in a cheerful, multi-station, fully equipped kitchen.
Along with gaining kitchen skills, students learn to work elements of the healthy Mediterranean diet into their daily menus. But don't get hung up on the word "diet," Ms. Pinkham says.
"Diet culture usually equals restriction," she explains. "This is about the addition of healthier foods, as well as higher-quality ingredients."
Many think a Mediterranean diet involves a lot of salmon, hummus and olives. But culinary medicine students learn to modify western dishes, such as turkey meatballs or French toast casserole that uses whole wheat bread.
"Students learn how small changes can make a big difference, nutritionally," Ms. Pinkham says. "And a lot of people try things they've never tried before."
Not only try them — often, students learn to like new ingredients or find ways to enjoy foods they've disliked in the past.
Jessica Amon of Orangeville points to her husband David as a participant whose palate has expanded. "He would not eat quinoa before," she says, explaining that the couple joined the class to become better cooks. "Now, he bought it at the store."
"There are a lot of dishes we make and next week buy the ingredients," confirms Mr. Amon, who originally thought they'd stop at a nearby steakhouse on the way home from classes. Instead, they fill up on healthier alternatives — including dishes with onions, which Ms. Amon used to reject.
Karen Persing of Marion Heights joined because she used to enjoy cooking classes with her daughter, who's now a chef. "Also, I'm pre-diabetic," she adds, while whipping up a dish featuring cauliflower and whole-grain pasta. "It's a way for me to start eating healthier."
The classes, which end in a group meal, are also a bonding experience, Ms. Pinkham notes. "We all become friends. And participants get to try new flavors and foods without spending a dime."
About half the students are healthcare providers in training. "Residents from all the different specialties have come through," says Ms. Pinkham. "Nutrition is relevant for all specialties, from obstetrics and gynecology to cardiac care to weight management."
In the future, she hopes to expand the in-person program to Scranton and State College — and in early 2023, virtual courses will open up the learning to everyone. She's also developing a summer program aimed at parents and kids.
In the meantime, she says, "Having even one household member join the class can impact how a whole family eats."
Along with providing students with skills, recipes, fellowship and some great meals, Ms. Pinkham added that she hopes to impart one key message to students: "Healthy cooking and eating a nutritionally balanced diet are affordable, attainable and sustainable."
---
The wellness you need, in a style you'll love — delivered.
Sign up to have PA Health sent to your mailbox or inbox 4 times a year, for free.