Recipe: Avocado breakfast bruschetta
Healthy avocados meet classic bruschetta in this delicious start to the day.
If you're looking to add a little pizazz to your breakfast, look no further than this avocado breakfast bruschetta. But be warned: you may never look at avocado toast the same way again.
Ingredients
Serves 2
½ ripe avocado
1 medium tomato
½ green onion
¼ cup chopped fresh basil (plus 1 tbsp for garnish)
2 hard-boiled eggs
6 slices whole-wheat baguette
2 tablespoons reduced-fat ricotta
Cracked black pepper to taste
Directions
Dice avocado, tomato, and green onion, then peel and chop hard-boiled eggs.
Reserving one tablespoon basil for garnish, gently combine the first five ingredients. Add pepper to taste.
Toast baguette slices and smear with ricotta.
Top with avocado mix and garnish with chopped basil.
Nutrition information per serving: 340 calories, 17g fat, 90mg cholesterol, 434 mg sodium, 32g carbohydrates, 17g protein and 6g total sugars
Next steps:
Looking for more? Explore our dietitian-approved recipes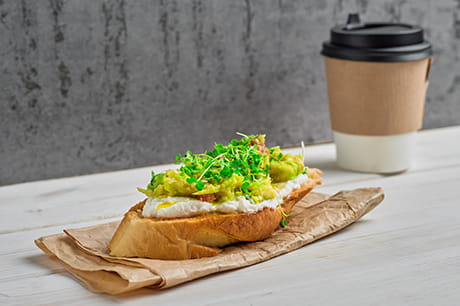 Content from General Links with modal content