Living his truth: Pursuing a career in nursing
A former minister puts his faith into action, and to the test, by becoming a nurse.
For a man with noble goals and one eye on the divine, Joshua Reinsburrow is surprisingly — bluntly — grounded in reality.
"It's hard," he says, summing up three roles he plays: Nursing student. Intern and nursing assistant with Geisinger Janet Weis Children's Hospital's oncology/hematology unit. And parent of two, including a 14-year-old son with a traumatic brain injury. "Hard," he repeats. "I can't think of another word for it."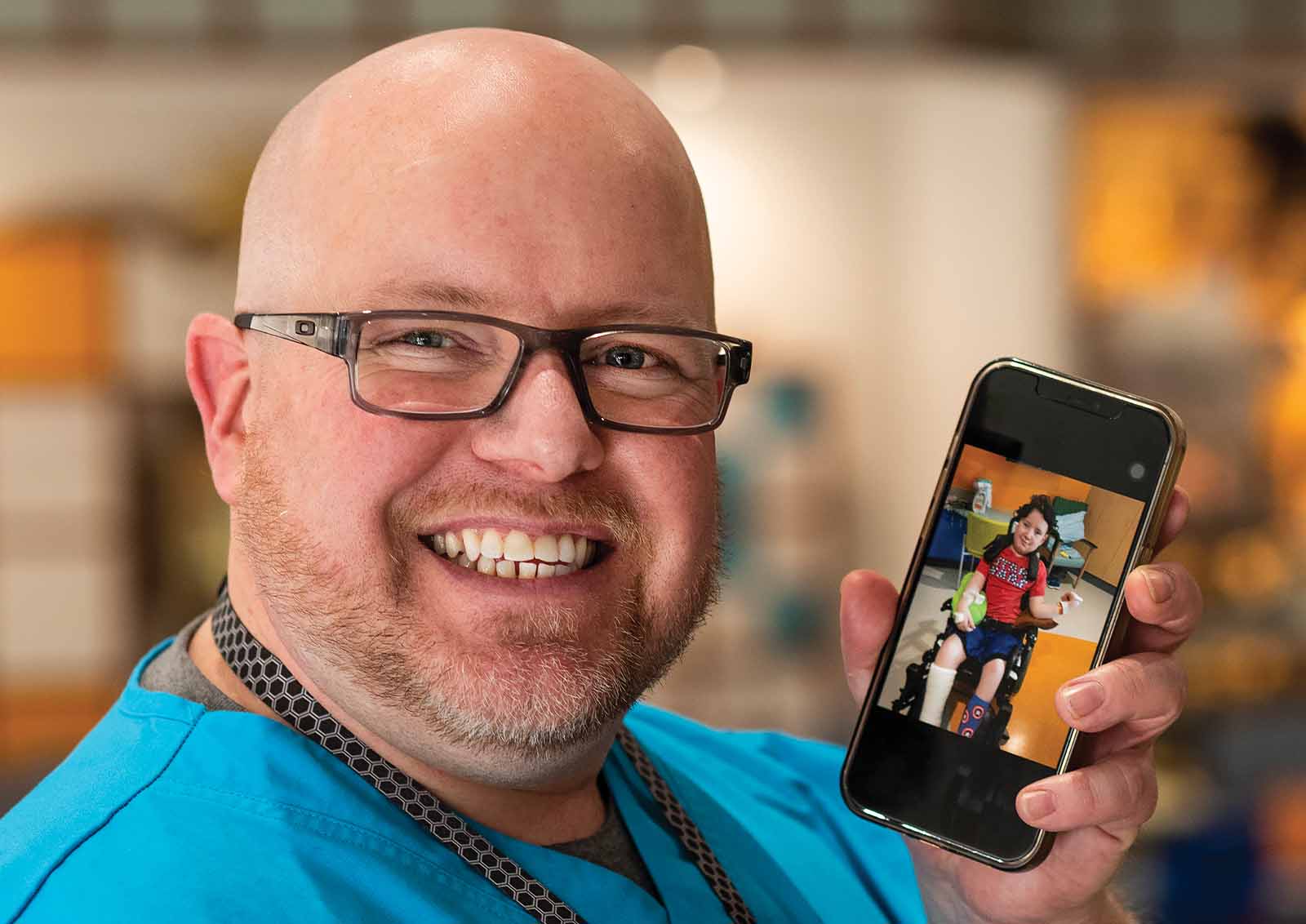 Mr. Reinsburrow, a resident of Turbotville, Pa., is aware he's made his life more challenging by leaving a 25-year career as a Lutheran pastor to become a nurse. But, he says, like ministry, nursing is a calling he couldn't ignore on a journey that took a dramatic turn in 2016.
He was driving with his son Henry near Mifflinburg when they collided with another vehicle. The accident left him with a concussion and broken back, ribs and ankle.
Henry was also severely injured. "Geisinger was a big part of saving his life," Mr. Reinsburrow recalls. Geisinger Life Flight® flew Henry to Geisinger Medical Center in Danville, where he remained for more than a month under the care of a team that included Frank Maffei, MD, chair of pediatrics.
"Dr. Maffei moved mountains for Henry," Mr. Reinsburrow says.
Still, Henry will always be in a wheelchair and nonverbal. "He's 100% there, cognitively," Mr. Reinsburrow adds. "He'll blink for yes and no." Henry also smiles and laughs and uses a device that allows him to communicate by tracking his eye movements, so he can pick out objects on a screen.
But there's no sugarcoating the hard truth that the Reinsburrows lost the Henry they knew back at that intersection.
"Parents who lose a child… I don't know if they ever heal," Mr. Reinsburrow says. "But for us, it's a more ambiguous grief." He adds, pragmatically, "And the day will come when we lose Henry. Brain injury often shortens a child's life."
Dr. Maffei agrees. "Unfortunately, it's extremely difficult to fully recover from a life-threatening traumatic brain injury," he says. "But we wanted to make sure Henry had every opportunity to live the fullest life possible. Every child deserves that."
Mr. Reinsburrow and his family are also committed to making sure Henry gets the very best care, which means they provide a lot of it themselves. "The caretaker role will never go away," he says. "I never get time off."
So why double down on that challenge by becoming a nurse — and focusing on pediatric and trauma care?
Because he sees the opportunity to take his experiences, good and bad, as a pastor and caregiver to a child with a traumatic brain injury and use the empathy and knowledge he's gained to serve others.
"My goal is to help other parents," he says, noting that he's also worked as an EMT. "I can look at them and say, 'I get it. I can relate to being in a hospital and the unknowns.' Then the walls come tumbling down. The tension falls away."
His supervisor at the children's hospital, Heidi Cole, RN, says patients of all ages respond well to Mr. Reinsburrow. "He has a very positive, outgoing spirit," she says. "He uses all of his experiences to make their experiences as positive as possible."
She adds, "It's great that he got into nursing. He's going to bring a lot to the profession."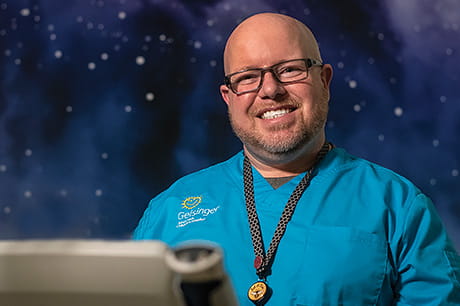 Mr. Reinsburrow is part of Geisinger's Nursing Scholars Program, which provides financial assistance and other support to employees who want to pursue careers in nursing.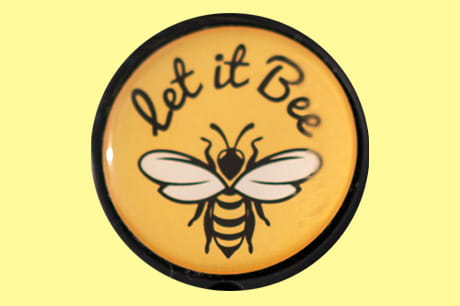 Among the many badges and lanyards Mr. Reinsburrow sports as part of his scrubs, one features a cartoon bee and the reminder, "Let it bee."
It's hard not to wonder how Mr. Reinsburrow, soft-spoken and readily emotional, can spend days and nights in a place that was so central to the most dramatic, and traumatic, change in his life.
"I suppose I could've had some kind of PTSD," he says of the first day he walked into the children's hospital as an employee. "But it really just felt like coming home."
That's not to say the accident doesn't still affect him every day.
"My son has the wounds, but as a father, there are still days it's quite fresh, like it was yesterday," he says. And his faith has been tested — and put into action. "I'm living what I preached for 25 years."
In particular, he's grappled with anger. He's clearly appalled by his own actions when he recalls dressing down a paid helper who he thought fell short in caring for Henry.
"You just want the best for your child," he says. "The suffering and struggle are real. Going into nursing is a way to find some healing."
Among the many badges and lanyards Mr. Reinsburrow sports as part of his scrubs, one features a cartoon bee and the reminder, "Let it bee."
It's a suitable motto for a parent who daily tries to roll with some incredibly tough punches, and a former pastor who now ministers to patients — and a different kind of congregation. A few years ago, Mr. Reinsburrow became a beekeeper, with hives that generate honey he sells to supplement his income.
Beekeeping is a role that seems like a natural fit. A buzzing, breathing metaphor for his life.
"You get used to getting stung sometimes," he says. But the reward for caring for the flock, and each individual member, is, he points out, very, very sweet.
---
This story originally appeared in PA Health, our quarterly full-color magazine filled with wellness tips, inspiring stories and more.
Sign up to have PA Health sent to your mailbox or inbox 4 times a year, for free.
The wellness you need, in a style you'll love — delivered.