Health benefits of walking
Want to clear your head after a long day? Looking for an easy way to get exercise that doesn't cost anything? Try walking. It delivers many health benefits. And you can do it from anywhere.
Walking is the unsung hero of the exercise world. This low-impact workout does everything from burn calories to boost your mood. It's an easy way to work exercise into your day without having to go to the gym.
Here's how taking a walk can benefit your health.
Managing or losing weight
Walking burns calories and, depending on your pace and how long you walk, it can help you lose weight.
"Walking is a great form of cardio," says Erin Connolly, MD, family medicine doctor at Geisinger. "Even for people who don't enjoy cardio or can't do higher intensity cardio because of joint pain."
It just takes 30 minutes each day to get the most out of your daily walk. If you're looking to lose weight, pick up your pace or increase the length of your walk.
Reducing your risk of chronic disease
From lowering blood pressure to helping you lose weight, the many benefits of walking include a lower risk of developing chronic diseases, like diabetes and heart disease.
"For example, walking is a recommended method to help lower blood sugar levels and the overall risk of diabetes," says Dr. Connolly.
For preventing diseases, work to lengthen your walks — but not every day. Taking an hour-long walk just one or two days per week is enough to help you decrease your risk of developing a chronic disease.
Strengthening your heart
Just 30 minutes of walking each day can help decrease your chances of having heart disease. "The longer you walk, the more your chances decrease, too," Dr. Connolly says.
Walking can also help improve your cholesterol and blood pressure levels, supporting an overall healthy heart.
Easing joint pain
Walking helps protect your joints by strengthening the muscles around them. "For example, your hamstring and quadricep are the muscles around your knee," says Dr. Connolly. "These two muscles are strengthened from walking, which can help to reduce knee pain."
Boosting your mood
Want to shake off a bad mood? Go for a walk. Walking release endorphins, the feel-good chemical that can reduce stress. "Being outdoors surrounded by nature and sunlight is a natural way to improve your mood and can help with seasonal depression," says Dr. Connolly
How many steps do you need in a day?
You've probably heard the recommendation to get 10,000 steps each day. Do you really need that many? Survey says no. So how many steps do you actually need?
"Anything above 5,000 steps per day is a good place to start," Dr. Connolly says. Walking just 5,000 steps a day can improve cardiovascular health, boost energy and help you sleep better.
Want to go further? Gradually increase your step count each day or week to ease into your walking routine until you get to a number that feels comfortable for you.
How to get more steps in
Whether you're just looking to improve your overall health, or you're aiming for a certain number of steps each day, getting there is easy. It's all about putting one foot in front of the other.
Start slowly
Make your goals small and easily attainable, and then when you're comfortable, increase the number. Instead of shooting for a certain number of steps right away, try walking for just 15 minutes a day first.
Take the stairs
Shopping for the day or running errands? Take the stairs when you can. You'll increase your heart rate and work the large muscles in your legs, which will help your whole body burn more calories.
Park farther away
Choose a parking spot near the outer edge of the grocery store or mall lot and walk the extra steps to get there.
Bonus: If you're carrying groceries, you'll get some light lifting in, too.
Set hourly reminders
Studies show it's best to take short breaks while working to stay focused and even retain information. So, what better way to fill that break than with a short walk?
"By setting reminders, you might find yourself being more productive throughout the day because you got your body moving while giving your mind a rest," says Dr. Connolly.
Don't do it alone
Walking with a buddy can make things more fun and keep you motivated. Ask a friend or neighbor to join you. You can also get the whole family involved. Walking the dog together or going on a hike are great ways to get everyone moving more.
Looking to work a walking routine into your daily activity? Start with a conversation with your healthcare provider. They can help you find the right program to help you make the most of your health.
Next steps:
Make a primary care appointment
Pain in your side? Here's what it means.
Take the work out of workout with these easy exercises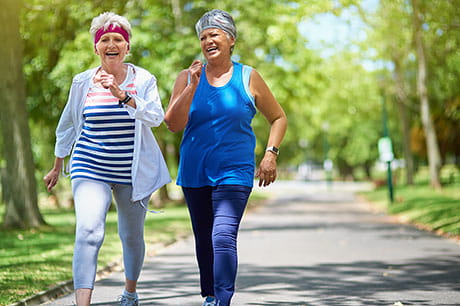 Content from General Links with modal content