A common ingredient in some cold medicines may not work
The FDA announced that phenylephrine, a common decongestant, may not relieve that stuffy or runny nose after all.
This cold and flu season, you may find yourself reaching into your medicine cabinet for some help fighting common cold symptoms. Before you do, there's some important new information you should know about an ingredient found in many over-the-counter cold medicines.
The Food and Drug Administration (FDA) announced that the decongestant phenylephrine may not be effective when taken as a pill or as a liquid.
What is phenylephrine?
Phenylephrine is a decongestant, a type of medicine that helps relieve that stuffy or runny nose common during cold season. Some medicines only contain phenylephrine while other medicines contain phenylephrine and one or more other active ingredients that treat symptoms like headaches or muscle aches.
While phenylephrine might be a new name for you, you've likely heard of the medications it's currently in, such as:
Sudafed PE®
Tylenol® Cold and Flu Severe
DayQuil™
What do I need to know about the FDA announcement?
There are four important things to know about the FDA announcement:
Phenylephrine may not be effective when taken by mouth, either in a pill or liquid form.
While phenylephrine may not be effective in some forms, it is still safe.
In medicines that contain multiple ingredients, the presence of phenylephrine does not affect how other active ingredients work.
The FDA's announcement does not apply to nasal sprays that contain phenylephrine.
How can I tell if a cold medicine contains phenylephrine?
Look for the "Drug Facts" label on your cold medicine packaging. If a medicine contains phenylephrine, it will be listed under "active ingredients."
I have a medicine with phenylephrine in my medicine cabinet. What do I do?
"As of right now, the FDA is not advising people to throw away medications that contain phenylephrine, as the ingredient is still safe — just not effective. This means it will not harm you if you take medication containing the phenylephrine," says Micaela Mitchell, RPh, pharmacy manager at Geisinger Pharmacy.
"Still, you may want to seek out alternatives to phenylephrine so you're prepared and ready for cold and flu season. There are many medicines available to relieve congestion symptoms."
You can relieve congestion with nasal decongestant or steroid sprays, oral pseudoephedrine, antihistamines or saline rinses. Check with your pharmacist to see which over-the-counter cold medicine is best for you.
Still have questions?
Talk to your doctor or pharmacist if you still have questions about which cold medicines may be right for you. If you do come down with a cold, most symptoms normally resolve on their own in about 10 days. If your symptoms last longer, contact your doctor to make sure you don't have a more serious illness.
Next steps:
Get to know Geisinger Pharmacy
Here are the cold and flu remedies that work
Unexpected places you find cold and flu germs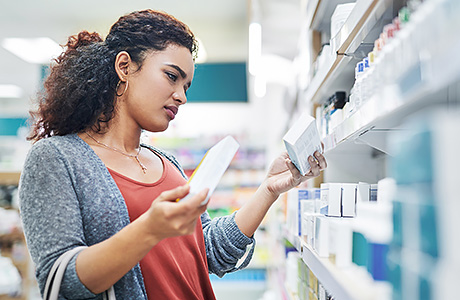 Content from General Links with modal content