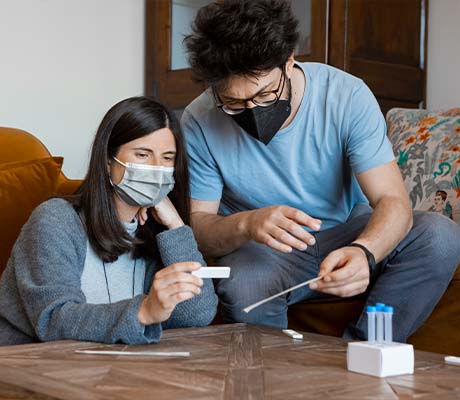 Coverage for at-home COVID-19 tests
Updated Sept. 22, 2022
Geisinger Health Plan members who have coverage through an employer or an individual commercial policy, or are enrolled in GHP Family or GHP Kids, can get over-the-counter, at-home COVID-19 tests for free or reduced cost:
No authorization is needed from a doctor or GHP
Each member is limited to eight tests every 30 days
Tests are for personal use only
Coverage will be in effect for the duration of the COVID-19 public health emergency
At-home COVID tests can save you a trip to your doctor's office, an urgent care clinic or a testing center. In fact, if you have mild or no symptoms, at-home testing is your most convenient and safest testing option — especially given the long wait times in urgent care clinics and testing centers.
How to get at-home COVID-19 tests
1. Visit CovidTests.gov. This U.S. Department of Health and Human Services website is offering four free tests per home and will ship them to you.
2. Pick up tests at a Geisinger Pharmacy location. These tests are available using your benefit information, and you'll have no out-of-pocket cost. Find a Geisinger Pharmacy near you. Availability at Geisinger Pharmacy locations is subject to change and may vary by location. You can confirm availability with your nearest location before visiting.
3. Some Geisinger Health Plan network pharmacies are also providing tests at no cost. These pharmacies will provide tests to you using your benefit information, and you'll have no out-of-pocket cost:
Visit our pharmacy search to find a network pharmacy near you.
Confirm they have tests in stock and will use your benefit information to provide the tests.
Show your member ID card at the pharmacy counter when you ask for the tests.
4. Order online from Geisinger Pharmacy. Tests will be shipped to your home free of charge. Please note: Members are limited to 8 tests every 30 days. If you have already obtained tests in the previous 30 days, and your online request puts your 30-day total at more than 8, your online request will not be fulfilled. Your limit is based on a rolling 30-day basis from the date of your first purchase. Please be sure to only order as many tests as you have available for the current period.
5. If you bought a test at a network pharmacy that didn't use your benefit information, or from a retailer that isn't in the GHP pharmacy network, you can request a $12 per test reimbursement from GHP.
To request reimbursement:
Complete this form.
Include a copy of your receipt showing the purchase date and price, as well as a copy of the UPC barcode from the test package.
Mail or fax all three items to:
GHP Pharmacy Claims Department
100 N. Academy Ave.
Danville, PA 17822-2410
Fax: 570-271-5610
You'll be asked to attest that:

The tests are for your own personal use and not for employment purposes
You're seeking reimbursement only from Geisinger Health Plan
You will not resell the tests
Former GHP Family or GHP Kids members will also be asked to attest they were enrolled at the time of purchase
Note: Demand is very high for at-home COVID tests. Many pharmacies and stores may be out of stock or placing purchase limits on tests.


At-home COVID test: Frequently asked questions
Who's eligible for at-home tests?

According to guidance from the federal government, members with coverage through an employer or an individual commercial policy are eligible for this coverage option while the federal public health emergency remains in effect.

Under the current federal government guidance, Medicare members are not eligible for this coverage option.

GHP Family and GHP Kids members are also eligible and can request reimbursement of tests purchased since Aug. 30, 2021. If a test was purchased between Aug. 30 and Jan. 15, only the purchase receipt and reimbursement form are needed. For purchases Jan. 15 and later, the test UPC will also be needed. Individuals who are no longer enrolled in GHP Family or GHP Kids, but were members when they purchased the tests, can still request reimbursement.

Which tests are covered?

Geisinger Health Plan will cover over-the-counter, at-home COVID-19 tests that are authorized, cleared or approved by the Food and Drug Administration (FDA).

Examples of FDA-authorized, cleared or approved OTC COVID-19 antigen tests include, but aren't limited to:
BinaxNOW COVID-19 Antigen Self-Test
CareStart COVID19 Antigen Home Test
Ellume COVID-19 Home Test
Flowflex COVID-19 Antigen Home Test
iHealth COVID-19 Antigen Rapid Test
QuickVue At-Home COVID-19 Test

When should I be tested?

If you have COVID-19 symptoms, or you've been around someone suspected or confirmed to have COVID — you meet the CDC's guidelines for testing. If you have mild or no symptoms, at-home tests are an appropriate first step. Learn more in our Coronavirus Resource Center.