The Steele Institute for Health Innovation's care delivery pillar directs resources to design and test innovative care delivery models that improve quality and patient experience.
By transforming care delivery, we can fundamentally change the approach to delivery of healthcare across all settings.
Featured care delivery innovation:
Transforming medical care with virtual reality
We're incorporating the use of virtual reality (VR) to rethink not only the way healthcare is delivered by our providers and clinicians, but also how it's communicated to our patients.
We're using VR in a variety of methods across our clinical footprint, including perioperative experiences in orthopaedic use-cases that support Geisinger's ProvenRecovery initiative, a surgical redesign program aimed at expediting healing, improving pain management and reducing opioid use.
Our teams are utilizing VR to support continuing medical education development in nursing, pharmacy and OR team training, along with adopting "train the trainer" programs to deliver quick, scenario-driven education.
We're gathering patient feedback in real time and integrating with patients' notes; developing and publishing clinical protocols garnered from use case testing in acute and chronic pain management; and using VR as a patient education tool before surgery.
VR technology is also being used for electronic medical record integration in the clinical workflow, patient feedback and reimbursement documentation. Additionally, we're partnering with Geisinger Health Plan to develop an effective payment model structure and evidence needed to trigger coverage for VR use cases.
---
Right site of care
We're focused on helping patients access the right level of care, at the right place and the right time.
Knowing when to access primary, urgent, convenient or emergency care can be challenging, even to those in the medical field. Our teams are implementing innovative, leading-edge projects to help educate patients and support staff
Level of care awareness: An ongoing exploration of how to help patients decide where to go before they even come to the emergency room.

Inpatient decision making: Plans are in place to introduce the Repisodic® app to improve communications between staff and patients and their families around decision-making, discharge and patient adherence.

Elective outpatient care: We're creating and nurturing an environment where patients choose Geisinger for their elective outpatient procedures. This includes encouraging patients to visit our myGeisinger patient portal or a designated app that advises what level of care they may need and a location nearest them.
---
Clinician digital assistant
In its planning phases, this project strives to create an environment that allows physicians to spend more face-to-face time with their patients and helps achieve best outcomes through improving patient interactions. A digital physician assistant captures and synthesizes patient-care provider conversations through artificial intelligence (AI), thereby helping to improve the care team's efficiency and effectiveness, as well as reduce administrative burdens for physicians and clinical staff.
Through a system that records conversational interactions, the virtual assistant's AI can assist with decision-making at each point in the patient journey, including patient and colleague interactions and patient case review. Its capabilities also include recommendations based on symptoms and pre-existing conditions, location and insurance-based options — all to improve patients' outcomes, quality of care, affordability and experience.
---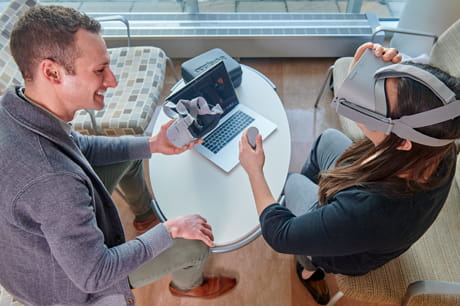 Learn more about our pillars by clicking below