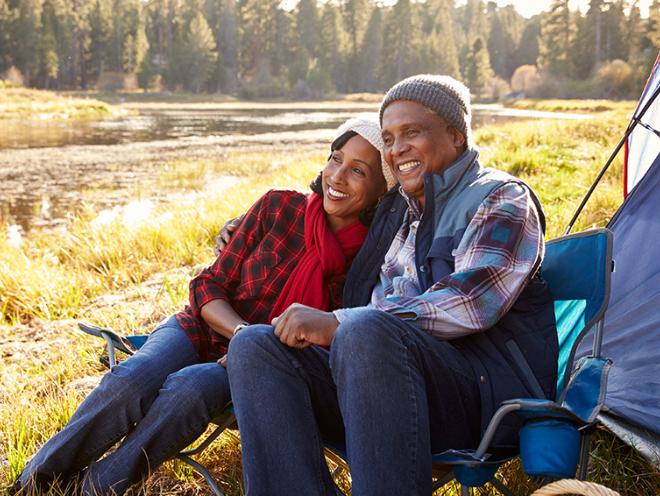 Get ready for all Medicare has to offer.
Whether you're just turning 65, want to switch Medicare Advantage plans or are helping someone enroll, Geisinger Gold offers plan options to support your needs.
Request your Geisinger Gold All Plans Brochure today.
Geisinger Gold member benefits
When it comes to finding a Medicare Advantage plan, finding one with extras to support a healthy lifestyle makes all the difference.

As a Geisinger Gold Medicare Advantage member, you'll not only have premium health insurance, but you'll also have access to benefits and programs to help you take control of your health and well-being.

Geisinger Gold members enjoy benefits and programs, including:
Geisinger 65 Forward membership
Geisinger Pharmacy
Prescription benefits
Health and wellness programs
Financial help
Silver Circle membership
Download your Geisinger Gold All Plans Brochure
Part of finding a Medicare Advantage plan that works for you is understanding your options and how Medicare works. We're here to help make that easier.

Your All Plans Brochure is filled with information to help you understand Geisinger Gold Medicare Advantage plan benefits.

Fill out the form to download your All Plans Brochure, so you'll be ready to take advantage of all Geisinger Gold has to offer.
Give us a call.
Geisinger Medicare educators are ready to answer all your Medicare questions. Call
800-482-8163
(TTY: 711), Monday - Friday, 8 a.m. to 8 p.m.
Call to learn more
Y0032_22252_8_C
Page last updated: 09/22/2022
Geisinger Gold Medicare Advantage HMO and PPO plans are offered by Geisinger Health Plan/Geisinger Indemnity Insurance Company/Geisinger Quality Options, Inc., health plans with a Medicare contract. Continued enrollment in Geisinger Gold depends on annual contract renewal. In addition to your monthly plan premium, you must continue to pay your Medicare Part B premium. Benefits, premiums and/or copayments/co-insurance may change on Jan. 1 each year. Geisinger Gold complies with applicable federal civil rights laws and does not discriminate on the basis of race, color, national origin, age, disability, sex, gender identity, or sexual orientation. ATENCIÓN: si habla español, tiene a su disposición servicios gratuitos de asistencia lingüística. Llame al 1-800-447-4000 (TTY: 711). 注意:如果您使用繁體中文,您可以免費獲得語言援助服務。請致電 1-800-447-4000 (TTY: 711).