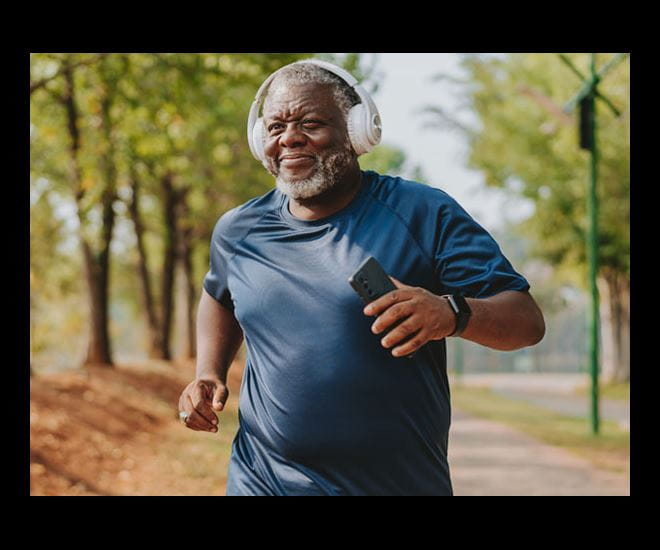 Find out if you qualify for bariatric surgery.
Bariatric surgery at Geisinger
Geisinger's weight loss specialists can help you through your weight loss journey so you can live your fullest life.
What you should know about bariatric surgery
Bariatric surgery requires an ongoing commitment to lifestyle changes, both before and after surgery. At Geisinger, you're the center of your program — and you're backed by an entire team. Our approach means you get a personalized program supported by obesity medicine physicians, dietitians and specially trained nurses. Consider us your weight loss partners for life.
Surgery is just one of the tools we offer as part of your treatment plan — we'll also help you lose weight over the course of your lifetime through nutrition and education. If bariatric surgery is part of your treatment plan, your care team will review your options to determine the procedure that will best meet your needs and goals.
Bariatric surgery may be right for you if:
You're 80 to 100 pounds overweight
Your body mass index (BMI) is 35 or higher
Your BMI is 35 or higher with at least one obesity-related health condition such as sleep apnea, high blood pressure or diabetes

Our team approach makes all the difference when you're trying to lose weight, and we provide personalized education and support to help you progress toward your weight loss goals. Join support groups, meet with nutrition counselors and get medical care that will help you succeed in your weight loss journey.
Become part of a weight loss surgery program that's built around our ProvenCare® program. This means you can recover faster and return home sooner after surgery — all without the use of opioids.
What types of bariatric surgeries are available to me?
Our bariatric surgical team specializes in endoscopic, minimally invasive and robotic-assisted bariatric surgery, which involves small incisions using precision instruments and a camera to guide the surgery. These approaches mean you'll have less scarring, reduced pain, fewer complications and a quicker recovery.
We offer the following bariatric surgeries:
Gastric bypass (Roux-en-Y gastric bypass): In a Roux-en-Y gastric bypass, a surgeon creates a stomach pouch that causes the food to go straight from the pouch to the small intestine.
Sleeve gastrectomy: Also known as a gastric sleeve, this procedure involves the removal of most of the stomach, leaving only a narrow portion of the upper section of the stomach.
BPD-DS (Biliopancreatic diversion with duodenal switch): This procedure reduces the size of the stomach and allows food to bypass part of the small intestine so fewer calories are absorbed.
Gastric balloon: In this procedure, a balloon is placed without incisions for short-term weight loss.
Minimally invasive revisional bariatric surgery: Our surgeons can usually treat problems associated with previous bariatric procedures using minimally invasive techniques.
Management of laparoscopic adjustable gastric bands: Laparoscopic adjustable gastric bands are placed around the upper part of your stomach by your surgeon. This creates a small pouch to hold food and limits the amount of food you can eat, so you'll feel full faster.
Adolescent bariatric surgery: Some teenagers with severe medical problems associated with obesity may be candidates for bariatric surgery. We have a team of providers with expertise in both pediatrics and obesity to care for adolescents.
As we reopen our offices and resume non-emergency care and surgeries, we're taking extra precautions to keep you safe. Learn more at
geisinger.org/safe
.
Bariatric surgery frequently asked questions
Will my insurance cover bariatric surgery?
Because all insurances are different, it's best that you call your insurance company and check with your provider to learn more about what services are covered under your health plan.
Do I need a physician referral?
In most cases, yes. Some insurances require a referral so it's best to have one in advance of scheduling your first appointment. This will help to avoid any delays in the process.
How soon can I have bariatric surgery?
You'll begin your weight loss journey by meeting with Nutrition and Weight Management. From there, it's typically about a six-month timeframe until you have bariatric surgery.
How much does bariatric surgery cost?
Because there are several types of bariatric surgeries and everyone is different, the cost of your surgery may differ from the cost of someone else's. Your care team will discuss all details of your surgery with you, including cost.