Healthcare delivered to your doorstep
Geisinger at Home™ brings personalized healthcare to eligible Geisinger Gold Medicare Advantage members when they need it most – right where they live. Geisinger's at-home care program helps keep patients healthier, safer and better connected to their healthcare team.
How does Geisinger at Home work?
Working closely with patients' primary care physicians, Geisinger's team of doctors, registered nurses, dietitians, case managers, pharmacists and other medical support staff can visit patients as needed, right in their very own home. With regular home visits, patients are able to have their health needs met, often before becoming an issue that requires a trip to the emergency room or hospital.
Geisinger at Home's spectrum of care includes:
Checkups
Routine testing
Wound care
Respiratory care
Nutritional needs
Urgent care
Specialty care
And more
Currently, there are about 2,100 Geisinger Gold members enrolled in the Geisinger at Home program and nearly 10,000 are eligible.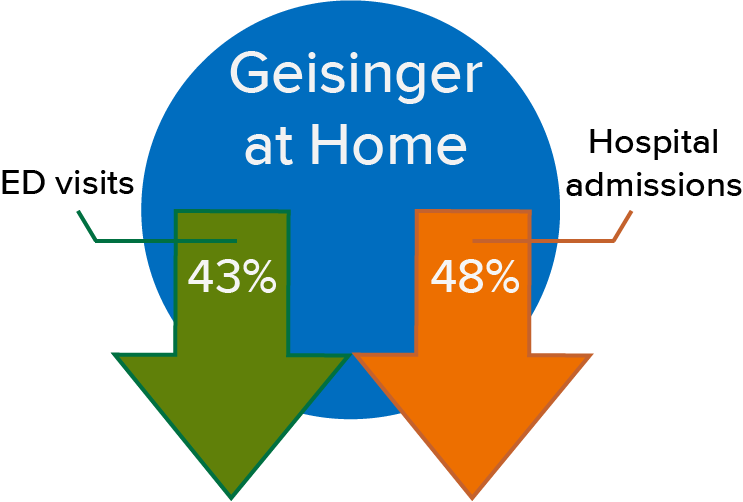 Lowering healthcare costs, cutting hospital stays

Receiving care at home helps reduce emergency visits and hospital admissions, which makes healthcare more affordable for everyone in the long run.
We have more than 5,000 members currently benefiting from this program in more than 15 counties in Pennsylvania. In fact, results for the first group of patients enrolled in the program revealed a 43% drop in emergency department visits and a 48% reduction in hospital admissions.
Geisinger at Home identifies eligible Geisinger Gold members who have complex, difficult-to-manage health conditions such as:
Kidney disease
Heart disease
Cancers
Dementia
And other conditions
Primary care physicians can also refer a patient to the program.
Are you or a loved one eligible for Geisinger at Home?
For more information about Geisinger at Home,
call 833-552-1852
. Whether you are a Geisinger Health Plan member, caregiver or healthcare provider, our team will be able to answer any questions you have.