Geisinger MyChart Access Frequently Asked Questions
What is MyChart?
MyChart provides patients, parents, legal guardians and caregivers online access to portions of the electronic medical record (EMR). The available information includes:
Test/lab result
Appointment information
Medications
Immunizations
MyChart also makes it easy to renew prescriptions, message your provider and schedule appointments.
What is family record access for a child?
Family record access in MyChart gives parents and legal guardians access to information for children under age 18. Family record access allows parents and legal guardians to communicate with their child's care team and keep track of things like:
Vaccination records
Growth chart
Appointments
Medical instructions
When can children get their own MyChart account?
Children can get their own MyChart accounts once they turn 13. Parents or guardians of children between 13 and 17 will be required to have a MyChart account (family record access) so they can help their child manage their health.
Does the child need their own email address to set up their MyChart account?
Yes.
Can I message my child's doctor from the family record MyChart account?
Yes. You can also choose to include your child in any messages to keep them involved in their healthcare.
My child had a test last week, but I don't see the results. Why?
It may take several days or even weeks to receive certain test results. Results that are protected by patient privacy laws may not be available in the portal. These include pregnancy, HIV/sexually transmitted diseases and drug screens. If you feel that your child's test results should be available, but you don't see them in MyChart, contact your child's healthcare provider's office to discuss.
What happens to my access when my child turns 13?
To protect your child's privacy, family record access automatically changes when they turn 13. To continue to have access, you and your child will have to complete the "MyChart Family Record request form for Adolescent Patients Ages 13-17 Years". Request family record access here.
What can I see on MyChart as an adolescent patient or a parent of an adolescent?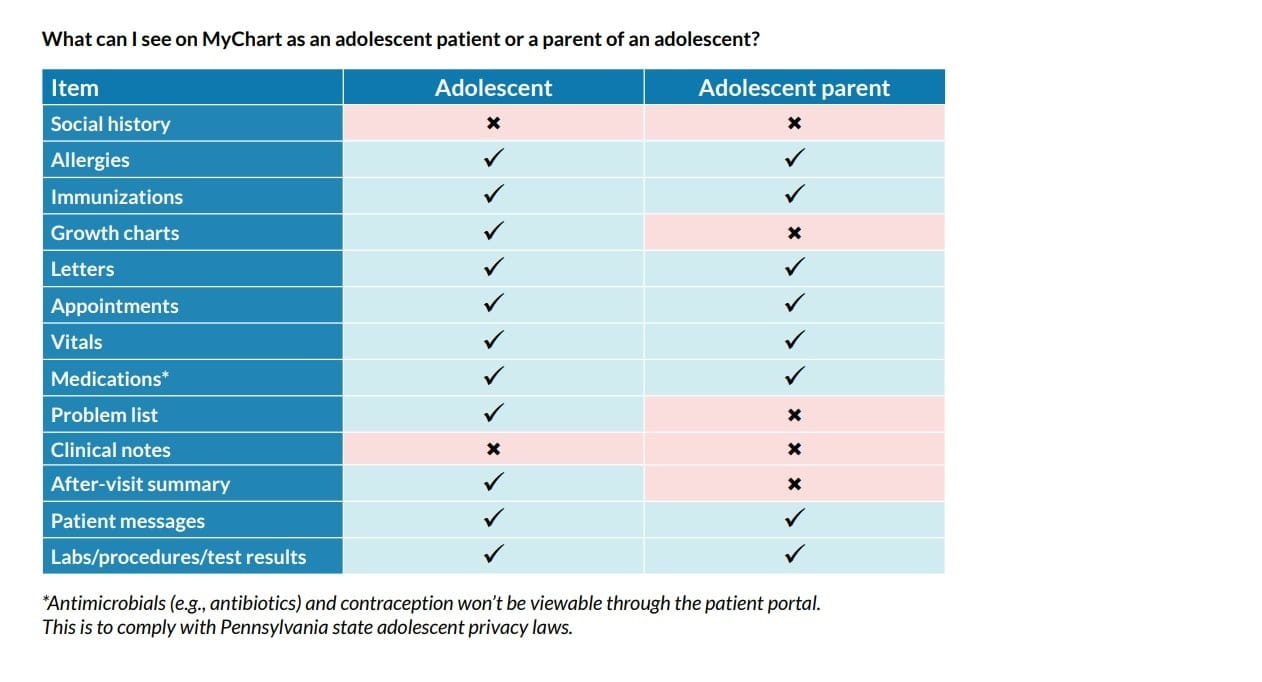 ** All anti-microbials (Ex: antibiotics) and contraception won't be viewable through the patient portal. This is to comply with Pennsylvania state adolescent privacy laws.
Are parents/guardians able to request full family record view of MyChart if the adolescent (age 13-17) has disabilities and/or special needs?
Yes, under certain circumstances. A parent or guardian can request full family record view for a child with diagnosed developmental or medical condition that would prevent them from consenting to their care. Requests will be reviewed before they're approved.
When does family record access expire?
Family record access expires when the child turns 18. When they turn 18 years old, they can grant access from their MyChart account here, or you can submit a caregiver family record access request form.
Why do access settings change when my child turns 13?
To protect the privacy of adolescent patients, family record access changes automatically when a child turns 13. MyChart is following national recommendations, including suggestions from the American Academy of Pediatricians. Pennsylvania law allows children to consent to certain treatment including mental health, substance use, certain infectious diseases and reproductive medicine without parental involvement. Pennsylvania providers must keep the protected health information resulting from treatment confidential under both Pennsylvania law and federal HIPAA (Health Insurance Portability and Accountability) regulations. The right to access PHI (Protected Health Information) is tied to the right to consent.
How long does it take to gain access to my child's medical record?
We typically process requests within 5 to 7 business days of receiving the signed form. However, during times of higher volume, this can take longer. We will process your request as soon as possible.
How do I request medical records for my child outside of MyChart?
To request medical records for your child, click here or call 570-271-6319 option 6.