About pharmacy claims
Prescription drug coverage is a major part of health insurance for many individuals. We work with a team of healthcare providers to ensure that our covered medications are appropriate and up-to-date.
What to do if a drug isn't covered
When a prescription drug isn't covered under our formulary, there are options available to health plan members who need a certain drug, or their providers prefer that drug.
Formulary addition request: A doctor can submit for changes, additions, comments or suggestions related to a formulary. Formulary addition requests are usually made by written request to the Geisinger Health Plan pharmacy department.


Non-formulary medications: When our formulary doesn't include a medication that you need — whether it's because of a specific allergy, a specific diagnostic-related need or because it no longer works for you — your doctor may ask the Geisinger Health Plan pharmacy department to make an exception.


Prior authorization: Some medications have additional requirements or limits on how they're covered by a health plan. When a medication requires prior authorization, the doctor prescribing it has to get prior approval from Geisinger Health Plan before you can fill the prescription. Without prior approval, the health plan may not cover the drug.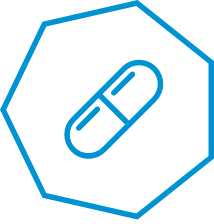 How we decide which drugs are covered
Geisinger Health Plan tries to cover medications that are medically necessary and represent prescription therapies that are believed to be a vital part of a quality treatment program.
While that doesn't mean every available drug is covered under a plan, it does mean that GHP works hard with healthcare providers and pharmacists so that the medications available in the formulary meet clinical needs, as well as health plan requirements.
Learn more about how we decide what drugs are covered.
Related information
Learn more about Geisinger Health Plan.
Log in
Find information specific to your plan.
Search for covered drugs and pharmacies
Find drugs in our formulary and search for pharmacies near you.
Talk with us
Find how to get in touch with us by email or phone.