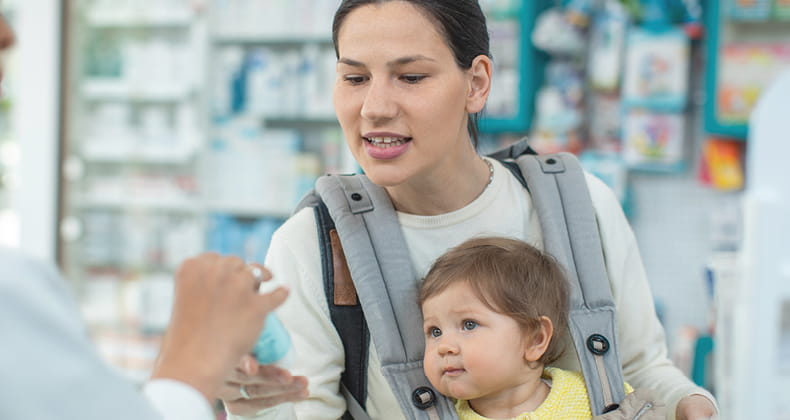 Group plan benefits
Programs and benefits to keep your employees happy and healthy.
Our business health insurance plans make better health easier
You keep your employees' health at top of mind — and so does Geisinger. Whether it's through health and wellness, disease management or pharmacy benefits, we'll find a way to meet each person's unique needs.
Health and wellness
Our dedicated team is ready to help you and your employees lead healthy lives with engaging wellness challenges, on-site screenings, online tools and resources, health coaching and health education programs.
Online tools and resources
Our member portal provides a personalized well-being experience for users with educational resources, behavior change tools, health trackers and incentive program management capabilities. We also offer a monthly wellness email and a quarterly calendar with webinars, mindfulness exercises, wellness challenges and more.
On-site screenings
Simple, comprehensive on-site screenings with accurate and quality testing are available once annually and include:
Blood pressure
Body mass index
Body fat index
Cholesterol/glucose
Handgrip strength
Waist-to-hip ratio and waist and hip circumference
Health education and interactive displays are available to support health fair needs.
Education
Live and on-demand presentations and multi-session wellness courses focus on building healthy habits, preventing chronic disease, managing stress, improving mental well-being and incorporating exercise and nutrition into life. Evidence-based programs are available for chronic disease management and tobacco cessation.
Health coaching
One-on-one health coaching is available by phone to help manage weight, glucose, blood pressure, cholesterol, tobacco use and stress.

Case management
Members can receive the best holistic care because we assess, plan, facilitate and advocate for health needs to reduce hospitalizations and emergency visits. Groundbreaking case management practices, such as Bluetooth® scales, telemonitoring and ReDS™ Vest lung fluid monitors, let us monitor your employees' health right from their own homes.
Geisinger pharmacy
Pharmacy benefits can be built into all our health plans, and standard options allow easy implementation on an expedited timeline. Upon joining, our team will review eligible medications, set up your account and work with providers for a seamless switch.
Want your medications for less? Enroll in our mail-order pharmacy program for easy prescription refills and lower costs. Get three-month supplies of covered drugs conveniently mailed to your home from our state-of-the-art facility in Elysburg. Shipping is free and you can track your order online.

Nationally recognized programs
Explore our innovative cost-saving programs like ProvenCare®, pharmacy Care Pathways, the Fresh Food Farmacy® and our numerous Centers of Excellence with focuses on opioid treatment, hepatitis C, bariatric surgery and much more. Companies like Walmart even recognize us as a preferred destination medicine location. Plus, disease management initiatives help keep high-risk members with chronic conditions out of the hospital. These programs, among others, are only possible in an integrated health system, where we work together to help our communities.
Chronic illness and behavioral health management
Have an employee who needs support for a chronic condition? Award-winning health management programs offer personalized assistance, resources and support to help members better manage their health. A range of programs help treat chronic conditions such as:
Asthma
Diabetes
Heart failure
COPD
Quitting tobacco
Weight management
Enrollment is free, and members can work with one of our health managers to manage their health.
For members seeking behavioral health services, our in-house Behavioral Health Care Connector team can help them find a provider, review benefits and connect with local resources.
Telemedicine
Need care from the comfort of home? Telemedicine (also called telehealth) appointments let you speak to a doctor in real time using video chat technology, like FaceTime or Skype. Many of our own Geisinger providers offer telemedicine services to treat and diagnose you the same way they would in a traditional office setting — only in a live virtual visit.
Telemedicine appointments let your employees and their families get treatment for common issues like:
Cold and flu symptoms
Allergies
Rashes
Sinus infections
Urinary tract infections
We also offer telemedicine visits for specialty care, including:
Behavioral health
Dermatology
Pediatric specialties
Cardiology
Neurology
Neurosurgery
Orthopaedics
Diabetes care
Psychiatry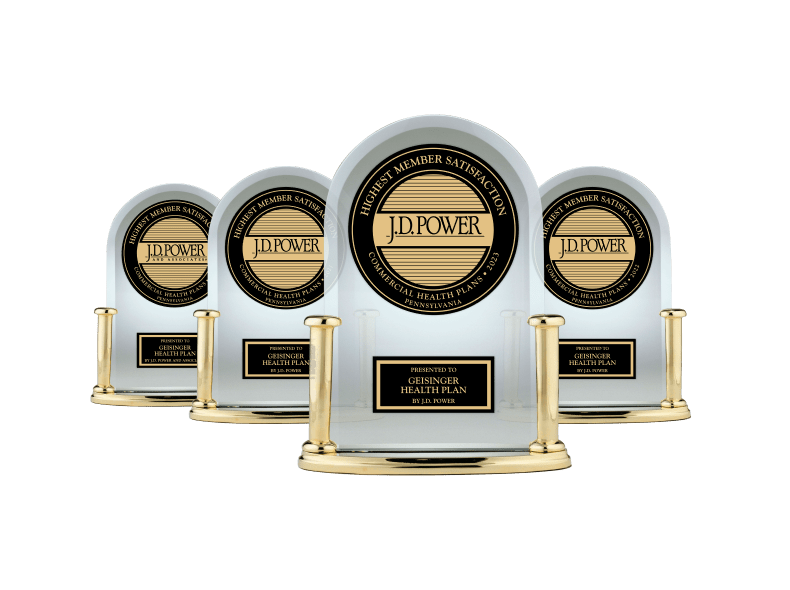 Because we put you first
For the fourth year in a row, Geisinger Health Plan is ranked #1 in Member Satisfaction among Commercial Health Plans in Pennsylvania by J.D. Power.