Long live heroes: Athletic trainers take to the front lines
Sidelined from their normal duties of helping athletes heal and get back in the game, certified athletic trainers spring into action on the COVID-19 front lines.
Athletic trainers are an essential part of healthcare, helping keep athletes of all ages healthy, healed and performing their best.

But with sporting events and practices across the country being canceled due to the COVID-19 pandemic, Geisinger's athletic trainers are far from sitting on the sidelines.

Roxanna Leigh Larsen, director of Sports Medicine Orthotics and Fitness, has seen Geisinger's team of athletic trainers shift their focus from high school and college athletes to the needs of their communities.
"Our certified athletic trainers' internal compassion and caring drive is pushing them to dedicate their time to the patients of our communities," says Ms. Larsen. "They're working on the front lines assisting within the hospital triage tents, building pre-screening stations, within Logistics, Environmental Services, CareSite Pharmacy and so much more. They're working long hours and overnight shifts so that people get the care they need, when they need it."

From triaging people in the ER tents to helping them understand how to properly wear a facemask, three of Geisinger's athletic trainers share their stories of springing into action.


Shauna Pearson: Triage tents at Geisinger Lewistown Hospital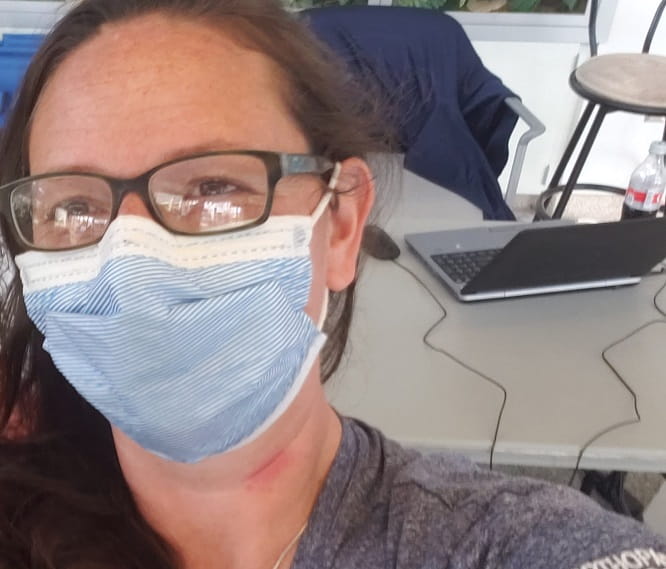 Before the COVID-19 pandemic, certified athletic trainer Shauna Pearson worked one morning a week at Geisinger Lewistown's Podiatry clinic, two mornings at Geisinger's Gray's Woods Orthopaedic clinic and covered Belleville Mennonite School Athletics daily. As an athletic trainer, every day was different for Ms. Pearson — from treating injured athletes in the clinic to guiding students through their daily rehabilitation exercises and stretches.

But things came to a halt when COVID-19 began to spread throughout the Lewistown community. Ms. Pearson was called to help in other areas.

"Now, I'm helping at the entrance into Geisinger Lewistown Hospital, taking temperatures, asking screening questions, instructing patients on how to use masks correctly and encouraging good hand hygiene. At the triage tents, I'm screening everyone who comes through to determine whether they'll enter the tent or the ER," she says.

Like most athletic trainers, Ms. Pearson's work doesn't stop when she leaves the hospital. At home, she continues administrative work at the dining room table she and her husband converted into a home office. Her children continue with their schoolwork right alongside them.

"I take as little as possible to and from the triage tents — less to clean when I get home. I also started wearing the Emergency Department-supplied scrubs," she says, "and am so thankful this has become an option for us."

Ms. Pearson and her family have been staying at home as much as possible. "We're washing hands and using sanitizer all the time and have begun wearing masks if we do go out in public. We go to the store as little as possible, order what we can and wait until we have quite a long list before going out. We wipe doorknobs, light switches and counters often."

It's a new normal that everyone is getting used to, but we're all in this together. "Please be smart and follow the recommendations laid out for us, we have to fight the virus together," she adds.


Mitch Wasik: Triage tents at Geisinger Wyoming Valley Medical Center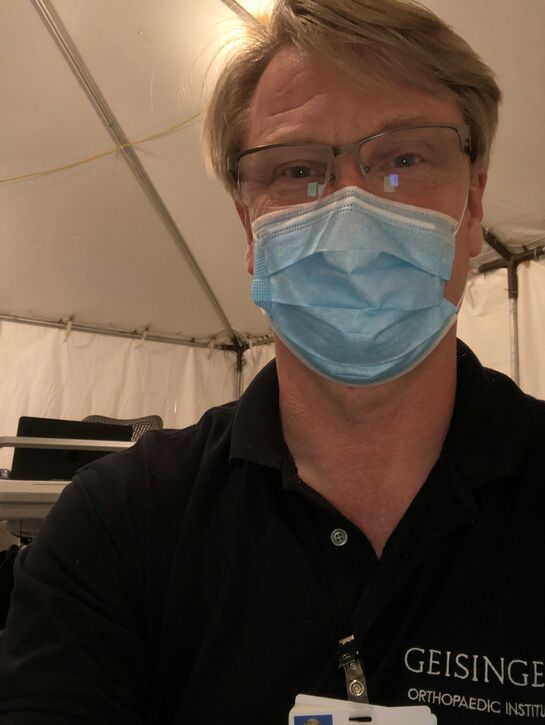 Mitch Wasik has worked in the college and university setting for the past 26 years, recently working as one of the certified athletic trainers at Misericordia University's campus. When COVID-19 hit Northeast Pennsylvania communities, he was reassigned to work in the screening tents outside of Geisinger Wyoming Valley Medical Center's Emergency Department, in addition to continuing his administrative work with Geisinger Orthopaedics.

Mr. Wasik credits his personality and training in helping him stay calm in even the most stressful circumstances. "When you're trained in emergency care and encounter emergency situations, you recognize that quick, effective decision making requires being calm," he says.

To keep safe outside of his shifts, Mr. Wasik is always thinking about cross-contamination. He makes sure to wash his hands and avoid touching anything until he gets to his car. Being diligent about this is important in helping minimize the chances of getting sick, or getting his loved ones sick.

Mr. Wasik says that everyone in the triage tent has been supportive and great to work with. "I think everyone knows and feels we'll get through this together."

But there's work to be done outside of the Emergency Department triage tents, too. He reminds we can each do our part to help slow the spread of COVID-19 in our communities.

"We are all responsible to do as much as we can to limit the impact of COVID-19. Follow the advice of medical experts, and we will get through this as quickly as we can."


Aaron Becker: Triage tents at Geisinger Medical Center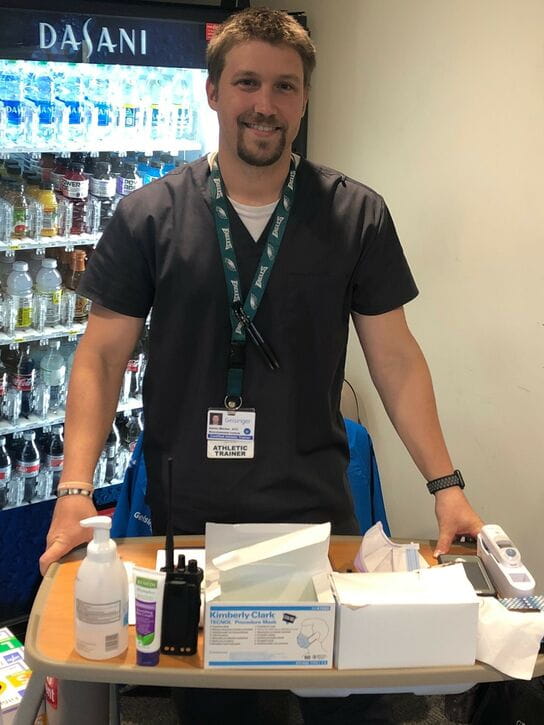 On a typical week, certified athletic trainer Aaron Becker works a few days each at the Geisinger Susquehanna University clinic and East Juniata High School in McAlisterville. At East Juniata, he works with student athletes in their extracurricular sports every day after school.
With schools shutting down indefinitely across Pennsylvania, Mr. Becker has joined numerous athletic trainers to assist with triage efforts at Geisinger Medical Center's Emergency Department.
"My role as a screener is to first find out what every person is coming to the ER for," he says. "If they have an injury that they'd like seen for, we can sometimes triage that injury in the tents without sending them into the main Emergency Department."
The triage tents are staffed by a team of healthcare providers including a registered nurse, a licensed practical nurse, an advanced practitioner and often two athletic trainers. "We're able to work together and use the different skills we each possess to treat the people who are coming in," says Ms. Becker.
Between the encouragement of his wife and frequent meetings with colleagues, Mr. Becker feels that he's surrounded by support. "We constantly send staff messages through Tiger Text encouraging one another and letting everyone know that we're here for them," he says.
One thing he wants everyone to know: "
staying home
will ultimately save lives and bring this pandemic to a close a lot quicker."