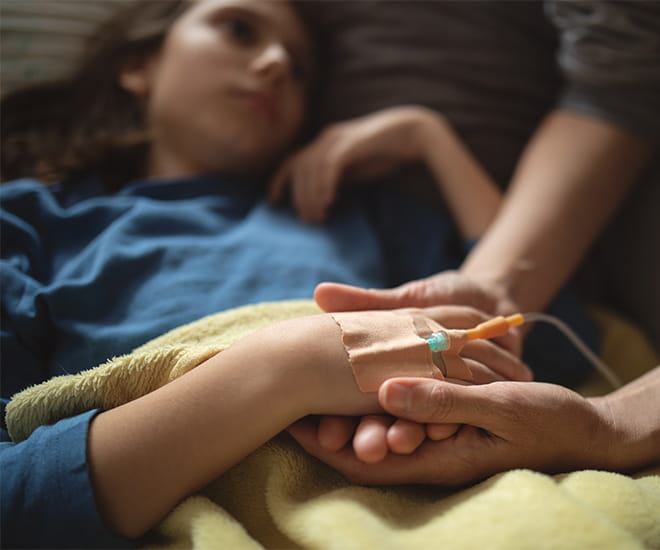 Geisinger Home Infusion Services
About Geisinger Home Infusion Services
Expert infusion treatment, delivered to your door
If you have a condition that can't be effectively treated by oral medications, your doctor may prescribe infusion therapy. But you don't have to stay in the hospital for your infusion care.
Geisinger Home Infusion Services gives you the high-quality infusion services you need to get well, in the comfort of your home.
What is infusion therapy?
Infusion therapy is the delivery of medications into your body either through your bloodstream (intravenous or IV), under your skin (subcutaneous or intramuscular) or into the membranes surrounding your spinal cord (epidural).
You may need infusion therapy for pain management, dehydration, nutrition deficiency, infections or conditions such as immune deficiency, cancer or anemia (lower-than-normal red blood cells).
With home infusion therapy, most medications can be delivered to your house. Our team of pharmacists and case management professionals will coordinate care with your physician, home health agency or skilled nursing facility.
Our comprehensive infusion therapies include:
Anti-infective therapy (antibiotic, antifungal, antiviral)
Catheter care and management
Chemotherapy
Pain management therapy
Steroid therapy
Total parenteral nutrition (TPN)
IV hydration
Biologics
Enteral therapy
Immunoglobin therapy
And more
Prefer outpatient infusions?
If you'd rather have infusion therapy in an outpatient setting, our new infusion suite is a convenient, safe and cost-effective option.
It's located in the Geisinger Home Infusion Services Building at 44 Woodbine Lane in Danville (just up the road from Geisinger Healthplex Woodbine). The infusion suite is an alternative care site where you can have infusion therapy of specialty drugs in a safe, monitored environment.
The new infusion suite is an ideal option if you:
Prefer a clinical setting but need to be site-of-care compliant to meet your insurance requirements
Have a home environment that isn't appropriate for at-home infusion
Don't want to be infused at home
Need urgent infusions or don't want to wait for a home visit
If you need infusion therapy, call 800-245-8767, option 3. We'll work with you, your provider and your insurance to deliver comprehensive infusion therapy services in the most appropriate and convenient location.