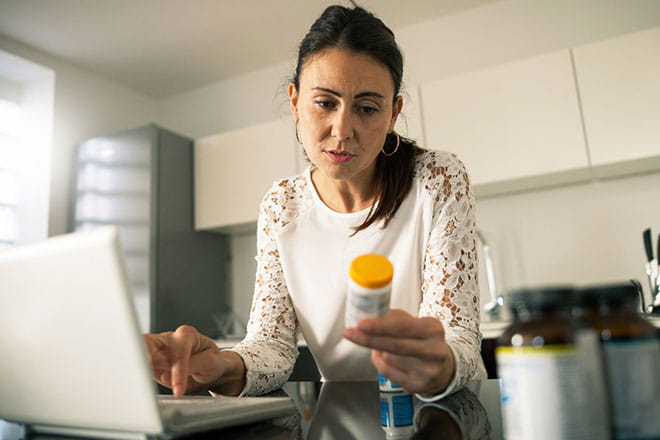 Access Geisinger Pharmacy Portal in MyChart
Manage your prescriptions the same place you schedule appointments, message your doctor and view test results.
Using MyChart for your medications
We've updated the MyChart experience, and we'll add more features periodically. Check out this list of frequently asked questions. Don't see an answer to a question you have? Fill out this survey and let us know.
Check out the new features and see how to manage your medications in this video.
Managing your meds in MyChart FAQ
How do I navigate to my medications using my desktop computer? 
After logging into MyChart, click the "Medications" icon at the top of the page.

How do I know which medications are able to be refilled or renewed? 
About halfway down the page (on your computer or via the app on your phone) you will see the green "Request renewals/refills" button.
Clicking this button will show you which medications are available to you.
Each medication available to be refilled or renewed will also show as an option on the medication details.

How is a refill different from a renewal?
A refill is needed when you run out of a current prescription. Prescriptions usually allow for several refills so you can continue taking your medications consistently. Once you run out of refills, you will need to have the prescription renewed by your provider.
How long does it take to get a renewal? 
Geisinger providers require two to three business days to renew a prescription.
How do I know how many refills I have left? 
If you are using a Geisinger Pharmacy, you can see the number of refills remaining for your prescription on the main medication page. (Note: If you're using the app, you'll need to click on "Show details" to see your pharmacy information.)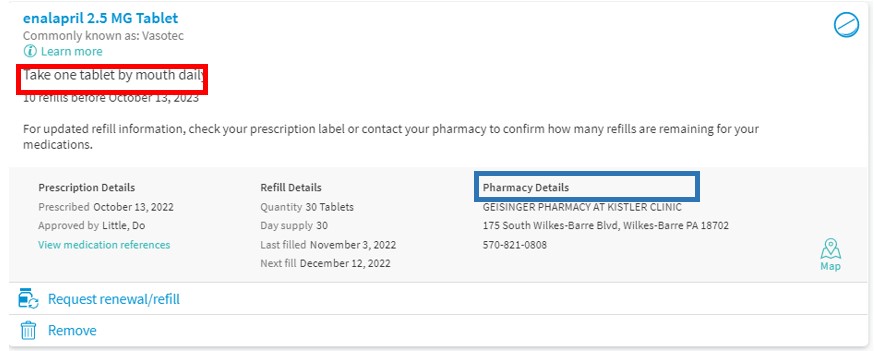 How do I change my preferred pharmacy? 
At the top of the medications page, you'll see an area titled "Update your preferred pharmacy" with instructions to add or remove your preferred pharmacies.
As you order refills, you'll see all Geisinger pharmacies as well as any preferred pharmacies that are not related to Geisinger.

How do I choose pickup date and time? 
When ordering your medication, you'll see a section that you can choose a date and time to pick up your medication(s).
Medication refills require at least one business day. A medication renewal requires four business days.
You can leave the area blank if you don't have a preference.
We'll notify you when the prescription is ready for pickup or out for delivery.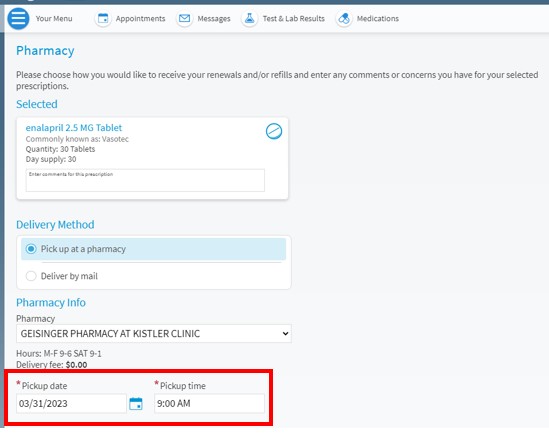 How do I know when my medication is ready for pickup or delivery? 
We'll notify you by email or text, depending on your communication preference.
How do I update my communication preferences? 
Click the "Menu" button near the top of the page.
Scroll down to "Account Settings."
Click on "Notifications."
Click on "Health" and then "Prescription." There, you can choose to receive communications via email, text and/or phone call.