Orthopaedic care to keep you active

Orthopaedic conditions and treatment
Whether you need a hip replacement, concussion care or treatment for a bone, muscle, tendon or ligament injury or condition, our orthopaedic and sports medicine specialists are here to help you recover as wholly and quickly as possible — so you can get back to doing the activities you love. Our team is highly trained, compassionate and offers the latest leading-edge treatments to provide you with the best possible care. From nonsurgical treatments to rehabilitation and physical therapy to innovative surgical procedures, our dedicated orthopaedics and sports medicine team is committed to providing you with the best path forward for healing. We treat a full spectrum of orthopaedic conditions, including: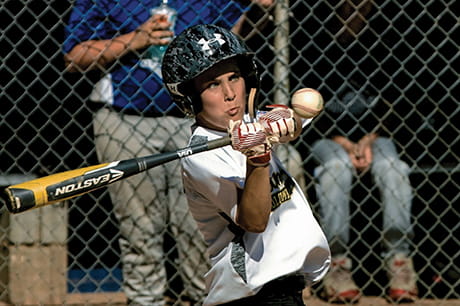 Getting Nathan back in the game
When 14-year old Nathan Gallagher found himself at Geisinger Orthopaedic Urgent Care at Woodbine in Danville for the third time, his parents were relieved when prompt care and treatment through diagnostic scans, physical therapy and more helped their son get back to his love of sports.
Top-rated joint pain treatment
Looking for state-of-the-art orthopaedic care you won't find anywhere else in the region, including Mako® robotic-arm-assisted surgical technology? You'll find it at Geisinger. And, in partnership with Medacta, we'll guarantee your joint replacement surgery with 2-year and lifetime guarantees for those who qualify. Leading-edge surgical and nonsurgical treatment options are tailored to your individual needs. Whether you're having knee pain, hip pain or another type of joint pain, let our team help restore your mobility and relieve your pain.
Sports medicine that gets you back in the game
From weekend warriors to the youngest athletes on the field, our team gets you healthy and healed. We're home to the largest sports medicine program in the region and are the official healthcare provider of the Wilkes-Barre/Scranton Penguins and the Scranton/Wilkes-Barre RailRiders. Many schools and universities throughout our community entrust the care of their young athletes to our athletic trainers. Additionally, our pediatric sports medicine team works with kids of all ages, to help them get back in action.
Orthopaedic research means advanced treatments
An orthopaedic injury can impact your daily life. That's why our team constantly conducts orthopaedic research studies and stays focused on the latest treatment options. In fact, we publish more research than any other orthopaedic academic center in Pennsylvania. Our commitment to researching new treatments and techniques means better, more advanced care for you.
Talk to our team today to schedule an appointment
Call 800-275-6401 and say "orthopaedic services."
Call for an appointment
Orthopaedic care at Geisinger
Comprehensive orthopaedic care: From joint replacement, sports medicine, podiatry and chiropractic care to a world-renowned spine surgery program, we offer unmatched expertise for orthopaedic conditions. Our team is experienced in treating a wide range of orthopaedic conditions ranging from bone and joint pain to injuries from sports, falls and fractures, and the wear and tear of daily life.


World-class care, close to home: With 24 locations throughout central, northeast and south-central Pennsylvania, our experienced orthopaedic team provides evaluations, consultations and comprehensive care. We offer leading-edge treatment options and tailored-to-you care backed by the expertise and innovation of a nationally-renowned health system.


Better, faster healing: We use tried and true methods to keep you on the path for healing, such as our ProvenCare® program, which identifies and consistently provides the best treatment for specific conditions. This means less time spent in the hospital and faster recovery.


Round-the-clock trauma care: As leaders in orthopaedic trauma, our orthopaedic surgeons are available around the clock when emergencies arise. Our specialized surgeons have completed advanced training in the treatment of trauma-related fractures and other injuries, so you can get advanced care when you need it most.


Orthotic care: Our orthotics specialists provide custom braces and shoes that help treat several types of foot and ankle pain, foot complications related to diabetes and more. Orthotics offer treatment devices for people of all ages and is just one of the ways we help runners and other athletes take care of their feet.


Orthopaedic urgent care – Our Orthopaedic Urgent Care locations are ready to treat children and adults when sudden injuries, like minor sprains, strains or simple fractures, occur.
Content from General Links with modal content