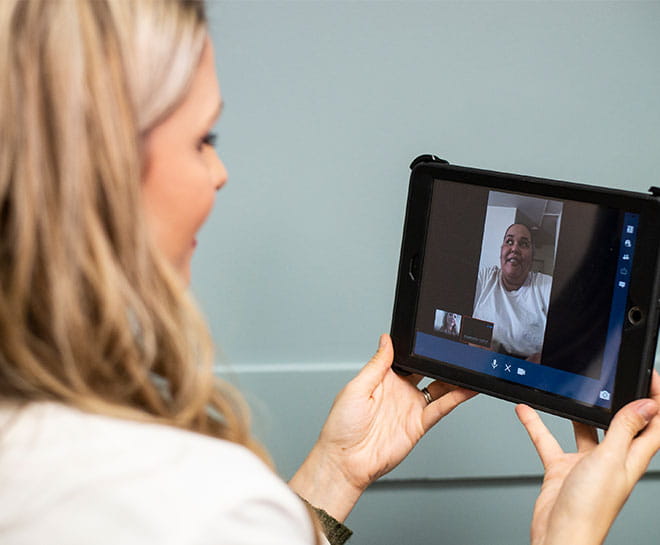 Telehealth: Healthcare that fits your life
What is telehealth?
Telehealth appointments let you speak to and see your doctor in real-time using video chat technology, similar to FaceTime or Skype.
Using a secure network, your doctor can discuss your symptoms, examine, diagnose and treat you the same way they would at the hospital or clinic. You can even get a prescription.
Before finishing your visit, they'll review any instructions and answer any questions you may have — just like a regular appointment.
Benefits of telehealth
If you live far away from a hospital or clinic or it's tough to fit appointments into your busy schedule, video visits can make it easier to stay on top of your health. They:
Let you see specialists who aren't located in your hometown
Shorten wait times for appointments
Cut down on travel, time away from work or school, and the need for childcare
Allow you to see a doctor when it's convenient for you
Video visits can't always replace face-to-face care. And sometimes, an in-person appointment is necessary. Talk with your doctor to see if it's right for your health needs.
If you have an emergency that requires care right away, like a heart attack or stroke, a cut that requires stitches or a broken bone, seek care in person. When you need care immediately, head to your nearest emergency room or call 911.
Telehealth services at Geisinger
Connect with your doctor from the comfort of home — or wherever you are — with these options:
Need to schedule an appointment?
Call your doctor's office or 800-275-6401 to see if telehealth is right for you.
Frequently asked questions about telehealth
Find answers to the most commonly asked questions below.
Yes. Our telehealth video visits are conducted over a secure network with patient data and privacy carefully protected.
Is telehealth right for me?
While
virtual urgent care
is only available to Pennsylvania residents age 18 and older, nearly anyone can have a telehealth video visit.
Video visits are especially ideal for monitoring ongoing health issues, medication changes or follow-up care.
Want to see if it's right for you? Talk with your healthcare provider.
Do I need special equipment for a home video visit?
For a successful video visit from home, you'll need:
A smartphone (iPhone or Android), tablet or computer
If using a computer, a webcam and a speaker
A high-speed internet connection
How does a telemedicine in-clinic visit work?
We offer specialty video visits at select Geisinger clinics so you can receive care closer to your home.
What to expect:
An in-clinic video visit is similar to a regular in-person appointment.
After you arrive at the clinic, a member of our team will use the clinic's equipment to connect you with a provider who's in a different location.
Why would I travel to a clinic for a video visit instead of having it from home?
Your video visit may require:
Checking your vital signs
Hearing your heart and lungs
Looking in your ears, nose and throat
Since you may not have the equipment necessary at home, having an in-clinic video visit allows your care team to get a complete picture of your health.
Is my insurance accepted?
Like an in-person appointment, your video visit will be billed to your health insurance and you'll be responsible for your copay.
Learn about the insurances we accept.
What if I have technical issues during my visit?
Before your visit, make sure you're in a location with a strong Wi-Fi signal. If you get disconnected from your provider, you can reconnect via the link in your email.
Still having issues during your visit? Call 888-530-9560.