The caring continues for LIFE Geisinger participants
Although the doors may be physically closed, LIFE Geisinger continues to provide much-needed care to seniors in the community.
When Pennsylvania Governor Tom Wolf announced the statewide closure of day program facilities on March 16 to help curb the spread of COVID-19, LIFE Geisinger, an innovative program that provides healthcare services to eligible adults 55 years of age or older, had to shut the doors to its four adult day centers. But that didn't stop the staff from continuing to provide much-needed services to those dependent on them for everything, from meals to medications to therapy. How did they do it? The staff took their services on the road – literally – delivering care directly to the doorsteps and into the homes of their participants.
Taking care on the road
LIFE Geisinger is a coordinated, comprehensive model of care which provides services that help older adults maintain their quality of life and independence while living at home. Given the scope and necessity of the services provided at the day centers, which includes primary care, transportation, in-home care, therapy and other services, the LIFE Geisinger team knew they had to continue to serve their 140 participants despite the temporary closure of their physical facilities.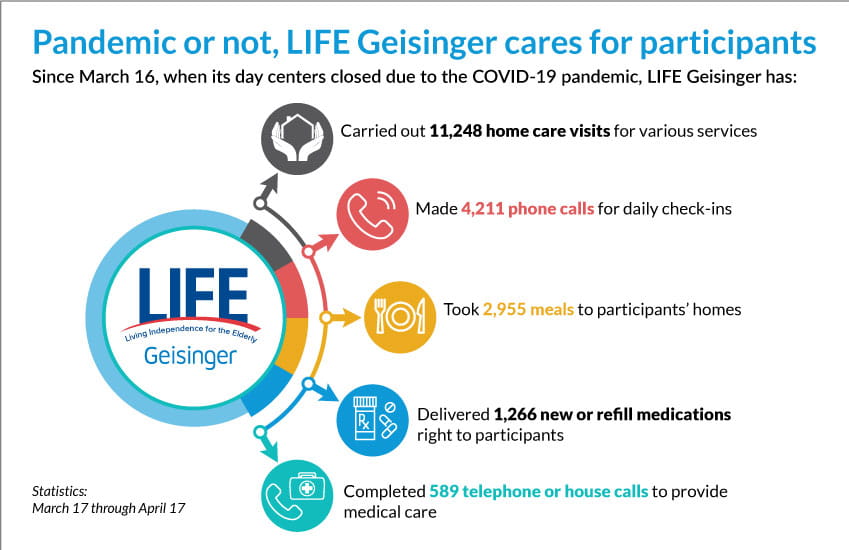 "Before March 16, we had 120 to 140 participants coming daily across all four centers, which have been the hub for all our services," says Robert McQuillan, director of LIFE Geisinger. "We transported our participants to and from the centers where our providers and nurses delivered medical care and other staff members focused on physical and occupational therapy. We managed medication refills and new prescriptions, hosted entertainment and recreational activities, arranged for hot meals and snacks throughout the day, and if participants needed personal care, such as bathing and grooming, we provided that assistance."


Helping is what they do best
These days, the care that staff at LIFE Geisinger provides looks a little different. Amy Davis, specialty nurse at LIFE Geisinger Lewistown helps lead the charge, making sure participants' needs are met and ensuring no detail gets missed.

Although full day care isn't currently being offered at any of the LIFE Geisinger facilities due to the coronavirus pandemic, Ms. Davis and the LIFE Geisinger staff is hard at work, making regular home visits where patients receive wellness checks, get maintenance medications refilled and receive physical or occupational therapy.

If a LIFE Geisinger participant calls with an issue, a driver picks them up and brings them in to be seen by a doctor or nurse following appropriate safety measures.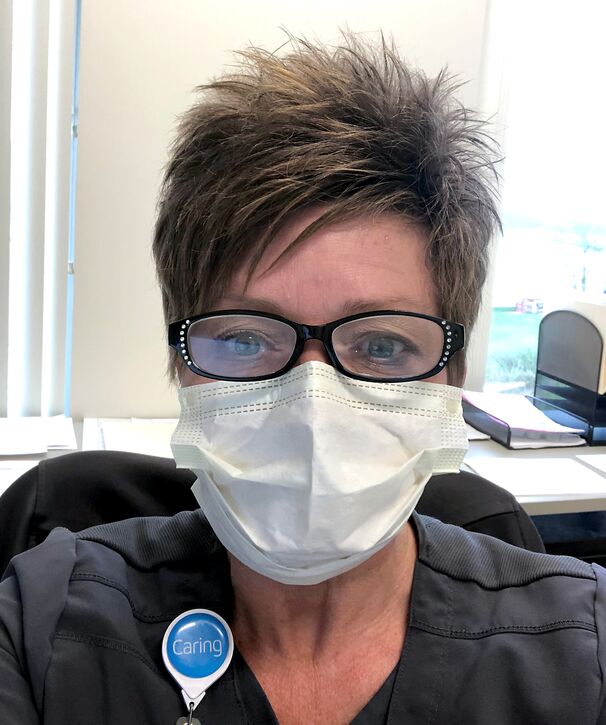 Amy Davis, specialty nurse at LIFE Geisinger Lewistown, continues caring for participants.

Each day is different, but the days are never boring. Ms. Davis notes that she and the rest of the LIFE Geisinger care team are wearing many different hats as they navigate each day.

"We're handling all kinds of things from catheter flushes, blood draws, medication changes and vital signs checks to insulin administration, education and anything else we would normally do on a typical day at LIFE when we were 'open,'" she says. "We still have a responsibility to our participants to make sure they are receiving great quality care every day despite the COVID crisis."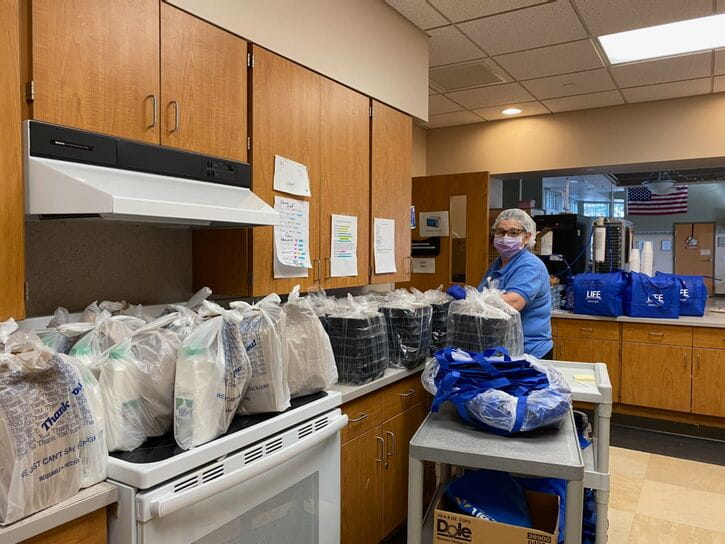 Personal care aide and kitchen assistant Phyllis Mateer gets meal deliveries ready for participants.


Participating in LIFE Geisinger
To qualify to become a LIFE Geisinger participant, individuals must:
Be age 55 or older
Meet the clinical nursing home criteria as determined by the Area Agency on Aging
Be able to live safely within the community with services provided by LIFE Geisinger
Live within the designated service territory in Lackawanna, Luzerne, Columbia, Juniata, Mifflin, Montour, Northumberland, Schuylkill or Snyder counties


Funding for the LIFE program is received from Medicare, Medicaid and/or private monies. Financial eligibility is based on current Medical Assistance criteria or the ability to pay privately.

To learn more about the services offered and the enrollment process for LIFE Geisinger, click here.