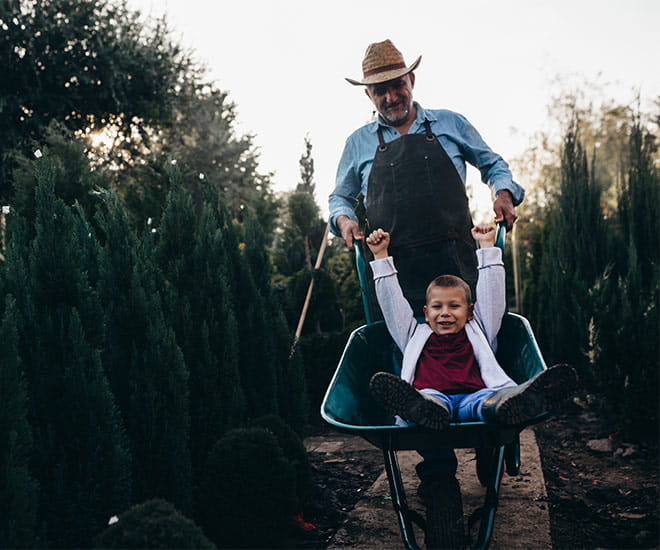 Helping you understand your cancer risk
Cancer genetics
Whether you've got a family history of cancer or just want to know if you're at risk, we're here for you at every step.
What is cancer?
Cancer develops when normal, healthy cells in the body begin to grow and function differently. These cancerous cells build up and form a mass called a tumor, which exists as a lump inside the body and can spread. Cancer cells are sometimes caused by a gene mutation, or changes in a gene's DNA.
There are two types of gene mutations:
Acquired: This type of mutation is often caused by environmental factors like cigarette smoke, UV radiation or pollution.
Inherited: These mutations are in the genetic material that was passed on to the person by their parents. This type of mutation is present in every cell of the body and can be passed down to the next generation.
Inherited gene mutations run in families and can lead to a family history of cancer.
What is genetic counseling?
Genetic counseling weighs the impact your family history has on your risk of developing certain types of cancer.
Your doctor may recommend genetic counseling if:
You or a family member had cancer before age 50
You or a family member had more than one type or a rare type of cancer
You or a family member had ovarian cancer
What to expect at a genetic counseling appointment
At your appointment, a genetic counselor will review your medical and family history. They may discuss things like:
Your likelihood of a cancer diagnosis
Types of testing available
Pros and cons of genetic testing
Ways to reduce risk
Support resources
If you decide to have genetic testing, your genetic counselor will work with you to create a customized care plan. With your doctor, you can work to reduce your risk of developing cancer — or detect it sooner, when it's easier to treat.
Genetic counseling at Geisinger
Here, you can expect innovative treatments and personalized care centered around you. We offer:
Care designed for you, where you live – Offering locations throughout northeast, central and south-central Pennsylvania, our experienced cancer team provides consultations and comprehensive care. You'll get leading-edge treatment options and tailored-to-you care, backed by the expertise and innovation of a nationally recognized health system.
The knowledge you need – Your genetic counseling team is powered by doctors, nurse practitioners, nurse navigators and other support staff — all here to support your unique health needs. Their expertise has been honed by treating many people, through every stage and age. And their focus is on delivering the care best suited to your needs.
Access to affordable testing — You deserve to know what you can expect to pay up front, so you can avoid any surprises. We'll help you understand your cost and find a laboratory that makes testing affordable.

Virtual consultations – Virtual visits are available 5 days a week. See our team from the comfort of home through a telemedicine appointment.

Comprehensive genetic testing program – With a focus on early detection, our dedicated team gives you access to the most leading-edge treatments, genetic testing to learn about early risks, clinical trials and a large support network. Our care and guidance may even help you avoid a cancer diagnosis. We're with you every step of the way.