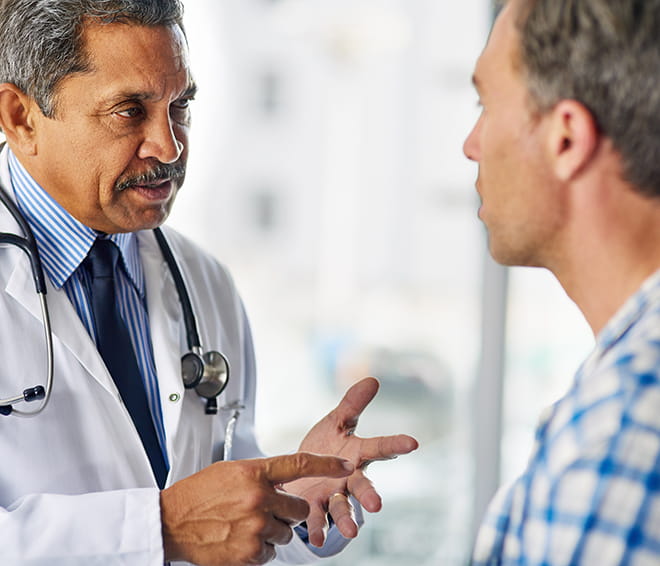 Manage your health with internal medicine
Internal medicine doctors treat both complex and everyday illnesses.
What is internal medicine?
Internal medicine specialists treat adults (ages 18 and older) who want to get and stay healthy. These providers have training in treating highly complex and chronic diseases. But internal medicine doctors care for minor illnesses and injuries, too. So you get the best of both worlds in one office. They're key partners in your overall health. And they help coordinate your care by working with other specialists you might see in areas such as:
Cardiology
Dermatology
Endocrinology
Orthopaedics
Neurology
Internal medicine doctors also offer presurgical consultations for anyone considered high risk to help minimize or understand any risks associated with surgery.
Why choose an internal medicine doctor?
When you choose an internal medicine doctor, you get not just a physician, but an entire team rallying around your health. Among the professionals you may see:
Behavioral health specialist – Helps you work through your emotional experiences
Case manager – Helps you get the right care at the right time, based on your unique needs
Pharmacist – Fills prescription medications, guides you on how to take them, alerts you to possible side effects and works with your physician to manage some medical conditions
Social worker – Helps you work through issues associated with your health condition and find access to resources you may need (including food, clothing and shelter)
Who can benefit from internal medicine?
People who need help managing multiple or complex conditions that require coordination with other specialties. These conditions include:
Arthritis
Congestive heart failure
Chronic obstructive pulmonary disease (COPD)
Diabetes
Heart disease
High cholesterol
Hypertension
Kidney disease
Osteoporosis
Internal medicine at Geisinger
Get the care you need — everything from preventive care and treatment for illnesses and injuries to management of complex medical problems.
We offer:
Nationally recognized preventive care – Our medical home model has earned national recognition for its effectiveness. How does this help you? The people we care for enjoy better health and are hospitalized less often. With our focus on preventive health measures, our program is among the top five in the nation in achieving testing and screening goals.
A full spectrum of services – Besides primary care, many of our clinics also offer other services, such as heart care, lab and imaging, medication therapy management, kidney care, nutritional support, OB-GYN services, rheumatology and more. And if you need specialized care, we can refer you to a specialist who's right for you.
Appointment scheduling made easy – As a Geisinger patient, you can schedule an appointment online, check test results or message your primary care doctor's office using our patient portal, MyGeisinger. You can access MyGeisinger on your smartphone using the MyChart app.
Content from General Links with modal content