Knee pain symptoms
Knee pain that lasts only a few days or weeks is called acute joint pain. Pain that lasts for several weeks or months is called chronic joint pain.

Common symptoms of knee pain include:
Clicking, popping or creaking sounds
Tenderness, warmth or swelling
Stiffness upon walking
Pain after repetitive use or everyday activities, such as walking up steps, bending down or sitting in a chair
Pain after long periods of inactivity
Although knee pain varies from person to person, it's important to see a health professional during the early stages of your pain. Your Geisinger orthopaedic doctor will help you decide on whether you can resolve your pain through proper self-management or you need additional medical care.
What causes chronic knee pain?
Long-lasting knee pain can be caused by many types of injuries or conditions. People of all ages and activity levels can experience knee pain. Your pain might be the result of any of these:


Osteoarthritis, also called OA, is a degenerative joint disease that occurs when the cartilage in your joints wears down. As the cartilage deteriorates, there is less cushioning and shock absorption around your bones, leading to severe pain and discomfort.


OA commonly affects the knees, causing intense pain, aching and stiffness. Frequent symptoms include:


Pain in knee
Pain that seems to worsen in rain or damp weather
Pain after repetitive use or long periods of inactivity
Stiffness upon waking
Tenderness, warmth, creaking or swelling of knee joint

Post-traumatic arthritis develops after an injury or accident. It could be the result of an old sports injury, or an injury that developed from repeated overuse or misuse.
Being overweight puts strain on your joints — especially weight-bearing ones like your knees.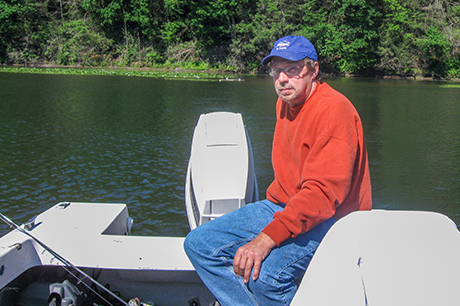 I'd definitely recommend this surgery to anyone who's been considering it. I can do what I want now without worrying about knee pain. What a relief!


Read Robert's story
How to treat chronic knee pain
Geisinger's orthopaedic specialists offer a wide array of treatment options for knee joint pain.
Nonsurgical treatments
We offer several non-surgical options that can help reduce swelling and restore mobility to your knee joint. As part of your treatment, your doctor may recommend starting with an injection such as:
Cortisone – A steroid hormone commonly called a steroid shot, cortisone is directly injected into the sore joint to ease pain quickly and reduce inflammation.
Gel injection - Your body naturally produces a substance called hyaluronic acid, a fluid which helps lubricate your joints. Hyaluronic acid injections, or viscosupplementation, helps increase the fluid around your joints.
Platelet-rich plasma injections - Commonly known as a PRP injection, this treatment uses the healing and regrowth capabilities of platelets from your own blood
Stem cell injections – Stem cells are extracted non-surgically from bone marrow or fat tissue, then re-injected into the knee joint.
Knee replacement surgery
If you have severe knee pain when you're active and at rest, and you have decreased range of motion and stiffness that doesn't go away after nonsurgical treatment, you may be a candidate for knee replacement surgery.

The most common reason for a knee replacement is to relieve intense pain caused by osteoarthritis (OA), a disease that causes the breakdown of cartilage cushioning the joints. Knee replacement surgery, also called arthroplasty, can significantly relieve pain and increase mobility — and can ultimately be a life-changing procedure.

Knee replacements are very common, with more than 600,000 surgeries performed in the United States every year.

There are two types of knee replacement procedures: partial knee replacement and total knee replacement.
How does a knee replacement work?
The most common type of knee replacement surgery is a total knee replacement, a procedure that takes between one and three hours. During that time, an orthopaedic surgeon removes damaged cartilage and bone before fitting the replacement joint, called an implant.

Your Geisinger orthopaedic surgeon will choose an implant design that best fits you, based on your lifestyle habits and how severely your knee joint has deteriorated.
What is partial knee replacement surgery?
A partial knee replacement helps relieve arthritis in one or two of the three compartments that make up your knee joint. By selectively targeting the part of your knee that has been damaged, your Geisinger surgeon will replace only the diseased area, sparing the healthy bone and ligaments surrounding it.
What is total knee replacement surgery?
A total knee replacement occurs when a diseased or damaged knee joint is totally replaced with an artificial joint called an implant. The implant consists of high-grade metal and plastic components that fuse to the resurfaced bone. It is designed to move like a healthy human joint.

Your Geisinger orthopaedic surgeon will be able to select an implant design best suited to you based on your lifestyle habits and the severity of your biological joint's deterioration.
What is robotic-assisted knee replacement surgery? 
In robotic-arm–assisted surgery, including Mako® robotic arm-assisted procedures, your Geisinger orthopaedic surgeon will use CT scanning to create 3-D images of your joint before the surgery to help plan the procedure. During surgery, he or she will guide the robotic arm to remove diseased bone and cartilage, then insert a total or partial knee implant.

Geisinger is the sole provider of Mako™ joint replacement surgery in the region, combining highly-advanced surgical technology with the orthopaedic care you trust.
This minimally invasive surgery relieves pain, restores mobility and can help you return to an active lifestyle faster.
It's important to know that a robotic arm does not independently perform your surgery, nor can it make decisions on its own or move without the surgeon's guidance.

What can I expect after a knee replacement? 
Thanks to advances in minimally invasive procedures, like Mako™ robotic arm-assisted surgery and other tactics, patients who have a knee replacement experience better results with less scarring and downtime.
How long is knee replacement recovery time?
Less-invasive knee replacement procedures help shorten healing and rehabilitation times, with average hospital stays being as little as one to two nights. Some patients even go home the same day as their surgery.
Shortly after your surgery, your nurses and rehabilitation team will get you started with simple exercises to jump-start your muscles and get the blood flowing. After you recover for a few days, your care team will lay out a list of specific goals you'll need to reach before they release you from the hospital, including getting in and out of bed without help, walking up and down several steps, and performing exercises with the help of a cane or walker.
How long does a knee replacement last?
Knee replacements are very successful at reducing pain, increasing mobility and improving quality of life. Research shows that more than 90 percent of people who have knee replacement surgery have notably less pain and maintain good function more than 15 years after their surgery.

Is a knee replacement right for me?
If your knee joint pain has gotten to the point where it affects your daily life or where your options for pain relief are not providing the support you need, consider scheduling a consultation with a Geisinger orthopedic specialist.
State-of-the-art knee replacement surgery at Geisinger
Geisinger performs more than 13,000 orthopaedic surgeries every year. Our knee surgeons combine the latest innovations with surgical expertise to deliver life-changing solutions in knee care and knee joint replacements.

Geisinger is the sole provider of Mako™ joint replacement surgery in the region, combining highly-advanced surgical technology with the orthopaedic care you trust.

World-class knee care, close to home

Exceptional orthopaedic care is never far from home, from Scranton/Wilkes-Barre and surrounding communities to Danville and central Pennsylvania to the greater Harrisburg region.
Content from General Links with modal content