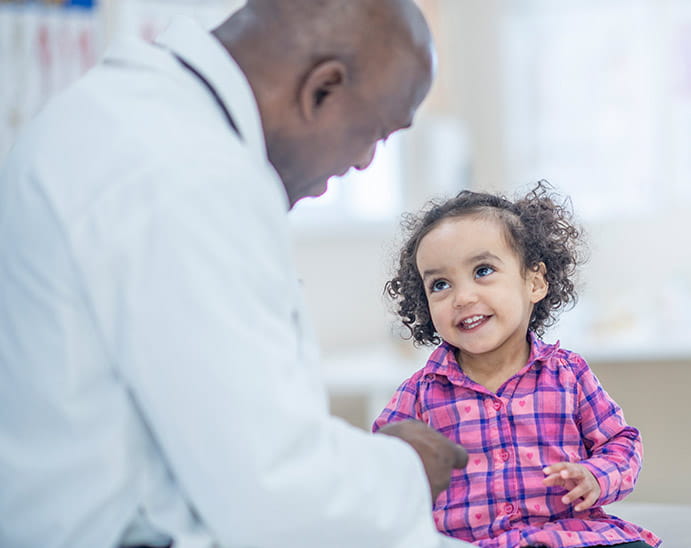 Only the best neurosurgical care for your child
Pediatric neurosurgery at Geisinger
If your child needs surgery involving their head, spine or nervous system, you want to know they're in skilled and capable hands. Rely on the expertise of Geisinger's pediatric neurosurgery team to offer innovative treatments and world-class surgical care.
Conditions we treat
Our skilled team is trained to treat a number of complex conditions that require pediatric neurosurgical care so you and your child can remain close to home, friends and family.
We use the latest technologies and specialized treatment options to care for your child. We care for a wide range of conditions, including:
Peripheral nerves tumors
Epilepsy
Cerebrovascular anomalies
Tethered cord
Arachnoid cysts
Craniofacial syndromes
Neurofibromatosis
Tuberous sclerosis
Phakomatosis
Cerebral palsy and spasticity
Brain and spinal cord injuries
Peripheral nerves injuries
Spinal malformation and injuries
Get complete pediatric neurological care
Our pediatric neurosurgery team and pediatric specialists are here to support your child through diagnosis and treatment.
For physicians: Make a referral
Call to schedule
Frequently asked questions
What should I expect at the first appointment?
When you first meet with our team, we'll ask to discuss your child's medical history and current symptoms. Based on our findings, your child may need additional tests, such as computerized tomography (CT) scan, an electroencephalogram (EEG) or other lab tests. From there, our team will be able to schedule the next appointment to better determine next steps.
We encourage you to come with a list of any questions you may have. We understand the first appointment can be overwhelming, and we want to help you leave feeling as informed as possible.
Who will be caring for my child?
Our trusted and skilled neuroscience team, including doctors and surgeons, many of whom are fellowship-trained, work together to deliver the most comprehensive, custom care tailored to your child's needs. When you come to Geisinger, our entire healthcare system will be behind you and your child.

Children do not always know how to respond in medical situations, and our pediatric neurosurgery team is trained to help navigate you and your child through every appointment and treatment.
Where can I stay while my child receives treatment?
A partner of the Geisinger family, the Ronald McDonald House is a privately-owned nonprofit corporation that provides a place for you to stay while we care for your child. Since 1974, the Ronald McDonald House has been helping families find comfort during difficult and stressful times.
To learn more about the organization and find a location near where we'll be treating your child, visit
RMHC.org
.
Surgeries are performed in Danville at Geisinger Medical Center, but our neurosurgery team sees patients in many locations across northeast and central Pennsylvania.
What kind of training do pediatric neurosurgeons have?
Pediatric neurosurgeons begin their training with an undergraduate degree, followed by completion of a medical degree from a four-year medical school. Their training continues with a residency with a general focus in neurosurgery, which they earn after seven more years of residency training in neurological surgery.

After these milestones, they begin additional training in pediatric neurosurgery. Since the field of pediatric neurosurgery is actively changing and evolving, our team is constantly involved in courses, conferences, committees and professional organizations to bring the most up-to-date knowledge, technology and abilities to our patients.
Where are appointments and surgeries performed?
All surgeries are performed at Geisinger Medical Center in Danville, Pa.
Learn more about directions, parking and visitor information
.
While surgeries are performed at Geisinger Medical Center, our team sees patients for appointments at two locations:
Geisinger Medical Center
100 N. Academy Ave.
Danville, PA 17822
Phone: 570-271-6211
Geisinger Neuroscience Scranton
3 W. Olive St.
Scranton, PA 18508
Phone: 570-271-7994
How can I reach the pediatric neurosurgery department?
To reach the pediatric neurosurgery department, call 570-271-6590 or send us a message using your MyGeisinger patient portal.

Some magnetic resonance imaging (MRI) scans must be done at Geisinger Medical Center in Danville. However, depending on individual patient needs MRIs can sometimes be done at other hospitals.

If possible, our team will try to schedule an MRI for the same day as your appointment.
Does Geisinger provide helmet therapy?
Helmet therapy is done by our orthotic team rather than the neurosurgery department.
When you work with orthotics for a helmet, you'll first need to bring your child in to be fit for a mold and then a second time to make sure the helmet fits properly.
Content from General Links with modal content