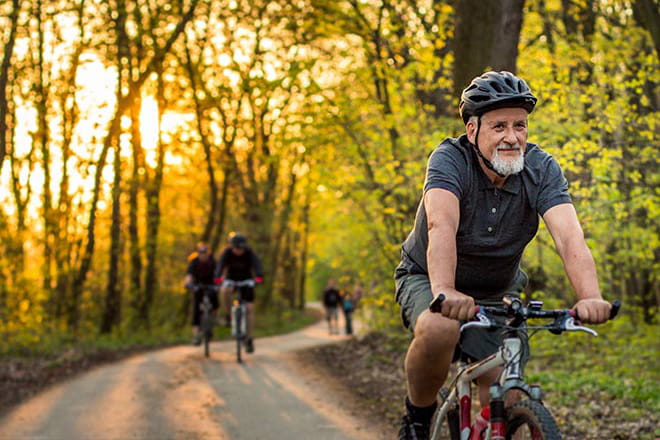 Put an end to back pain with spinal surgery
Back and spine surgery
From severe back pain to herniated disks, we can help you put an end to chronic back pain.
What is spine surgery?
Your backbone is made up of 33 vertebrae, and each one is separated by a disk that acts like a cushion. At any point along the way – whether caused by age or the impact of everyday life – a wrong twist or turn can result in a great deal of pain.
That pain can get in the way of your quality of life. And of your ability to do what you love. Whether you need physical therapy, injections or spine surgery, our goal is to get you back to the activities you enjoy most as soon as possible.
Our spine specialists work with other teams, from physiatry and pain medicine, neurology and neurosurgery to orthopaedics and sports medicine, to help adults and children find relief from back pain. Our specialists treat a variety of conditions including:
Age-related changes to the spine
Chronic neck pain or chronic back pain
Degenerative disc disease
Herniated discs
Lumbar spinal stenosis
Osteoarthritis
Spine injuries or spinal fractures
Spinal curvature abnormalities (including scoliosis)
Spinal oncology
Spondylolisthesis
Weakness or numbness
Many people have back pain at some point in their life, and most back pain can be treated without surgery. But when debilitating, chronic back pain becomes a part of your daily life, our spine care experts are here to help you find relief.
Types of spine surgery
Our spinal surgery team performs microsurgery, minimally-invasive surgery, robotic surgery, endoscopic surgery and image-guided procedures whenever possible so you get the most advanced care available.
Not all conditions require surgery, and our physiatrists, rehabilitation specialists and pain psychologists offer nonsurgical options as a first step in most treatments. If nonsurgical treatment hasn't helped relieve your symptoms, one or more of the following back surgeries may be recommended:
Our spine specialists are trained in the latest spinal surgery procedures, including endoscopic surgery, so you can get the best treatment available when you need it most.

This is a minimally invasive procedure where your surgeon uses small incisions and a camera to help guide them through your surgery. Because of the use of smaller incisions, you will have a faster recovery time and can go home the same day. This procedure also requires no or minimal use of pain medication and can be used to perform numerous spinal surgeries. Ask your doctor if endoscopic spine surgery is right for you.
In this procedure, your surgeon will remove the spinal disk between two or more vertebrae. They then fuse the vertebrae together using either metal or a bone graft, which is secured by screws.
While the recovery period from a spinal fusion may seem longer than other spinal procedures, this surgery can help to greatly ease back pain and restore stability.
Spinal fusions treat the following conditions:
Fractures
Herniated disks
Spinal deformities (including scoliosis)
Spinal instability or weakness
This procedure is meant to heal in the same way a broken bone does. Over time, your body will heal the grafts, which will fuse your vertebrae together.
Also called a spinal laminectomy, this procedure is performed when spinal stenosis causes your spinal canal to narrow. This narrowing often leads to numbness, pain and/or weakness.

Spinal decompressions can treat:
Back or neck pain
Degenerative disk disease
Herniated disks
Injured spinal roots
Sciatica
Spinal root diseases
Worn spinal joints
When a herniated disk presses against a nerve root or your spinal cord, this procedure removes the disk. This surgery helps lessen back and leg pain, weakness or numbness and helps you gain control over your bowels or bladder. It's often performed at the same time as a spinal decompression.
There are four types of discectomies, depending on where your herniated disk is located:
Cervical discectomy – Removal of a disc in your neck
Lumbar discectomy – Removal of a disc in your lower back
Sacral discectomy – Removal of a disc in your back between your hipbones
Thoracic discectomy – Removal of a disc in the middle part of your back
Cervical disc arthroplasty
Also called artificial disk replacement, this procedure replaces damaged or degenerated spinal disks with artificial ones made of metal.
Cervical disc arthroplasty can treat cervical disk disease — the breakdown of one or more cervical disks in the neck. With the goal of restoring mobility in your neck or back, these artificial disks work like a joint, allowing for improved movement with less pain, muscle spasms, numbness or weakness.
Spine surgery care at Geisinger
No matter your need for spine surgery, our entire team is here to support you throughout your diagnosis, treatment and post-operative care. We offer:
Follow-up care – We'll work with you for up to two years after surgery to make sure your treatment worked for you. With regular check-ins, we'll take every step needed to get you back to living the life you love.
Better, faster healing – We use tried and true methods to keep you on the path to healing, such as our ProvenCare® program, which identifies and consistently provides the best treatment for specific conditions. This means less time spent in the hospital and faster recovery.
Center of Excellence for spinal surgery – Our spine surgery program is part of the Employers Centers of Excellence Network (ECEN), meaning we've been specifically chosen to provide destination care for several fortune 100 companies from across the U.S., and that same care is available to you.
World-class care, close to home – With 24 locations throughout central and northeast Pennsylvania, our experienced spine specialists provide evaluations, consultations and comprehensive care. We offer leading-edge treatment options, including endoscopic surgery, and tailored-to-you care backed by the expertise and innovation of a nationally-renowned health system.
3D printing technology – Our team of spine specialists can use 3D printing for presurgical planning, surgical simulation or patient and learner education. Being able to use 3D printing before a scheduled surgery allows surgeons to practice complex procedures on models which can then serve as a reference during the actual surgery.
Content from General Links with modal content