What to pack in your hospital bag
Don't be caught without your essentials after your baby is born. Here's your must-have checklist to fill your hospital bag.
You're getting closer to your due date. You've got adorable outfits, a nursery theme picked out and maybe even the crib set up already. But have you packed your hospital bag yet? As you enter your final days before your baby's big arrival, make sure your hospital bag is loaded with all the essential items to keep you comfortable.
Start with a list
Before you start packing your bag, take a few minutes to make a list of what you think you'll need. You can add to this list as you think of more things or simply cross off what you aren't likely to use. By having a checklist for your hospital bag, you won't leave anything out.
Ask your mom friends
Who better to get advice from than someone who's gone through labor themselves? Ask your mom friends or family members what they packed, what they wished they'd packed and what they wished they'd left at home. You'll get a sense of the must-have items, so you don't mistakenly leave something important at home that someone in your support network will have to retrieve. The best part is, you won't have unnecessary items (hello, hair straightener?) taking up space where your beloved PJs should be.
Hospital bag essentials
After you've made your list and polled your friends, here are a few things your labor hospital bag should not be without.
Your favorite pillow – Labor and birth are not the times to be uncomfortable! Bring your own pillow from home to ensure you have the right levels of head and neck support.
Phone and charger – Stay in contact with your friends and family, or just play games while you're in labor. You'll want your phone to snap plenty of pictures after your baby is born, too. Don't forget to keep your charger handy so your battery doesn't die.
Eyeglasses – Don't get caught without your lenses!
Lip balm – Labor combined with dry hospital air can crack your lips. Keep them soft and soothed with your favorite lip balm.
Pajamas – You'll be spending some time in bed. You'll want those PJs, especially if you're not feeling 100 percent after delivery.
Slippers – Hospital floors can hurt your back and your feet. Add some cushion with your favorite slippers.
Comfortable clothes – Forget the tight clothes and instead opt for loose-fitting items and layers. Choose pieces that are easy to get on and off, such as nursing tanks, zip-up hoodies or open-front sweaters, socks and comfortable pants.
Toiletries – Items such as your toothbrush, toothpaste, deodorant, shampoo, makeup, hair ties or scrunchies, brush and lotion are all good to have handy.
Nursing bra/pads, if breastfeeding – If you're planning to nurse your baby, a nursing bra, nipple cream and breast pads are all necessary items to pack.
Snacks – Some facilities have a strict policy forbidding food during labor, while others allow light snacks. After all that hard work, you may find yourself starving! To avoid getting too hungry between scheduled meals, pack a few of your favorite snacks to enjoy during your stay.
Going home outfits – Pack a few outfits for your baby. Depending on the season, you'll want weather-appropriate clothing, such as long sleeves and legs in the winter or something light in the heat of the summer.
Items for your partner – If you'll be accompanied by a partner, toiletries and a change of clothes are good for them to bring along. Other useful items might include a phone charger and aspirin or ibuprofen.
Things to do – Crossword puzzles, Sudoku, books or magazines, music and movies are all great ways to entertain yourself during a long labor or recovery.
Be prepared
In addition to the items above, make sure you have your health insurance card and any important documentation, such as your birth plan and a list of people who are approved to be in the delivery room. Pack your hospital bag as soon as possible, in case you go into labor early or have an emergency delivery, and place it in an area that's easy to access or in your car.
Finally, try to relax. Childbirth is an exciting time. We're here to make it a memorable experience at every milestone!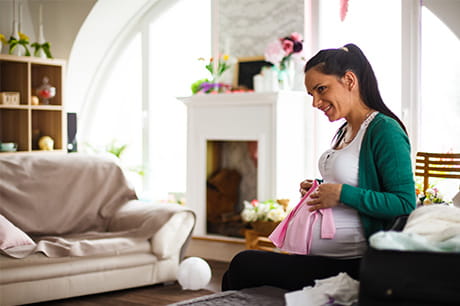 Talk to our team today to schedule an appointment
Call 800-275-6401 and say "women's services."
Call for an appointment
Content from General Links with modal content