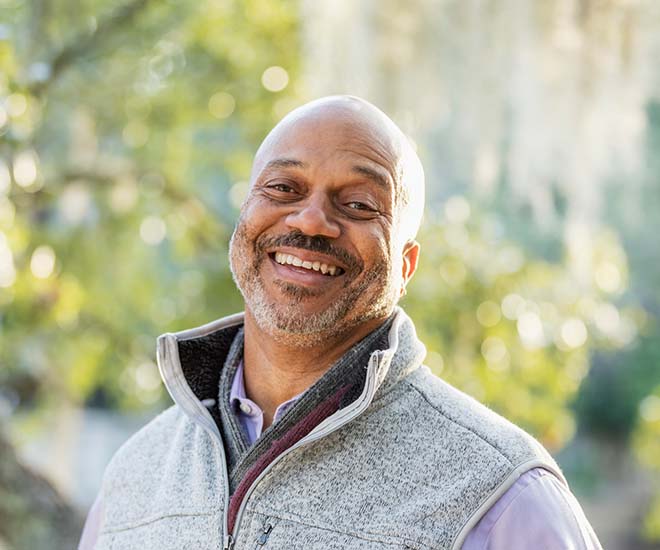 Keeping your heart beating stronger, longer
Cardiomyopathy
Cardiomyopathy makes your heart work harder to pump blood. Our specialty cardiomyopathy clinics can help you feel your best.
What is cardiomyopathy?
When you have cardiomyopathy, your heart muscle thickens, making it harder for the heart to pump blood to the rest of your body. This condition — which may be genetic — can cause your heart to weaken over time, which can increase your risk of developing heart failure.
The four main types of cardiomyopathy are:
Hypertrophic cardiomyopathy
Dilated cardiomyopathy
Restrictive cardiomyopathy
Arrhythmogenic right ventricular cardiomyopathy


What are the symptoms of cardiomyopathy?
In its early stages, cardiomyopathy may not have any symptoms. But during different stages of cardiomyopathy, symptoms vary and may include:
Shortness of breath, especially when lying flat or with exertion
Lightheadedness
Heart palpitations
Swelling, also known as edema, in your legs, feet and abdomen
Extreme fatigue
Chest pain
Just because you have some of these symptoms doesn't mean you have cardiomyopathy. But if you have symptoms, it's still important to speak to your doctor to rule out other health conditions.
Cardiomyopathy risk factors
Certain behaviors, genetics and risk factors can increase your chances of developing cardiomyopathy. These include:
High blood pressure: One-third of American adults have high blood pressure, or hypertension, which increases the risk of developing cardiomyopathy.
Family history: If you have a family member who's been diagnosed with cardiomyopathy, your risk for developing cardiomyopathy increases.
Infections: Infections in your heart can affect its function.
Other risk factors: Other factors that can increase your risk of developing cardiomyopathy include:


Having a previous heart attack
Having a congenital heart defect
Excessive alcohol consumption
Radiation therapy from certain types of cancer
Thyroid disease
Illicit drug use
Being overweight
How is cardiomyopathy diagnosed?
Our team of heart specialists is experienced in diagnosing and treating cardiomyopathy. We offer screening tests that use the most advanced technology to better detect cardiomyopathy including:
Blood tests – These tests can also rule out any issues with your thyroid, liver or kidneys.
Electrocardiogram (ECG or EKG) – This noninvasive test uses small sensors attached to your chest and arms to record your heart's electrical activity.
Chest X-ray – This allows your doctor to see the condition of your lungs and heart, and potentially rule out other causes of your symptoms.
Echocardiogram – A wand-like device is placed on your chest and uses sound waves to create a video of your heart working.
Cardiomyopathy specialty clinics
Visit one of our dedicated cardiomyopathy clinics for personalized, local care — we have locations throughout northeastern and central Pennsylvania. Your cardiologist can help you find the nearest cardiomyopathy clinic.
We're recognized as a center of excellence by the Hypertrophic Cardiomyopathy Association (HCMA), the only facility with this designation in the central Pennsylvania region.
Preparing for your visit
Before your visit, make a list of anyone in your family with a heart condition and a list of your own diagnosed heart conditions.
During your appointment, we'll talk with you about managing your cardiomyopathy. And we'll perform minimally invasive tests to check your heart's function. You and your doctor will work together to develop a treatment plan to help you feel your best.
Treatment for cardiomyopathy
Depending on the severity of your condition, your doctor may recommend one or more of the following treatments:



Your doctor may encourage you to make healthy lifestyle changes to reduce your cardiomyopathy symptoms. These may include:
Quitting smoking
Changing your diet
Losing weight
Reducing stress
Emotional support
Your doctor may recommend prescription medication to help manage your symptoms, improve your heart function and reduce your risk of complications.
If your cardiomyopathy can't be successfully managed through less invasive treatment options, your heart doctor may recommend surgery.
Our heart surgeons use the latest techniques to treat heart conditions, including minimally invasive surgery, to offer you the best outcomes and path for healing.
Using heat from radiofrequency (microwave) energy or extreme cold, called cryoablation, your surgeon will remove the extra thickened tissue, helping your heart pump better.
If you have cardiomyopathy, your doctor may suggest an implantable defibrillator. This device delivers an electric shock to reset your heart if you have potentially fatal heart rhythms (ventricular tachycardia or ventricular fibrillation).
Cardiomyopathy care at Geisinger
Our heart team is dedicated to providing compassionate care and the most advanced cardiomyopathy treatments available. We offer:
The knowledge you need – Your heart team includes surgeons, doctors and specialists with years of training and experience. Their expertise has been honed by treating many people with cardiomyopathy, and their focus is on delivering the care best suited to your needs.
Excellent care where you live – With locations throughout central and northeastern Pennsylvania, our experienced heart team provides consultations and comprehensive care. We offer leading-edge treatment options and tailored-to-you care backed by the expertise and innovation of a nationally recognized health system.
Women's heart health specialists – Women hold a special place in our hearts. So much so, they've inspired our team of experts to pursue breakthroughs and research that will impact the future of women's heart health.
Genetic testing and counseling programs – Special research programs, such as MyCode®, are only available at Geisinger. Participating in MyCode allows you to contribute to genetic research. By participating, some may receive information about their own genetic risks. Learn about MyCode.
Content from General Links with modal content