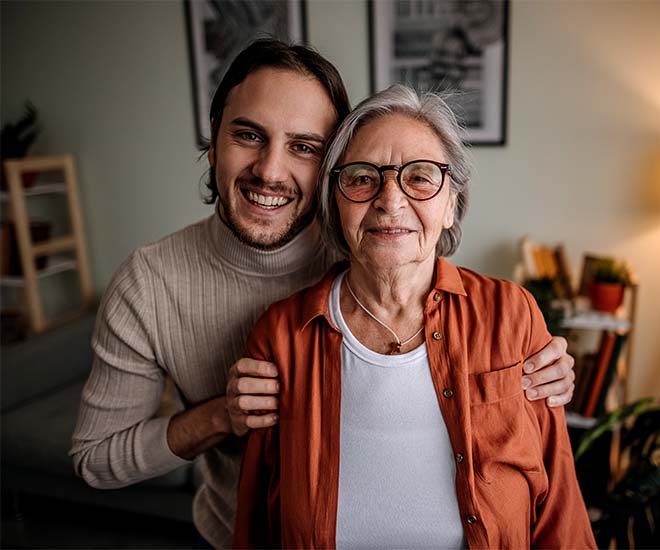 Dementia and Alzheimer's
Learn how they differ — and how to find the right treatment.
What is dementia?
Dementia and Alzheimer's are often used interchangeably, but dementia is not an actual disease. It's an umbrella term for symptoms that can include memory loss, challenges with language and poor decision making. And Alzheimer's is the most common type of dementia.
Other types of dementia include:
Vascular dementia – This condition is caused by a lack of blood flow to the brain and is thought to be related to strokes or hardening of the arteries. Symptoms include confusion, difficulty completing tasks, inability to concentrate for long stretches or gait changes.
Lewy body dementia – This form is progressive. It can cause trouble with concentration and planning, visual disturbances, fainting and difficulty walking.
Parkinson's disease with dementia – This form is also progressive and can also cause trouble with concentration and planning, visual disturbances, fainting and difficulty walking.
Mixed dementia – This means more one type of underlying disease is causing dementia. Symptoms can include mood changes, memory loss and confusion.
Normal pressure hydrocephalus (NPH) – This condition involves the buildup of excess fluid in the brain's ventricles. NPH causes balance and memory issues, incontinence and mood changes.
Frontotemporal dementia – Also known as Pick's disease, this type may run in families and can affect those as young as age 45. Symptoms can include behavioral and personality changes or speech and language problems.
Wernicke-Korsakoff syndrome (WKS) – Also referred to as Wernicke's encephalopathy, WKS affects the ability to retain and process information. It can be caused by vitamin B1 deficiency, which may be brought on by alcohol misuse.
Signs of dementia
Early signs of dementia are usually mild and begin with simple forgetfulness. Often, it can be overlooked as "normal aging," but as dementia progresses, the person may become more confused and forgetful, repeat questions or have difficulty caring for themselves.
Someone with dementia typically has difficulty with two or more of the following:
Memory
Speech
Judgment
Concentration
What is Alzheimer's?
Alzheimer's disease is the most common type of dementia. In fact, 50 to 70 percent of people with dementia have Alzheimer's. While anyone can get Alzheimer's, it's most common for people over 65. But it's possible to be diagnosed with early onset Alzheimer's before then.
Symptoms of Alzheimer's
Alzheimer's disease has several different symptoms, which may include:
Difficulty completing daily, familiar tasks
Being confused or irritable
Memory loss
Problems with cognition
Trouble with speech or writing
Difficulty problem-solving
Mood and personality changes
These signs don't always mean someone has Alzheimer's disease, but see a doctor for a proper diagnosis.
Dementia and Alzheimer's diagnosis
To confirm a dementia or Alzheimer's diagnosis and rule out other causes of memory loss, your doctor may perform tests including:
Physical, neurological and cognitive screening exam: These tests assess reflexes, muscle tone and strength, coordination, balance, vision, hearing and range of motion.
Blood tests: Your doctor may order a blood test to help rule out other possible memory loss causes.

Magnetic resonance imaging (MRI): Using powerful radio waves and magnets, an MRI creates a detailed view of the brain that can reveal signs of dementia.

Computerized tomography (CT): A CT scan uses X-rays to create a detailed image of the brain.

Electroencephalogram (EEG): This test measures electrical activity in the brain.

Cerebrospinal fluid (CSF) test: This test can find Alzheimer's disease proteins and may rule out other causes of memory loss.

Positron emission tomography (PET): Rather than show the brain's structure, like MRIs and CT scans, a PET scan reveals the brain's activity and how areas of the brain work to metabolize nutrients.
DaTscan: This imaging test helps diagnose Parkinson's disease and other disorders like Lewy body disease.


Dementia and Alzheimer's treatment
While there's no cure for Alzheimer's, medications can help slow the progression of Alzheimer's and some other forms of dementia. Talk with your doctor.
Geisinger Memory and Cognition Program
The Geisinger Memory and Cognition Program offers the following services:
The behavioral neurology team does cognitive (memory) and neurologic testing. They'll follow you over time and work with your other providers to help care for you.
This team consists of doctors and advanced practitioners who specialize in diagnosing and treating people with changes in their memory, thinking or behavior, including diseases that cause dementia.
A neuropsychologist evaluates conditions affecting your brain. They'll interview you and your family and administer cognitive tests to help diagnose your condition, determine how severe any impairments are and see how you respond to treatment.
Speech therapy/cognitive rehabilitation
A speech-language pathologist (or speech therapist) evaluates and treats various cognitive-communication disorders. During an evaluation, your speech therapist will assess your attention, memory, executive function and language.
Following the evaluation, your therapist will help you understand your condition and provide therapy to help improve your symptoms.
A geriatrician is a physician who specializes in the care of older people, treating common conditions like Alzheimer's disease and other forms of dementia. A geriatric evaluation may focus on whether your medications are appropriate for older people, the safety of your living environment and how to optimize your function and safety.
Working with you and your providers, the pharmacist will monitor and improve your prescribed medications, paying close attention to those that affect your cognitive abilities.
Depending on your needs, we may:
Schedule a geriatrics interdisciplinary clinic visit that efficiently assesses and diagnoses older adults with symptoms of dementia in one appointment.

Offer support groups for patients and caregivers to bring together those who want to learn more about dementia and dementia care.

Refer you to the driving simulator at our Wilkes-Barre clinic to determine if it's safe for you to operate a motor vehicle.

Recommend research studies if you're eligible.

Neurology care at Geisinger
Our neurologists and neurosurgeons offer:
Treatment for emergencies, 24/7: With a Level I trauma center, four Level II trauma centers and a Level II pediatric trauma center, we're prepared to treat head, neck and spinal cord injuries — including the most complex ones.
Comprehensive Stroke Centers: Geisinger Medical Center and Geisinger Wyoming Valley Medical Center have been designated as Comprehensive Stroke Centers by the Joint Commission and the American Heart Association/American Stroke Association. This means access to stroke neurologists and neuroendovascular specialists, 24/7.
Telehealth appointments with your neurologist: If you're referred to a neurologist for further treatment, you can see them from the comfort of your home with telehealth virtual appointments.
D-CARE study at Geisinger: If you're caring for someone with dementia or have dementia yourself, you can be part of our national research study that compares three different models of dementia care over the course of 18 months. If you're interested in participating or want more information, call 570-808-7215.