Glaucoma care
Whether you've been diagnosed with glaucoma or have a greater risk of developing it, we're here to preserve your eye health and help you maintain your quality of life.
What is glaucoma?
Glaucoma is an eye disorder that can affect the pressure inside the eye. In a healthy eye, clear fluid constantly flows in and out to nourish the eye's tissues. But when fluid stops draining, it builds up and creates too much pressure within the eye. Over time, too much pressure can damage the optic nerve, which is necessary for good vision.
If left untreated, glaucoma can lead to vision loss and blindness — which is why early detection and proper treatment are key. After cataracts, glaucoma is the second leading cause of blindness worldwide.
Because glaucoma is an eye disease that can potentially cause blindness, it's important to have your eyes checked by your eye doctor each year — especially those who have a higher risk of developing glaucoma.
Types of glaucoma
There are several types of glaucoma:
Open-angle glaucoma is the most common form of glaucoma and affects almost 3 million Americans. With this condition, the pressure in the eye increases over time.
Angle-closure glaucoma is a less common type of glaucoma that causes a rapid and sudden increase in eye pressure.
Normal-tension glaucoma damages the eye's optic nerve, despite normal eye pressure.
Congenital glaucoma is a rare condition that develops after birth due to a defect in the eye's canals.


Glaucoma symptoms and causes
Glaucoma in its early stages will cause no pain and show no signs or symptoms. However, as the condition progresses, a person with glaucoma may notice their vision gradually worsening, along with the following symptoms:
Blurred vision
Presence of halos around lights
Loss of peripheral vision, or side vision
Difficulty focusing on objects

Having these symptoms does not mean you have glaucoma. However, it's still important to talk to your eye doctor, as these could be signs of an underlying health issue.
Causes of glaucoma
Although the actual cause of glaucoma is unknown, it occurs when there's a buildup of fluid in the eye. However, nearly half of all glaucoma cases occur in those with normal eye pressure.
Those who have the highest risk for glaucoma include:
People over age 60, especially Mexican Americans
African Americans over age 40
People with diabetes
Individuals who have experienced a serious eye injury
Anyone with a family history of glaucoma
Anyone who takes corticosteroid medications, such as prednisone

If you are at a greater risk for developing glaucoma, it's important to have a complete eye exam, including dilated pupils, by an ophthalmologist every one to two years.


Diagnosing glaucoma and glaucoma tests
As the area's leading eye specialists, our optometry and ophthalmology team is experienced in diagnosing and treating glaucoma at all stages.

In addition to reviewing your medical history and examining your eyes, your eye doctor will conduct the following tests to spot any concerns early:


Eye chart test – which checks how well you see from a distance.
Dilated eye exam – which uses drops to open up your pupils. With the help of a magnifying lens, your eye doctor can better examine the back of your eye to check the retina and optic nerve for damage.
Visual field test – which measures your side vision (peripheral vision).
Tonometry test – which uses a puff of air to measure the pressure in your eye.
Pachymetry test – which measures the thickness of your cornea (the outer layer of the eye).
Glaucoma treatments
Although there is no cure for glaucoma, there are several treatments that can keep the disease in check and prevent or slow its progression — which is why early detection and treatment are key.
Because glaucoma is a lifelong condition, our dedicated and highly trained eye doctors will work with you to develop a treatment plan that works with your lifestyle and offers you the best chance of preserving your vision.
Depending on your situation, one or more of the following treatments may be recommended:
This treatment can help reduce high eye pressure.
Medicated glaucoma eye drops can help lower and regulate high eye pressure.
Assistive vision aids can provide an extra "boost" to help those with eye disease, such as glaucoma, see better. In some instances, devices such as magnifiers, telescopes, video technology and other visual aids can improve your vision and help you function better in everyday life.
We offer minimally invasive laser treatments that can help drain the fluid out of the eye.
Sometimes conventional surgery is needed to make a small incision in the eye so the fluid can drain. This minimally invasive glaucoma surgery can typically be performed in around 20 minutes and allow you to return home the same day.

Our goal is to preserve your vision and help you maintain your quality of life.

Glaucoma care at Geisinger
Our leading eye care specialists are here to provide you with compassionate care and the most advanced glaucoma treatments available. We offer the latest and minimally invasive procedures for both diagnosis and treatment, so you can recover quickly and return to the things you love. We offer:
Comprehensive eye care for all ages – Our eye care team, which includes optometrists and ophthalmologists, offers a full range of vision care, from routine eye exams to complex surgical treatments. From our littlest patients to adolescents to adults and seniors, we're here to keep your eyes healthy as they change over time.
Emergency eye care – Have an eye health emergency? Visit Geisinger's Woodbine Lane clinic in Danville, where our board-certified optometrists will quickly diagnose and treat your eye problem or connect you with an ophthalmologist if further treatment is needed.
Your partner in lifelong eye health – Our eye specialists are friendly, knowledgeable and experienced. Seeing a highly-trained eye doctor for regular eye exams is one of the most important things you can do to maintain your eyes' health. Changes in eye health can be an early sign of chronic health conditions or diseases, and our skilled eye specialists can help you keep a handle on your overall health.
Optical centers with friendly, helpful staff – Our vision centers are your one-stop-shop for your family's eyewear needs. We carry frames and lenses for adults and kids, including many designer eyeglass brands. No appointments are necessary — just walk right in to one of our six locations. Find an optical center near me.
Care for complex eye conditions and eye diseases – Our eye specialists are trained in diagnosing and treating all vision problems, including complex eye conditions.
Leading-edge eye treatments – Should you or a loved one need eye surgery, our ophthalmologists offer the latest treatments as well as minimally invasive procedures and refractive surgery, including LASIK and laser eye surgery, so you have minimal recovery time. Many times, you'll be home the same day as surgery.
Get eye care
Geisinger Berwick
W. 2200 Front St.
Berwick, PA 18603
Phone: 570-759-1228
Danville
Geisinger Woodbine Lane
16 Woodbine Ln.
Danville, PA 17822
Phone: 570-271-6531
Forty Fort
Geisinger Forty Fort Ophthalmology
190 Welles St. #122
Forty Fort, PA 18704
Phone: 570-718-4140
Lewisburg
Geisinger Optometry Lewisburg
1717 Market St.
Lewisburg, PA 17837
Phone: 570-523-9793
Lewistown
Geisinger Lewistown
21 Geisinger Ln.
Lewistown, PA 17044
Phone: 717-242-4288
Mt. Pocono
Geisinger Mt. Pocono
126 Market Way
Mt. Pocono, PA 18344
Phone: 570-839-3633
Shamokin
Geisinger Specialty Care Shamokin
4203 Hospital Rd.
Coal Township, PA 17866
Phone: 570-644-9001
State College
Geisinger Gray's Woods
132 Abigail Ln.
Port Matilda, PA 16870
Phone: 814-272-7100
Sunbury
Geisinger Ophthalmology Sunbury
437 Market St.
Sunbury, PA 17801
Phone: 570-286-3054
Geisinger Wyoming Valley Outpatient Specialty Center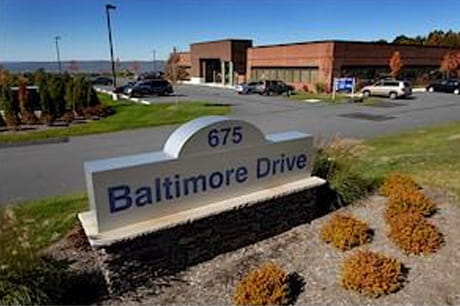 Offering multiple outpatient specialties in one convenient location. Enjoy free and easy parking and large, comfortable waiting and exam rooms.
Williamsport
Geisinger Williamsport Ophthalmology
800 W. 4th St.
Williamsport, PA 17701
Phone: 570-321-0880
Content from General Links with modal content