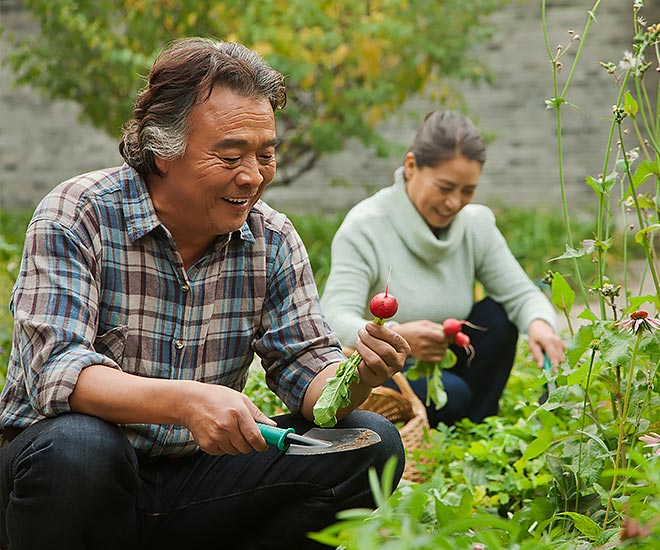 Kidney transplant surgery — helping you feel like yourself again, sooner 
Kidney transplant
A kidney transplant with less waiting. Learn about your options for a kidney transplant and how to shorten your wait.
Whether you're just starting to talk about a transplant with your doctor, or you've already received your new kidney, our experienced, compassionate transplant team is here to create a personalized care plan built around you.
What do the kidneys do?
Your kidneys are a pair of small, bean-shaped organs located on each side of your body, slightly below your ribs. They play an important role in your body's functioning, including:
Removing toxins and waste from your blood

Regulating your blood pressure

Maintaining your body's supply of red blood cells

Keeping your bones healthy
Depending on your treatment and personal history, your doctor will work with you to determine whether you're a good candidate to receive a kidney transplant.
What is a kidney transplant?
During a kidney transplant, your surgeon will restore good kidney function with a healthy new donor kidney.
You don't need to travel far to get the best care. Since 1981, our team has performed more than 1,500 kidney transplants for people from across Pennsylvania, New York and New Jersey.
Through our kidney transplant program, our transplant coordinators will guide you through your transplant journey. Your transplant coordinators will work with you and your family during the entire process — from helping you get on the waiting list to monitoring your progress after you receive your new kidney.
We're here to help you find a donor as soon as possible, because we know how important it is to get back to your friends and family — and your everyday life.
A whole transplant team working together
Our entire team partners with you throughout your transplant. We'll make sure all your questions are answered, every step along the way.
Your transplant surgery care team will include:
Transplant surgeon:

Your transplant surgeon will perform your kidney transplant procedure.

Transplant nephrologist:

A transplant nephrologist, or kidney doctor, will work with you to develop a plan to manage your kidney disease before you receive your kidney transplant.

Transplant coordinator:

Think of your transplant coordinator as your cheerleader. They'll get you on the waiting list, help you find a donor and work with you and your family throughout the entire transplant process.

Transplant social worker:

There to address your mental and physical needs, your social worker will provide the care you need as you navigate your transplant. They'll also develop a plan for follow-up care after you're discharged from the hospital.

Transplant pharmacist:

Your pharmacist will work with the transplant team to help guide your medication plan after your transplant and will monitor side effects. They're on hand to answer any questions you have.

Nurse practitioner:

Your nurse practitioner will be there to help care for you after you receive your new kidney.

Transplant dietitian:

Diet plays a big role in kidney health. You'll work with a dietitian before and after your transplant to help you develop a nutrition plan to feel your best.
Request a consultation
Call us today to schedule a kidney transplant consultation at 800-275-6401.
Make an appointment
We have been designated as a center of excellence for transplant by Aetna and Optum in recognition of our patient outcomes.
Options for a kidney transplant
While you wait for your kidney transplant, your doctor will work with you to develop a plan to manage your symptoms and lifestyle. And when a donor kidney becomes available, we'll call you to begin the process. With options for a kidney transplant, we can help you get your new kidney sooner, so you can get back to doing the things you love.
Living donor program
The new kidney you receive may be from a living donor — a person who chooses to donate a kidney. If you know someone who might want to donate to you, they can get tested to see if they are a match. If they are, you can begin the transplant process with them.
If they're not a match with you, they can donate to someone else on the transplant waiting list or participate in the living donor kidney transplant exchange program. This program pairs a donor with a match and finds a new match for you. Through this innovative program, donors can help two or more patients get a new kidney.
Donation is done through a minimally invasive procedure. That means less discomfort. And less down time. Donors usually go home the next day.
Interested in becoming a living donor? Apply now.
Multiple wait listing for kidney transplants
You may also choose to get on the waiting list with two or more transplant centers. You can even transfer your waiting time from one program to another. This means that, if Geisinger seems like a good fit for you, you can get on our list without losing your waiting time with another program.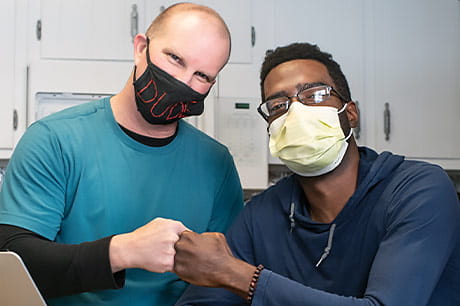 'I had his kidney. I would be his match'
As a college freshman, Chris noticed cloudiness in his vision. His doctor told him he'd eventually need a kidney transplant. Ten years later, he found his match in his buddy Mike. They turned to Geisinger for their transplant surgery — and both men were soon out of the hospital and on the road to recovery.


Read their story
Kidney transplant care at Geisinger
Our nephrology, or kidney care, team is dedicated to providing innovative treatments and personalized care centered around you. We offer:
Care designed for you, where you live – With locations throughout northeast, central and south-central Pennsylvania, our experienced team provides consultations and comprehensive care. We offer leading-edge treatment options and tailored-to-you care, backed by the expertise and innovation of a nationally recognized health system.
Backed by a whole transplant team – Your transplant surgery care team is powered by transplant experts who have treated many people with kidney disease. And their focus is on delivering the care best suited to your needs.