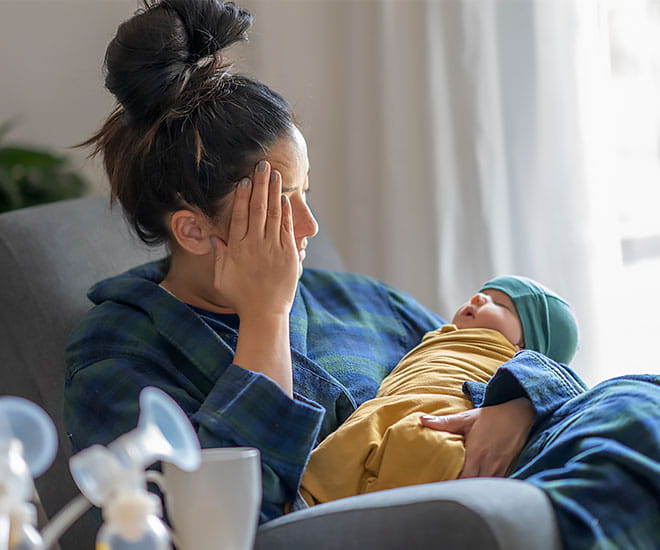 Postpartum depression
Welcoming a new baby brings about many life changes. We're here to help.
Postpartum depression
Major life changes, such as having a baby, can be exciting — and unsettling. Add shifting hormones to the mix, and it's not surprising that many women get "baby blues" for a week or two after giving birth.
But what if baby blues don't go away — or get worse?
If your baby blues last longer than two weeks after you give birth, you might have postpartum depression. And postpartum depression doesn't just affect new or first-time moms. It can impact new dads, too. In fact, up to 10 percent of dads with newborns will have symptoms.
Understanding postpartum depression is the first step toward getting treatment that can help you feel better — for yourself, your baby and everyone who cares about you.
What is postpartum depression?
Postpartum depression is a serious form of depression. While it can develop any time during the first year after your baby's birth, most new moms (and dads) will feel symptoms during the first three weeks after their baby is born.
And it doesn't just affect first-time parents. You might've felt fine after the birth of your first or second child, but not your third or fourth. So, don't think, "That doesn't happen to me." If you don't feel right, seek treatment.
What causes postpartum depression?
Postpartum depression has several possible root causes including:
Hormones. Your hormone levels rise when you're pregnant and drop suddenly after you give birth. This change can trigger baby blues and depression.
Family history of depression.
Stress. If you're feeling overwhelmed and overly tired, are having issues with your family or partner, or major sources of stress in your life, these may contribute to postpartum depression.
Any mom or dad with a newborn can experience postpartum depression, but symptoms may be more likely to develop if you:
Have a history of depression or were depressed after a previous pregnancy.
Have a baby with health problems or other special needs.
Are struggling with your relationship or having financial problems.
Lack help from family or a support system.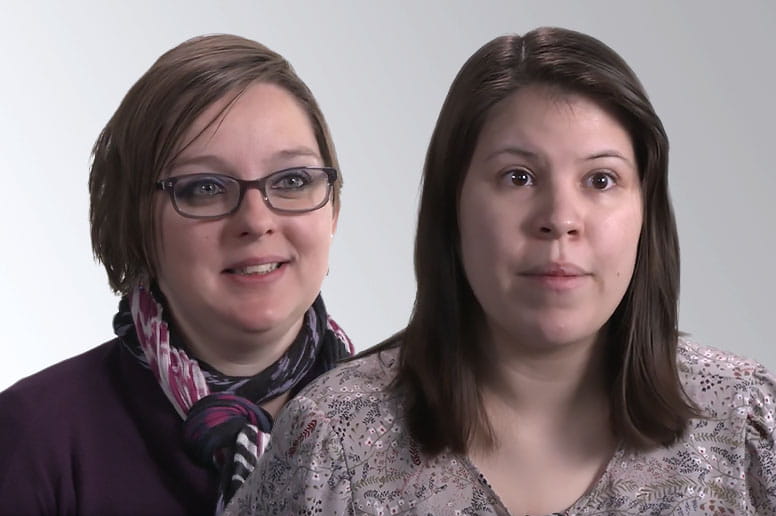 To get completely real and raw with you…"
Two women share their experiences with postpartum depression.

Hear their stories


Signs and symptoms of postpartum depression
Unlike baby blues, symptoms of postpartum depression are more intense and last longer than two weeks. They may even interfere with your ability to complete daily tasks or care for your baby.
Signs and symptoms may include:
Anxiety and/or panic attacks
Depressed mood
Difficulty concentrating
Excessive crying
Fatigue
Feelings of worthlessness
Hopelessness
Intense irritability
Lack of interest in or difficulty bonding with your baby
Lack of sleep or too much sleep
Sadness
Severe mood swings
Thoughts of harming yourself or your baby
Weight loss or gain
Withdrawing from friends and family
Postpartum depression treatment
If you feel depressed after the birth of your baby or are worried about developing postpartum depression, see your doctor as soon as possible. With prompt treatment, you can start feeling better.
During postnatal care (or care after childbirth), your doctor or healthcare provider will screen you regularly for signs and symptoms to make sure you get the treatment you need. If you have a history of depression, your doctor may suggest starting medication or counseling after you give birth.
Treatment options include:
Medication. Your provider may prescribe an antidepressant. Most antidepressants are safe to take while nursing, but tell your doctor if you're breastfeeding.
Counseling. A psychologist or therapist can help you work through stress, issues or negative thoughts and help you deal with them in a better way.
Other things that may help you feel better:
Letting family and friends help you
Setting realistic goals
Getting regular exercise
Getting as much rest and healthy food as possible
And keep in mind that postpartum depression isn't a character flaw. It's a medical condition — and one that can be treated. Don't be afraid to speak up and get help.
Postpartum care at Geisinger
If you're pregnant, your Geisinger care team will start routinely screening you for postpartum depression before you even give birth. We'll identify if you're at risk and create a treatment plan if needed.
The most common screening tool is the Edinburgh Postnatal Depression Scale, which is effective at screening for depression and anxiety during pregnancy and after you give birth. The screening takes less than 5 minutes and can help open the conversation between you and your provider.
Resources for help
If you have postpartum depression, you aren't alone. And help is always available. Find resources below:
Crisis Text Line: Text HOME to 741741
988 Suicide and Crisis Lifeline: Call or text 988
Geisinger Neighborly
Postpartum Support International (PSI) — call or text HelpLine:

Call 1-800-944-4773 (4PPD) (#1 En Español or #2 English)
Text in English: 800-944-4773
Text en Español: 971-203-7773