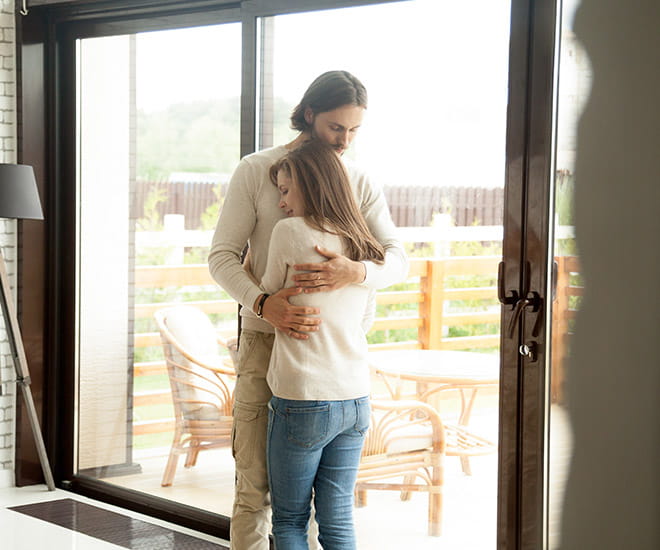 Helping you heal after loss
Pregnancy and infant loss support
Nothing can prepare you for the loss of a baby, either before or after birth. Our perinatal bereavement team is here for you and those around you, supporting you with compassion and understanding as you cope and grieve.
Perinatal loss, or the loss of an infant due to miscarriage, stillbirth or neonatal (newborn) death, is devastating — for you, your partner and your loved ones.
If you're enduring this loss, we understand what you're going through — and we're here to support you as you mourn, work through your grief and start on the path toward healing.
What is perinatal loss?
Perinatal loss can occur anytime from conception, during pregnancy and up to 28 days of the newborn's life. The types include:
Miscarriage - Also known as a spontaneous abortion, a miscarriage is the loss of a fetus prior to 20 weeks gestation.
Ectopic pregnancy - An ectopic pregnancy occurs when an embryo implants in the fallopian tubes or anywhere outside the uterus. It's commonly identified at 6 to 10 weeks gestation and often requires emergency treatment.
Preterm loss – The loss of pregnancy anywhere between 20 to 36 weeks gestation.
Stillbirth – The birth of a deceased baby beyond 36 weeks.
Neonatal death: The birth of a live baby followed by death within the first week and up to 28 days of life.
When a perinatal loss occurs, it's common to feel many emotions. You may even blame yourself or wonder why this happened to you, but it's important to remember that this isn't your fault and you aren't alone.
Pregnancy and infant loss support is here
Pregnancy and infant loss often occur suddenly and unexpectedly, leaving you to cope with intense feelings of confusion, shock, numbness, anger, guilt and sadness. That's why we're here to provide you (and your loved ones) with the guidance, support and resources to help you make sense of this loss and grieve in a way that meets your individual needs.
At Geisinger, our perinatal bereavement team is trained in Resolve Through Sharing® (RTS), which is the gold standard in bereavement education, so they have the education and specialized skills needed to help support those who experience perinatal loss.
How we support you
Our perinatal bereavement program offers many services, including:
Empathetic and supportive communication and education
Adequate time to ask questions and seek guidance
As appropriate, options to receive photos, memory boxes, angel gowns, footprints or locks of hair
Discussion of baptism, burial and funeral options
Options regarding autopsy, pathology studies and genetic testing
Invitation to annual memorial service
Additional resources
Sweet Grace Ministries offers help and support to families facing pregnancy or infant loss in the form of baskets, comfort bags, photography, support groups and more. Learn more about Sweet Grace Ministries.
You don't have to go through this loss alone. If you'd like to learn more about our perinatal bereavement program and services, fill out the form on this page.
Content from General Links with modal content