Welcome to Geisinger 65 Forward
What would you like to do?

Senior primary care designed specifically for you
Geisinger 65 Forward is a new, holistic approach to senior primary care created exclusively for people 65+. Now you can get same-day appointments, more time with your doctor and access to a variety of wellness activities and services. And it's all delivered by a team of healthcare professionals that treats you like family.
New Geisinger 65 Forward Health Center locations announced
It's official – Geisinger will be opening four new 65 Forward Health Centers by the end of the year.
We're proud to be expanding our services to:
Wilkes-Barre, at 41 South Main St., Midtown Village
Hazleton, at 180 Susquehanna Blvd., West Hazleton Plaza
Shamokin Dam, at 30 Baldwin Blvd.
Complete the form on this page if you are interested in signing up, and a member of our team will contact you.
We're taking extra care to care for you.
At Geisinger 65 Forward, you get more time with your doctor and more access to personalized care. And we're doing it all with additional safety measures, including:
Screening patients as they come in
Requiring everyone to wear masks
Sanitizing all patient waiting areas and exam rooms multiple times a day
Limiting the number of people in waiting rooms
Senior primary care (and so much more)
We offer a more personalized style of healthcare tailored specifically for seniors. What does this mean for you?
More time with your doctor. During every appointment, you'll have up to 60 minutes with your healthcare team to answer your questions and concerns.
Easier, faster appointment scheduling. Because we specialize in appointments for people over 65, we can see you more often. The more often we see you, the easier it is to keep you healthy and happy.
More personalized care. Our primary care doctors see only 450 patients each. The national average is 1,400. Our doctors know you, your history and everything connected to your health.
Lots of services under one roof. From lab work to exercise classes, get everything you need in one location.
More than just healthcare. From ceramics to card games, our centers offer a variety of activities and ways to connect with the community.
More than just a doctor. You get an entire senior healthcare team.
Our entire team is dedicated to senior healthcare, which includes caring for your overall health and wellness. Your team includes:
Specialized physicians. Your doctor specializes in treating patients over 65 and oversees all your medical needs.

Nurse. Works alongside your doctor and knows you and your medical history.

Care coordinator/coach. Makes sure you get the right care at the right time, based on your unique medical needs.

Social worker. Works with you and your family to coordinate non-clinical needs like counseling.

Nutritionist. Reviews your diet and recommends healthy choices.

Wellness coordinator. Works with your doctor to create a fitness plan tailored to your needs.
Healthcare advocate. Your advocate works with you and your family — as well as your specialists, hospitals and Medicare plan — to coordinate your care and help you take advantage of all the health benefits and services we offer.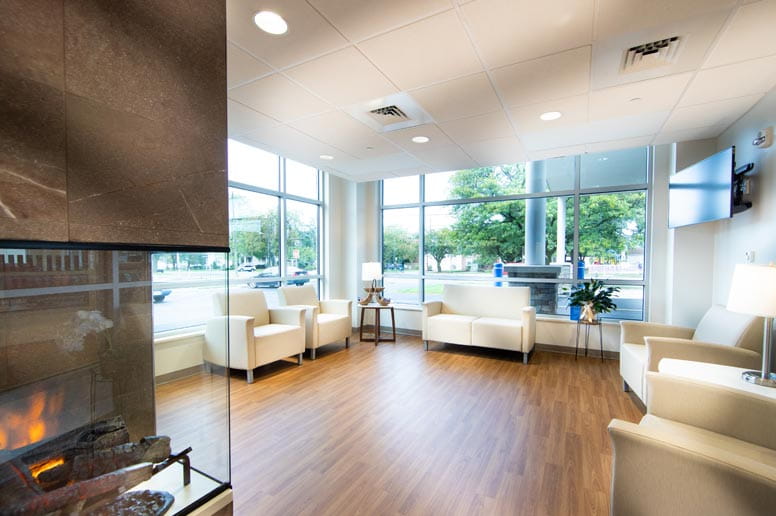 Everything you need, under one roof.
Get the care you need, from doctor visits to social activities and fitness classes, all in one convenient location. Your holistic care includes:
Lab services
Hearing and balance services
Radiology services
Nutritional services
Community support services
Behavioral and mental health services
Pharmacy home delivery (of your eligible prescriptions)
Various outpatient specialty services
Wellness offerings
State-of-the-art fitness equipment
Wellness coordinator
Exercise classes, including yoga
Educational activities like cooking and wellness classes
Activities such as arts and crafts, bingo, parties and events
Geisinger 65 Forward locations
We currently have two locations, but we're looking forward to opening Geisinger 65 Forward Health Centers throughout central Pennsylvania. Stay tuned!
Have questions about switching to Geisinger 65 Forward?

While the risk for developing coronavirus (COVID-19) in the United States remains low for most healthy individuals, it is Geisinger's obligation to protect the health and well-being of our communities, especially our most vulnerable populations, so even the smallest risk is one that should be avoided on behalf of our patients, visitors and employees.
Thank you for your cooperation and understanding as we continue to take measures to protect the health and well-being of the communities we serve.
For more information about COVID-19, please visit www.geisinger.org/coronavirus.