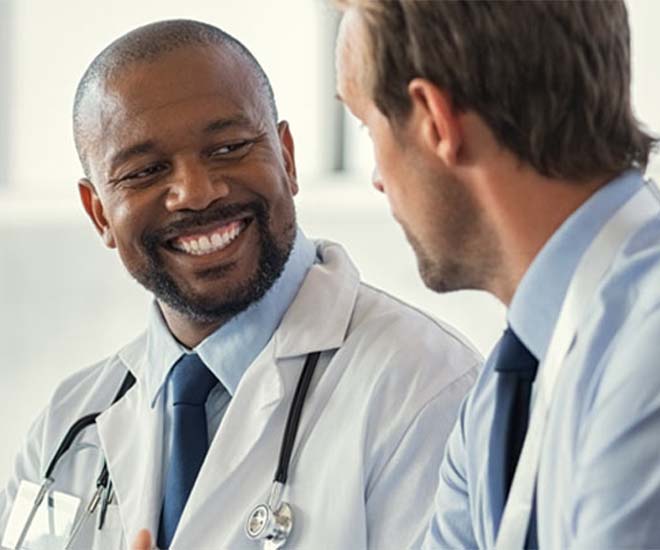 Contact your physician liaison
Our physician liaison team's goal is to make it easier for you and your patients to access care at Geisinger. Your liaison will keep you informed about our specialty services and programs, physicians and much more.
Don't hesitate to contact your liaison if you:
Need more information about our services or physicians
Would like to meet with one of our specialists
Would like to schedule a continuing medical education program in your office or area
Need assistance, information or advice, or the right internal expert for a concern
Need help scheduling your patient with a Geisinger specialist
Have a Geisinger Health Plan-related inquiry?
Call us at 800-876-5357 or visit us here. You can also contact your GHP account manager.
Don't know who your
account manager is? Email us at GHPAccountMngt@geisinger.edu
Contact us
Have a question? Not sure who your physician liaison is? Give us a call at 570-214-9498.
Call now
Robert Jordan, associate vice president
Office: 570-214-7363
Cell: 570-574-7738
Email: rrjordan@geisinger.edu

Dona Seward, market advancement coordinator
Office: 570-214-9498
Email: djseward@geisinger.edu

Michael McCullen, manager, provider relations
Office: 570-494-6121
Email: msmccullen@geisinger.edu
*Available via TigerConnect
Service area:
Luzerne County Specialists
Sally Hager, physician liaison
Office: 570-214-4325
Cell: 570-490-4585
Email: sahager@geisinger.edu
*Available via TigerConnect
Service area:
Bradford County
Columbia County

Hazleton

Montour County
Northumberland County
Schuylkill County
Snyder County
Union County
Community Medicine Service Line
Geisinger Bloomsburg Hospital
Geisinger St. Luke's Hospital
Geisinger Shamokin Area Community Hospital
Peter Sassaman, physician liaison
Office: 570-214-3586
Cell: 570-430-7661
Email: pesassaman@geisinger.edu
*Available via TigerConnect
Service area:

Blair County
Centre County
Clearfield County
Clinton County
Huntington County
Juniata County
Lycoming County

Mifflin County
Sullivan County
Tioga County
Geisinger Jersey Shore Hospital
Geisinger Medical Center Muncy
Robin Farrar, physician liaison
Cell: 575-575-2742
Email: rlfarrar@geisinger.edu
*Available via TigerConnect
Service area:
Lackawanna County

Monroe County

Northern Luzerne County

Pike County

Susquehanna County

Wayne County

Wyoming County

Northeast Region CommunityCare clinics