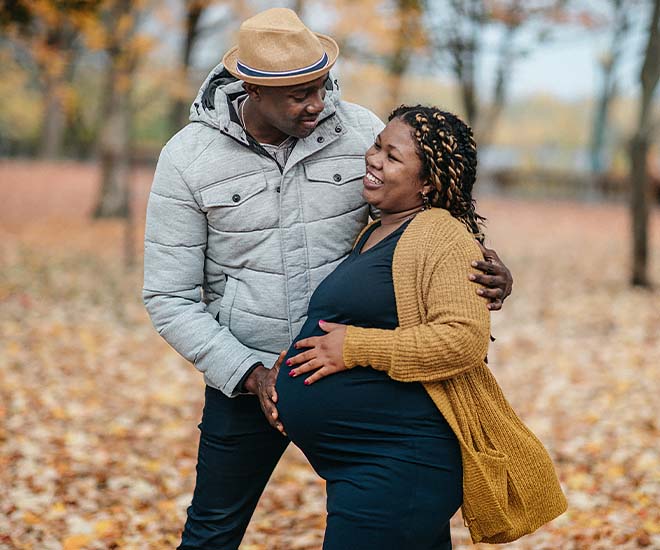 Have a safe, healthy pregnancy
Maternal-fetal medicine (high-risk pregnancy care)
If you have a high-risk pregnancy, you want the right care team on your side. Our maternal-fetal medicine specialists, or high-risk pregnancy doctors, specialize in managing potential risks and safely delivering your baby.
What is a high-risk pregnancy?
A high-risk pregnancy is when you or your baby face challenges or have conditions that increase your chance for complications.
A maternal-fetal medicine specialist or perinatologist — an OB-GYN with additional training in managing high-risk pregnancies — will monitor you closely to help you and your baby stay healthy.
When to see a maternal-fetal medicine doctor
Factors that increase your chances of having a high-risk pregnancy include:
Medical conditions before or during pregnancy, such as high blood pressure; diabetes; lung, kidney or heart problems; obesity; or issues with a previous pregnancy
Medical conditions that develop during pregnancy, such as preeclampsia and gestational diabetes
Other pregnancy-related issues, including:

Premature labor
Carrying multiples (twins or triplets)
Placenta previa
Fetal development issues

Your age — if you're under 17 or over 35
Lifestyle factors, such as smoking, taking illegal or unprescribed drugs and drinking alcohol while pregnant
Having one or more risk factors doesn't mean you'll have any problems with your pregnancy. But the more risk factors you have, the higher the chance for a complication. Your maternal-fetal medicine team can make a care plan tailored to your needs.
What to expect at your maternal-fetal medicine visit
While no two care plans are the same, you can generally expect the following at your visit with our clinic:
Your relationship with your care team will often begin with an in-person or virtual consultation to review your medical and pregnancy history as well as any complications in your current pregnancy.
This is typically followed by an ultrasound (also referred to as a fetal anatomy ultrasound or Level II) to check on the baby's development. One of our physicians will review the ultrasound and discuss the results with you at the time of your appointment.
You may also be scheduled with a genetic counselor to review test results, discuss family history or for another reason related to your pregnancy.
If your baby is at risk for a low birth weight or other complications, we may follow your pregnancy with ultrasounds at regular intervals. These visits are mainly to assess the baby's growth, so a visit with a physician is often not required. Your maternal-fetal medicine provider will review your ultrasound results and send a report to your doctor. If there are any changes to your care plan or new findings, these will be reviewed with you during your visit to our clinic.
High-risk pregnancy services
Your maternal-fetal medicine team is trained to manage conditions to keep you and your baby healthy.
To closely monitor your high-risk pregnancy, your specialist might recommend tests, procedures and other support beyond routine prenatal screening tests. These may include:
Safe, high-frequency sound waves produce images of your baby that can help your specialist detect any abnormalities in your baby's development.
In some cases, a fetal echocardiogram may be performed during the second trimester so your specialist can see the structure and function of your baby's heart in detail.
Genetic screening and counseling
Chorionic villus testing and amniocentesis are performed by inserting a thin needle into your abdomen to remove cells for testing. These cells shed by your baby can be evaluated to determine if they may have a chromosomal condition.
Consultation with your specialist
Your consultation will often be performed by tele-video prior to your ultrasound visit.
Our Center for Prenatal Pediatrics provides care for moms and babies facing potential complications before and during delivery. Our maternal-fetal medicine providers collaborate with neonatology and other pediatric specialists to create a care plan for your family.
Learn more about the center in this brochure
.
High-risk pregnancy care at Geisinger
When you need extra care during your pregnancy, you can count on us. We offer:
The knowledge you need – Your high-risk pregnancy team includes maternal-fetal medicine doctors, nurse practitioners, nurses, genetic counselors and other support staff.
Care designed for you, where you live – Our experienced team provides consultations and comprehensive high-risk pregnancy care at locations throughout northeastern and central Pennsylvania, including Geisinger Medical Center, Geisinger Forty Fort and Geisinger Women's Health Scranton.
Newborn services – From skin-to-skin bonding and nutritional support to our network of NICUs and neonatal specialists, we're ready to provide the very best care the moment your baby arrives. Learn more about newborn services.
More than just physical care – Whether you need mental health or emotional support, have an addiction or need breastfeeding support, we're here for you every step of the way.
Positive birthing experience – The birthing suites at Geisinger hospitals are comfortable, large and homey, designed so you can focus on what really matters. Learn more about labor and delivery.
Support groups and parenting classes – Families have access to a wealth of programs including pregnancy and childbirth classes, pregnancy support groups, behavioral health support and other resources and services.
Nationally accredited NICUs – If your newborn requires a higher level of care, they'll be cared for in our neonatal intensive care unit (NICU). Our NICUs are staffed 24/7 by neonatologists, neonatal advanced practitioners, neonatal nurses and respiratory therapists. See our NICU locations.