Newborn services
From the moment you arrive in the labor and delivery unit, your care team is focused on providing the best care for you and your newborn. From keeping you comfortable through childbirth to providing special care for your newborn baby, we're by your side the whole time.
Specialized care during — and after — childbirth
Your childbirth experience is unique. Regardless of whether you deliver vaginally or by cesarean section (C-section), we focus on safety and comfort. Our team will be by your side, monitoring you and your baby as you prepare to give birth. We also provide:
Access to a network of high-risk pregnancy and pediatric specialists who can create a care plan before your baby's birth.
If you're birthing twins or multiples, a dedicated team who will provide care throughout the deliveries to make sure each newborn gets the attention he or she needs.
Skilled nurses and physicians who are prepared to provide the care your baby needs, especially if he or she requires monitoring for conditions such as low blood sugar, infection, neonatal abstinence syndrome or jaundice.
Support and care during your hospital stay as you recover.
Additional support services, available during or after your stay. If you experience postpartum depression or need additional support, we will connect you with the right resources. Our team includes:

Care management professionals
Social workers
Emotional and behavioral therapists
A focus on bonding and breastfeeding support
Once you deliver your baby, our team is ready to support you through the "golden hour." During this hour, you will enjoy uninterrupted time as you make skin-to-skin contact (also known as kangaroo care) with your baby to begin developing an immediate bond.
Breastfeeding during the "golden hour" is also encouraged to help calm your newborn and strengthen the mother/baby bond.
If you choose to breastfeed, a lactation consultant will be available during your stay to help you as you begin to breastfeed your newborn. Our lactation consultants are also available after you leave the hospital, should you need additional support.
Nationally-accredited neonatal intensive care units
If your newborn requires a higher level of care, he or she will be cared for in our neonatal intensive care unit (or NICU). Our NICUs are staffed 24/7 by neonatologists, neonatal advanced practitioners, neonatal nurses and respiratory therapists — all prepared with special training to provide the care and support your baby needs. Our NICUs include:

We also have LifeFlight® ground and air transportation teams available 24/7 for swift transfer to a nearby NICU, if needed.
Learn more about neonatology, or care for premature infants and babies born with serious medical conditions.
Support and care from pediatricians
During your stay, one of our pediatricians will examine your newborn and make sure all screenings and preventive vaccines and measures are taken to keep your baby healthy and safe. Our pediatricians will also be available throughout your stay to answer any questions you may have.
And after discharge, you may choose one of our pediatricians to provide annual checkups, as well as illness and injury care.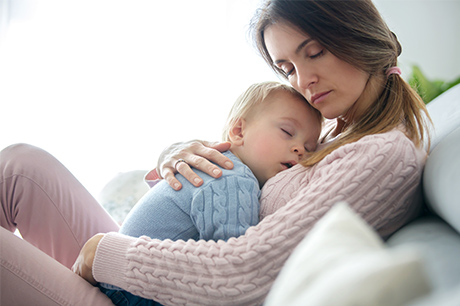 Talk to our team today to schedule an appointment
Call 800-275-6401 and say "women's services."
Call for an appointment
Content from General Links with modal content