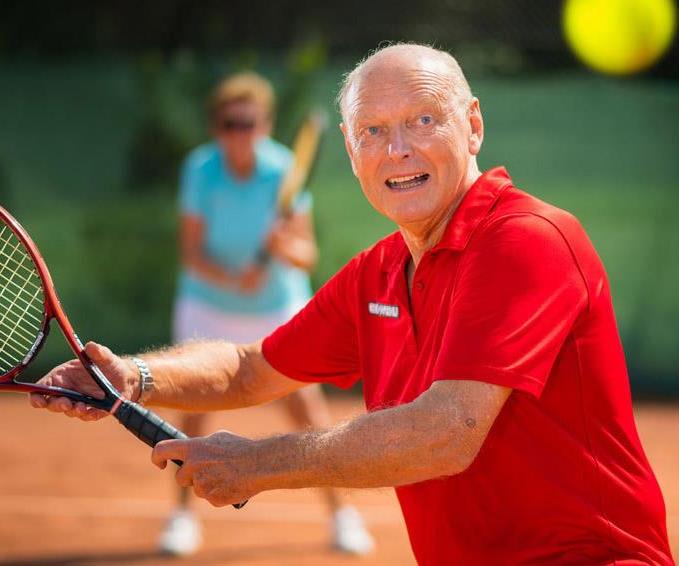 Put an end to your neck and back pain
Neck and back pain
Your neck and back support you all day, every day. Over time, or even because of sudden injury, neck and back pain can happen. That's where we come in. We'll help you find the source of your pain and treat it in the least invasive way possible, so you can get back to your active life, pain-free.
What causes neck and back pain?

Neck and back injuries are common and can be brought on by overuse, muscle injury or simply straining your muscles. Other causes include natural changes to your bones, which happen as you age. But the good news is, with treatment, we can help you get your pain under control.

Our spine specialists treat a wide range of back and neck conditions in adults and children, including:
Compression fractures
Degenerative disc disease
Herniated cervical and lumbar disc
Infections
Kyphosis (rounding or hunching of the back)
Localized back pain
Myelopathy (compression of the spinal cord)
Scoliosis (curvature of the spine)
Spine trauma
Spondylolisthesis (slippage of the spine)
Spinal stenosis (narrowing of the spinal canal)
Sciatica and sciatic nerve (pinched nerves)
Symptoms of neck and back pain
When you're suffering from neck or back pain as a result of muscle strain or injury, the symptoms are usually limited to pain in and around a specific area.
Back pain
However, there are certain symptoms that may mean your back pain could be connected to a more serious health issue. If you experience any of these additional symptoms, it's important to reach out to your doctor:
Fever with back pain
Pain following a fall
Pain that gets worse with bending, lifting, standing or walking
Pain that shoots down your arms or legs
Sudden weight loss
Loss of bowel or bladder control
Weakness or numbness in the arms or legs
Neck pain
Neck pain can go away on its own when it's caused by muscle strain, but more severe pain requires a doctor's visit. If you experience any of the following additional symptoms, reach out to your doctor:
An accompanying headache
Numbness or tingling
Pain that shoots down your arms or legs
Pain that worsens despite self-care (medication, rest and applying ice and heat)
If you experience any of these additional symptoms, your doctor may run additional tests to locate the cause of your neck or back pain. These can include:
X-rays: A type of radiation, electromagnetic rays (X-rays) create images of the inside of your body in black and white so your doctor can examine your bones.
Magnetic resonance imagining (MRI): MRIs use powerful radio waves and magnets to create detailed, 3D images of the bones in your neck or spine.
Computerized tomography (CT or CAT) scans: CT scans use X-rays to obtain cross-sectional images of the bones in your neck and spine.
Bone scans: These nuclear imaging tests create detailed images of your bones to help our team make a diagnosis. Before these scans, you'll receive a shot that contains a small, safe amount of a radioactive drug that will help your doctor detect any changes or abnormalities in your bone.
Treatment for neck and back pain
We offer a wide range of treatments, including non-surgical and minimally invasive approaches. If you do need surgery, our nurse navigators are available to lead you through the process and answer all questions. Treatments that your doctor may recommend to alleviate your neck or back pain may include:


Using exercise, a trained physical therapist will guide you through exercises, including strengthening and stretching, to help you relieve your neck and back pain.

Physical therapy can help you:
Increase range of motion
Increase strength
Prevent pain from recurring
Relieve pain
Our chiropractic sports medicine specialists are trained to diagnose and treat both neck pain and back pain, especially related to the spine. With personalized treatment, our team uses specialized techniques to treat neck and back pain, including:
Adjustments
Dietary management
Electromagnetic therapy
Exercises
Hot and cold therapy
Massage
Steroid injections, or cortisone shots, can help relieve pain or inflammation in your neck or back. These shots can last for several months and can be performed right in your doctor's office, and you can go home the same day.
If nonsurgical treatment hasn't helped you find relief from your pain, our orthopaedic surgeons and neurosurgeons can help. Our surgeons perform minimally invasive surgery whenever possible, which means you'll experience less time in the hospital and a quicker recovery.
Some of the procedures our surgeons perform include:
Spinal fusions
Spinal decompression
Discectomies
Endoscopic spine surgery
Cervical disc arthroplasty
Learn more about spine surgery and how it can help relieve neck and back pain.
Spine care at Geisinger
Our team of spine care specialists, including orthopaedic surgeons and neurosurgeons, work together to provide you with personalized care and a treatment plan that's best for you. We offer:
World-class care, close to home – With 24 locations throughout central, northeast and south-central Pennsylvania, our experienced spine care specialists provide evaluations, consultations and comprehensive care. We offer leading-edge treatment options, including endoscopic surgery – a minimally-invasive surgery that requires little to no pain medication – and tailored-to-you care backed by the expertise and innovation of a nationally-renowned health system.
Better, faster healing – We use tried and true methods to keep you on the path to healing, such as our ProvenCare® program, which identifies and provides the best treatment for specific conditions. This means less time spent in the hospital and faster recovery.

Center of Excellence for spinal surgery

– Our spine surgery program is part of the Employers Centers of Excellence Network (ECEN), meaning we've been specifically chosen to provide destination care for several fortune 100 companies from across the U.S., and that same care is available to you. Learn more about spine surgery.
3D printing technology – Our team of spine specialists can use 3D printing for presurgical planning, surgical simulation or patient and learner education. Being able to use 3D printing before a scheduled surgery allows surgeons to practice complex procedures on models which can then serve as a reference during the actual surgery.


Content from General Links with modal content