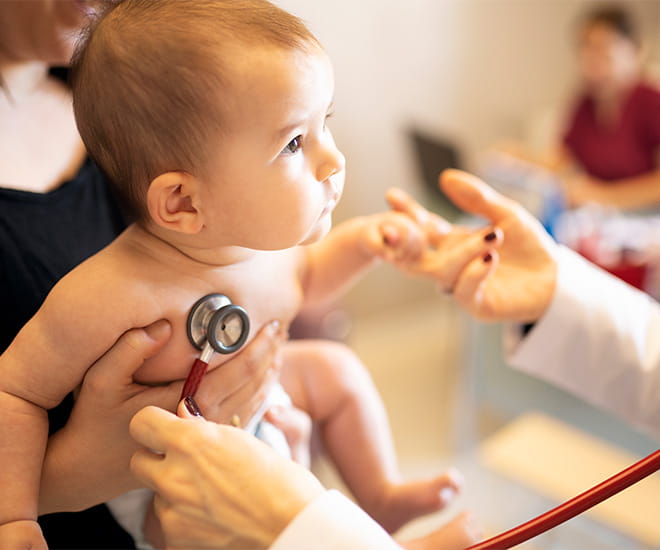 Helping your child breathe easier
From common conditions like asthma to cystic fibrosis, our pediatric pulmonology team provides comprehensive care for young lungs.
What is a pediatric pulmonologist?
Pediatric pulmonologists diagnose, treat and can help manage a wide range of conditions that affect the lungs and respiratory tract, such as asthma, bronchitis, cystic fibrosis, bronchopulmonary dysplasia (BPD) and obstructive sleep apnea.
Our pediatric pulmonology team provides your child with the support and care they need, so they can focus on what matters — being a kid.
Pulmonary care built around your child
Your child's lungs support every breath they take. So, when their lungs don't work as well as they should, you want the very best care for them. And we do, too. Our pediatric pulmonary team offers treatment for:
Allergies
Breathing treatments
Bronchopulmonary dysplasia (BPD)
Bronchitis
Bronchoscopy
Chronic lung disease
Chronic or persistent cough
Croup
Inhalers and bronchodilators
Lung or airway infections
Mechanical ventilator challenges
Syndrome support (Down syndrome, Rett Syndrome, etc.)
Whooping cough (pertussis)
Managing Mason Sharkazy's cystic fibrosis
Three-year-old Mason Sharkazy of Beach Lake, Pa., has both Down syndrome and cystic fibrosis, a condition that damages the lungs, digestive system and other organs. Because of this, Mason needs intensive daily treatments to keep her lungs healthy.
When a double ear infection turned into pneumonia, Mason's mom, Shannon Sharkazy, turned to Geisinger Janet Weis Children's Hospital. There, the pediatric pulmonology team led by Jonathan Spahr, MD, used a patient-centered approach to help Mason recover. Now, she's thriving and back to singing and playing with her siblings.
How are pediatric pulmonary conditions diagnosed?
Our pulmonology specialists are experienced in diagnosing and treating all kinds of pediatric pulmonary conditions. Some of the diagnostic tests your child's doctor may perform to test for pulmonary conditions include:
Spirometry – This lung-function test allows your child's doctor to measure the amount of air they breathe in and out. During this test, they'll be asked to take a deep breath in and blow into a mouthpiece connected to a small device. This device will test how fast your child blows air out of their lungs.
Chest X-ray – This allows your child's doctor to see the condition of their lungs and heart, and potentially rule out other causes of their symptoms.
Chest CT (computed tomography) scan – This allows your child's doctor to get a more detailed look at their lungs.
Bronchoscopy – Your child's doctor can get a better look inside their lungs by inserting a thin, flexible tube with a camera through their nose or mouth. This allows them to better diagnose and treat lung conditions and potentially collect tissue samples.
Blood test – Your child's doctor may order a blood test called an arterial blood gas analysis. This reveals how much oxygen and carbon dioxide are in their blood. A low level of oxygen in their blood may be a sign of lung disease.
Pediatric pulmonary treatment
Depending on the type and severity of your child's condition, one or more of the following treatments may be recommended.
Your child's doctor may suggest lifestyle changes to help them manage their symptoms. These may include:
Eating a healthy, balanced diet
Getting appropriate vaccines
Education about environmental triggers and management techniques
Emotional support
Your child's doctor may recommend prescription medications to help them manage their symptoms and treat pulmonary conditions.
If your child has sleep apnea, their doctor might recommend positive airway pressure (PAP) therapy with a CPAP or BiPAP machine. Using fitted sleep masks, these machines help keep your child's airway open while they sleep.
If your child isn't getting enough oxygen in their blood, their doctor may recommend that you use supplemental oxygen (like a small, portable oxygen tank). Based on their condition, they may need to use oxygen all the time or some of the time.
Our surgeons use the latest techniques to treat pediatric pulmonary conditions, including minimally invasive surgery, to offer your child the best outcome and path for healing. Our team is highly trained and board certified, which means they have passed an optional national exam to demonstrate their medical expertise. Many of our surgeons are also fellowship trained, holding additional training in specific types of pulmonary-related surgeries for children.
Pediatric pulmonary care at Geisinger
From diagnosis to treatment and management of pulmonary conditions, our specialists are dedicated to helping children thrive. We offer:
Personalized care for children: From simple to complex conditions, our goal is to provide relief from lung and breathing conditions. With personalized treatment plans, we're here to get your child back to the activities they love.
Team approach to complex care: We offer clinics that connect your child with a variety of specialists and support staff in one visit. We educate you and your child on the disease and provide management plans. Our clinics and programs include:

Cystic fibrosis clinic, accredited by the Cystic Fibrosis Foundation
Sleep apnea clinic for children with sleep concerns
Mechanical ventilator program, an offering unique to Geisinger that provides at-home ventilator management for children who need help breathing

Excellent care in your neighborhood: With Geisinger Janet Weis Children's Hospital in Danville and many pediatric offices (and specialists) throughout Pennsylvania, exceptional care for your child is never far from home.
Treatments powered by research: Through ongoing education, research and innovation, we're evolving pediatric care — using the latest research-based treatments to care for your child.
Family support: We advocate for children and their families, and we'll guide you at every step — from programs to community support and resources.