Online telemedicine visits — from the comfort of your home
Find out if telemedicine is right for you or if your doctor offers virtual visits.
Geisinger Janet Weis Children's Hospital
Geisinger Janet Weis Children's Hospital is dedicated solely to caring for children — from birth to the teenage years — and has been providing advanced medical diagnosis and treatment for decades.
Geisinger Janet Weis Children's Hospital is a unique facility specially designed to meet the challenges of providing healthcare to children living in rural areas.

It doesn't matter if you live in a rural or urban area, when a child is seriously ill, injured or facing a life-threatening condition, our pediatric specialists can step in immediately, using state-of-the-art technology to provide emergency, trauma and critical care

Our specialty-trained pediatric doctors and nurses provide expertise in over 30 medical and surgical disciplines which include care of children with neonatal illness, life-threatening critical illness, traumatic injuries, neurologic disorders, cancer, diabetes, gastrointestinal disease, infectious disease and heart and lung disorders. Our genetic team partners with Geisinger's Genomics Institute to provide cutting edge diagnosis and treatment of genetic disorders and birth defects.

Our Children's Hospital is prepared to treat the most complex issues that can affect children ranging from preterm newborns to older adolescents. If a child requires hospitalization at Janet Weis Children's Hospital, our care team makes certain families have the education, support and easy access to top-notch outpatient specialty care to assure optimal outcomes once they are home.

As a dedicated 91-bed inpatient unit, Geisinger Janet Weis Children's Hospital has separate floors for infants, toddlers and teenagers where children receive the most advanced pediatric services. National data shows our pediatric intensive care unit (PICU), neonatal intensive care unit (NICU) and inpatient wards provide the outstanding care our patients expect at a nationally leading hospital.

Our pediatric team includes a vast network of highly skilled pediatricians who provide primary care across central, northeast and southeast Pennsylvania. Our pediatricians lead the way in patient satisfaction by providing exemplary primary care to our region's children.

The proven dedication of Geisinger's pediatric clinical team, our ongoing commitment to research and innovation and the availability of pediatric expertise close to home are just some of the reasons why families choose Geisinger Janet Weis Children's Hospital to receive their care.

Being a national destination for children's care means not only leading the way in addressing pediatric health issues, but it also requires a special understanding of the particular needs of a young patient, as well as his or her parents and other family members, especially siblings. We strive to care not just for a condition, but for the whole patient. Here, we go one step further — we care for the entire family.

What also makes Geisinger Janet Weis Children's Hospital unique is that it is part of the Geisinger family. Powered by the resources at Geisinger Janet Weis Children's Hospital, this world-class healthcare reaches far beyond Danville, Pennsylvania, to other Geisinger hospitals, outpatient clinics, specialists and facilities throughout central and northeast Pennsylvania. That means wherever they are in the Geisinger service area, children are getting access to the best healthcare and the most experienced pediatric providers available in the United States.
Neonatal Intensive Care Unit (NICU)
The Neonatal Intensive Care Unit (NICU) at the Janet Weis Children's Hospital in Danville offers the highest level of specialized care for preterm and term infants from across northeastern and central Pennsylvania. Our NICU is staffed 24/7 by neonatologists, neonatal nurse practitioners, physician assistants, pediatric residents, neonatal nurses and respiratory therapists — all equipped with the highly specialized training needed to care for the sickest infants.
The Janet Weis Children's Hospital NICU features 41 beds and is located right next to our labor and delivery unit. We provide a full spectrum of specialized care to the hospital's tiniest patients, including continuous cardio-respiratory monitoring, supplemental oxygen, CPAP, conventional and high-frequency mechanical ventilation for respiratory support, continuous infusions to maintain normal blood pressure, post-operative management, IV fluids and IV antibiotics for suspected infections and intensive phototherapy to treat severe jaundice. Our neonatal staff is supported by a full team of pediatric medical and surgical subspecialists who assist in caring for infants with the most complex medical, surgical and genetic conditions
To contact the Janet Weis Children's Hospital NICU, call 570-271-6550.
Find A Provider
Search our directory for a provider who fits your needs.
Prepare for Your Stay
Find information about checking in, discharge, billing and services.
Dining and shopping
Find out where to eat and buy essentials at Geisinger Janet Weis Children's Hospital.
Genetic disorders and birth defects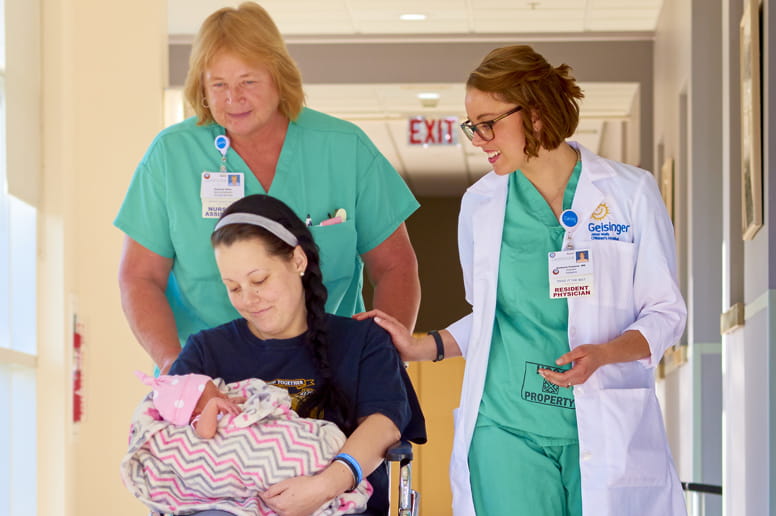 Our pediatric geneticists diagnose conditions like Down syndrome and cystic fibrosis. We offer research-based prenatal screening, testing and treatment.
Neurology and brain disorders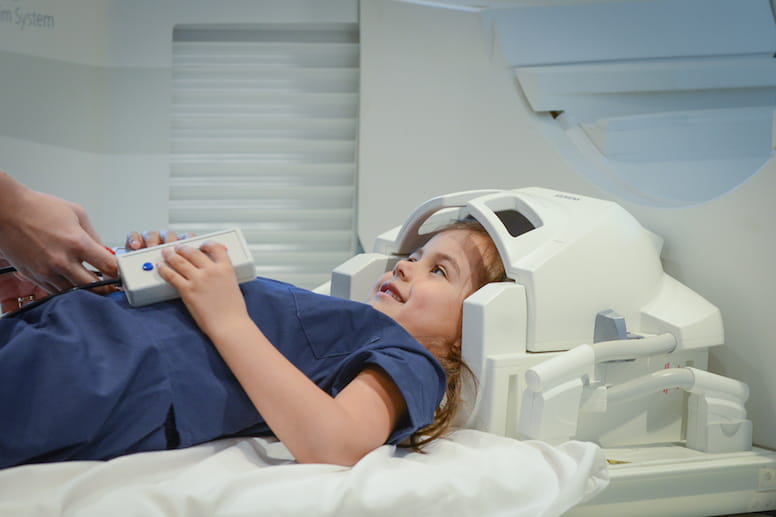 Our highly trained team of specialists uses innovative technologies to treat childhood nerve, brain and spinal cord conditions, from headaches to tumors.
Cancer and blood disorders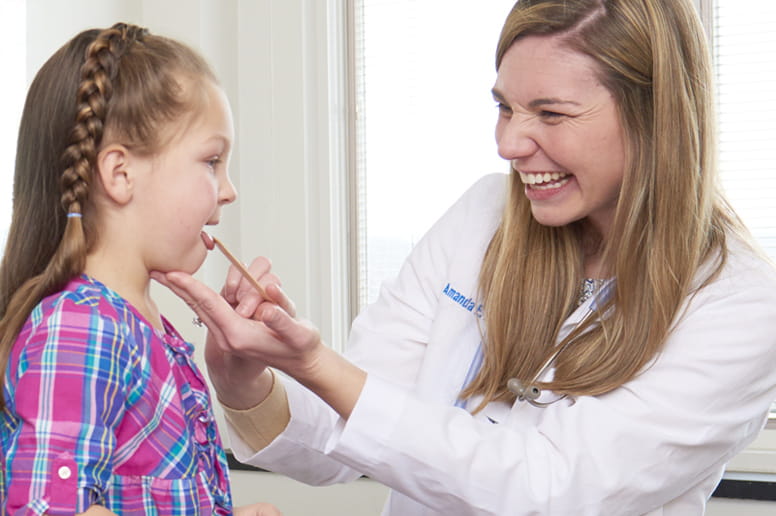 Delivering targeted, research-based treatments, our specialists work to help children defeat cancer while offering exceptional support services.
Pulmonary and respiratory diseases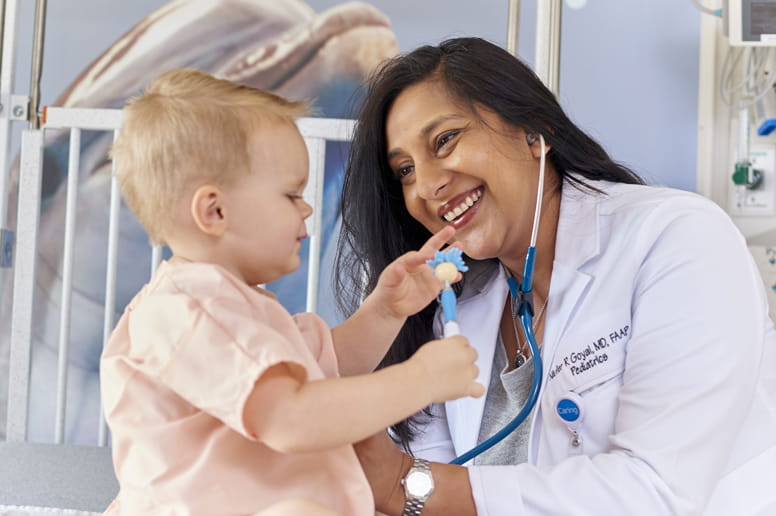 Our specialists treat a range of children's breathing conditions, including asthma and chronic cough, to help children breathe easier.