Postpartum care for mom: Tips for healing and comfort  
Caring for your newborn is important, but don't forget to take care of yourself too.
Congratulations on your new bundle of joy, mama! Now that you've conquered pregnancy, labor and delivery, you can rest, recover and enjoy time with your precious newborn.
The first six weeks following childbirth are considered your postpartum period. And depending on whether you delivered via vaginal birth or C-section, it may take some time for you to feel like your usual self again. This is completely normal. Take it slowly and don't push yourself.
Adjusting to life after birth
While a joyous time, adjusting to life after the birth of your baby can have its challenges. Your baby needs to be fed, changed and soothed. You may be getting in less quality time with your partner or other children. Your sleep schedules may be out of whack. But don't stress — it may take some time to adapt and develop a new routine, but you will fall into one eventually.
Time for some self-care
While you focus on your little one over the next few weeks, don't forget to take care of yourself. It's an important part of your postpartum care and recovery. Here are some ways you can practice self-care:
Follow your doctor's orders. Don't skip your follow-up appointments and do take it easy. Your physical health is important.
Get as much rest as you can. Get some shut eye when you put your baby down for a nap or for bed, when a friend or family member stops by to help or whenever works best for you.
Accept help from friends and family. Don't be afraid to ask for help. Loved ones can help take care of the baby or the house, so you can rest and heal.
Eat healthy meals. Be sure to work whole grains, veggies, fruits and protein into every meal. If you're experiencing constipation, add a little extra fiber to your diet. And don't forget to stay hydrated, especially if you're breastfeeding.
Get some exercise. Follow your doctor's advice on this one. During your postpartum period, you should avoid strenuous activity, but taking a walk around your neighborhood can boost your mood and energy levels.
Spend some quality time with your partner. A new baby can mean less quality time with your partner. Carve out a little alone time — and don't feel guilty.
Join a mommy support group. Join a group of other moms in your area. This can connect you with other moms going through the same changes and provide much-needed support.

Feeling the baby blues?
If you're experiencing mood swings and negative feelings after giving birth, you're not alone. Nearly 80 percent of new moms experience the baby blues during the postpartum period. Symptoms may include:
Crying
Irritability
Insomnia
Sadness
Mood changes
Restlessness
Baby blues are caused by hormonal changes and typically subside after two weeks. If symptoms last longer than two weeks, you may be experiencing postpartum depression, which requires prompt medical treatment. Learn more about postpartum depression.
Take it slowly
Your body has been stretched and stressed to the max, so be kind to yourself and give yourself some time to heal and regroup. Take it slowly and enjoy every snuggle with your little one. And don't hesitate to talk to your doctor about any concerns you may have — whether they're related to postpartum depression, your own healing or your baby's development.

Take care of yourself, mama!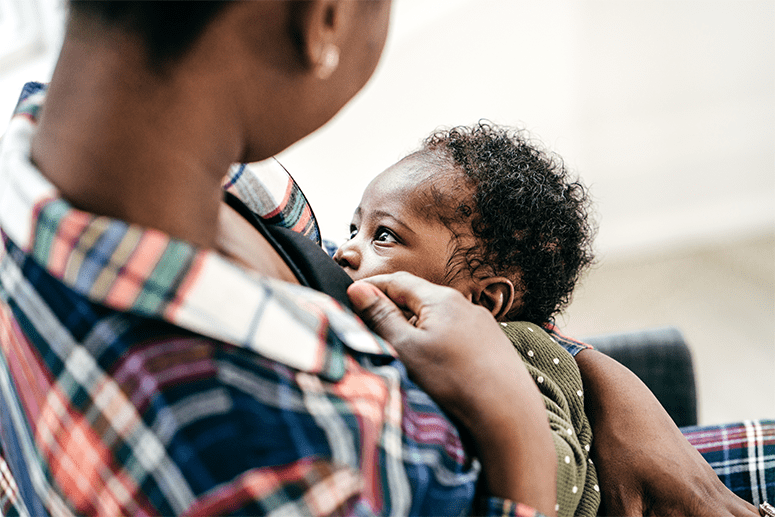 Talk to our team today to schedule an appointment
Call 800-275-6401 and say "women's services."
Call for an appointment
Content from General Links with modal content