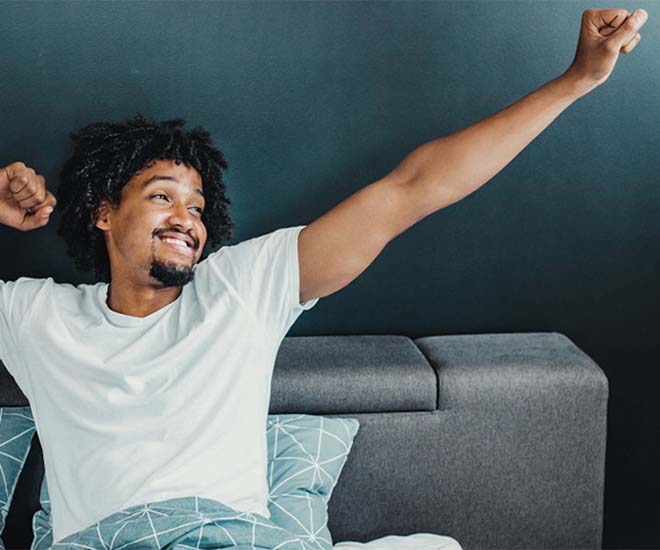 Sleep medicine treatment for sleep disorders
If a good night's rest is just out of reach, our sleep medicine specialists can help you find the treatment you need to rest easy.
Sleep is an essential part of daily life. When you're well rested, you're ready to face the day. But if you have trouble sleeping, you know the effect it can have on your job, relationships and productivity.
That's why our sleep center team offers diagnostic sleep studies that can help determine if a sleep-related disorder may be affecting your daytime well-being and overall health. We treat a wide range of sleep disorders including sleep apnea, insomnia, restless leg syndrome and narcolepsy.
How to see a sleep medicine specialist
If you think you may have a sleep disorder, talk to your primary care physician. They can refer you to our sleep medicine team who will partner with you to diagnose your sleep condition and design a treatment plan to get you back to enjoying a good night's rest.
If your treatment plan includes the use of equipment like Bilevel Positive Airway Pressure (BiPap) and Continuous Positive Airway Pressure (CPAP) machines, our team will educate you on how your machine works so you can get the best results possible. If CPAP is not right for you, there are more treatment options available. Your sleep specialist will tailor your care plan to your needs.
Our specialized sleep centers offer round-the-clock scheduling to accommodate everyone and every schedule. And if you're struggling with serious implications because of your sleep disorder, we offer urgent scheduling — so you can get better, sooner.
Talk to our team today to schedule an appointment
Call 800-275-6401 and say "sleep services."
Call for an appointment
Conditions we treat through sleep services
Our collaborative sleep team includes sleep specialists and specialty physicians in pulmonology, neurology, otolaryngology, psychiatry and dentistry. We can help treat sleep disorders including:
Sleep medicine services at Geisinger
Whether you have a simple or complex sleep disorder, we're dedicated to getting you the treatment you need to sleep better. We offer:
Care designed for you, where you live – With locations throughout northeast, central and south-central Pennsylvania, our experienced team provides consultations and comprehensive care. We offer leading-edge treatment options and tailored-to-you care, backed by the expertise and innovation of a nationally recognized health system.
Accredited sleep centers – Our sleep centers are accredited by the American Academy of Sleep Medicine for in-center and in-home sleep testing as well as for durable home medical equipment distribution (CPAP or BiPAP therapy and supplies).
Sleep testing designed with you in mind – Our sleep centers feature comfortable, private bedrooms that help people feel relaxed and at home. Depending on your condition, we also offer unattended home sleep testing that can be performed within 24 hours of clinical evaluation by one of our sleep specialists.
Learn more about sleep health