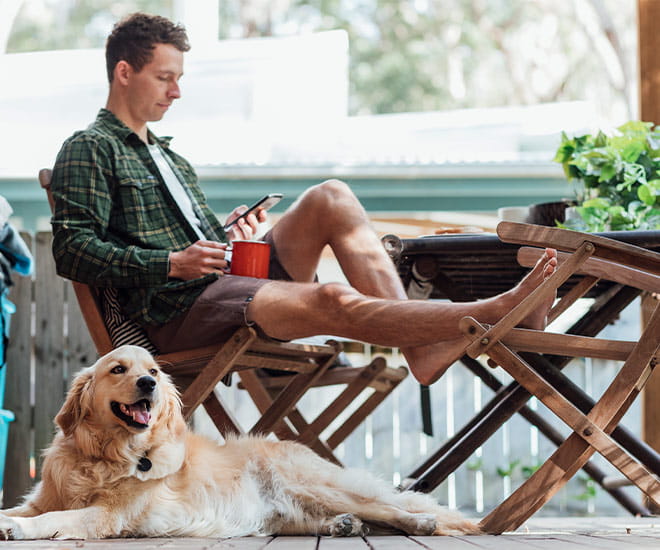 Virtual urgent care
Need care for a minor medical concern today? See the next available Geisinger healthcare provider from the comfort of home.
What is virtual urgent care?
Virtual urgent care allows those age 18 and older to get same-day care for minor medical concerns from the comfort of home. All you need is a smartphone, tablet or computer with a webcam and a high-speed internet connection.
Much like our ConvenientCare walk-in clinics, virtual urgent care is intended to support your care when your doctor's office is closed or you're unable to get an appointment for an urgent care need.
Conditions we can treat
Turn to virtual urgent care when you aren't in immediate danger but need care more quickly than you can get an appointment with your primary care physician.

Conditions we treat include:
Allergies
Birth control
Bronchitis
Skin conditions/rashes (cellulitis, dermatitis, eczema, folliculitis, etc.)
Cold and flu
Cold sores
Coughs
Cysts
Diarrhea/vomiting
Ear pain
Headaches (mild)
Insect/tick bites
Orthopaedic urgent care
Pink eye
Sinus pain
Sore throats
Urinary tract infections (UTIs)
Warts
Yeast infections
Virtual urgent care should not be used in an emergency. If you're experiencing chest pain, difficulty breathing, significant bleeding or any signs of a life-or-limb-threatening condition, head to your nearest emergency room or call 911.


How to get a virtual urgent care appointment
If you're 18 or older and need care for a non-emergency medical concern today, you can schedule a telehealth visit (or video visit) with the next available Geisinger healthcare provider at a time that works best for you.
Here's how:
Click "Enter the virtual waiting room" below.
Someone will be with you shortly to complete the check-in process, much like an in-person appointment at your doctor's office, and connect you with a provider — either immediately or at a time that works best for you.
Talk with your provider to get treatment today, so you can feel better faster.
Commonly asked questions about virtual urgent care
Want to learn more about virtual urgent care? Here are answers to some commonly asked questions:

Who can use virtual urgent care?

Our virtual urgent care providers see Pennsylvania residents who are 18 and older.

If you need urgent care for your child (age 12 months and older), visit one of our ConvenientCare walk-in clinics. Our pediatric urgent care clinic at Geisinger South Wilkes-Barre also sees children of all ages, from infancy through age 18.

Yes. Our telehealth or video visits are conducted over a secure network with patient data and privacy carefully protected.

Is my insurance accepted?

Like an in-person appointment, your virtual urgent care visit will be billed to your health insurance and you'll be responsible for your co-pay.

Learn about the insurances we accept.

Can I get a prescription?

Yes. Our virtual urgent care providers can prescribe medications as part of your treatment.

If you need a renewal of an existing prescription, it's best to contact your primary care doctor or specialist. You can

message your care team in MyGeisinger

Aren't in-person visits better?

Telehealth or video visits can't always replace face-to-face care, but they're a great option for routine medical concerns. They also:
Save you time — less driving and waiting
Allow you to get care when you need it
Need a primary care doctor?
While virtual urgent care is a convenient care option, it doesn't replace a primary care provider.
Find a primary care doctor