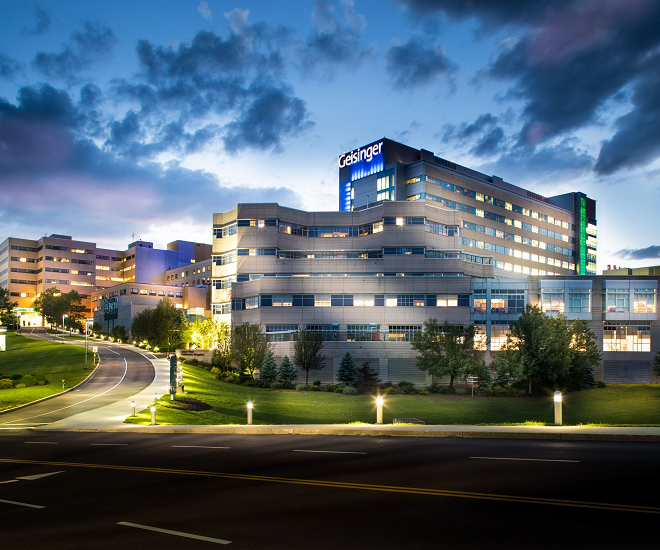 Your path forward begins here
Why choose Geisinger?
About us
At Geisinger, everything we do is about caring for our patients, our members, our students, our Geisinger family and our communities.
As one of the nation's largest health service organizations, Geisinger serves more than 3 million residents throughout 45 counties in central, south-central and northeastern Pennsylvania.
Founded more than 100 years ago by Abigail Geisinger for her central Pennsylvania community, we've expanded and evolved to meet regional needs and developed innovative, nationally recognized programs in the process. Today, Geisinger includes 13 hospital campuses, a nearly 600,000-member health plan, 2 research centers and the Geisinger Commonwealth School of Medicine.
Known for our focus on caring and innovative programs, we aim to keep our patients and communities healthy and to deliver the best care to every patient, every time.
About Danville
Geisinger's flagship hospital, Geisinger Medical Center, is located in the heart of Danville, Pa., a charming borough with beautiful views and several local artisan shops and restaurants.
Caring for its community for more than a century, Geisinger Medical Center has been repeatedly named to the Becker's Hospital Review "100 Great Hospitals in America" list. This list recognizes industry leaders that are nationally recognized for excellence in critical care and patient outcomes, as well as those that have achieved advanced accreditation and certification in several specialties.
With many nationally recognized, award-winning specialty areas and modern facilities, Geisinger Medical Center is the right choice when you or a loved one need specialized care.
Campus features
Our campus features complimentary parking, Wi-Fi, shuttle services and valet services for your convenience.
---
Lodging
Lodging for your loved ones, or if you need to stay for an additional length of time, is conveniently located less than 1 mile from the hospital at the
Pine Barn Inn
.
---
Location
---
What to expect during your visit
As a Center of Excellence hospital, Geisinger has been recognized as a national leader for cardiac, spine and bariatric surgeries. When you have your procedure done at Geisinger, you can expect to get the high-quality care you deserve.

From beginning to end, you'll have a care team helping you along your journey. One of our partners will help set up your travel arrangements, including your flight and hotel stay. At Geisinger, your nurse navigator will see you through preparation and recovery from surgery, while your Geisinger patient coordinator will make sure that your non-clinical needs are met while you receive care with us.
After your procedure, we'll make sure your healthcare provider at home has all the details to provide the after-care you need. We'll also follow up with you via phone to make sure you're healing well and that all your questions are addressed.
We aim to take care of your every need, so you can focus on what really matters: getting better.

Our team is here to:
Help you arrange travel and lodging
Schedule your medical appointments with all the appropriate specialists
Get you to and from your appointments
Help with language assistance, if needed
Assist with insurance and billing
Transfer your health records to our doctors, as well as send updates back to your doctor at home
Be your contact for any questions you may have before, during and after your trip